The Kabuki Spectacle performance of Koi-Tsukami
Renowned Japanese Kabuki actors Somegoro Ichikawa and Yonekichi Nakamura will clash with the giant carp from an impressive 165-foot stage constructed inside Lake Bellagio during the 30-minute production
Vivid visual imagery set on water using 15 Panasonic PT-DZ21K projectors, reaching nearly 60 feet in height and 984 feet in length.
Panasonic presents with Shochiku, renowned global Kabuki producer, with support from MGM Resorts International, an elaborate, high-tech outdoor performance unlike anything Las Vegas or the U.S. has ever seen. The show feature a Kabuki-style theatrical event with larger-than-life animation and water choreography in the Kabuki masterpiece "Koi-Tsukami," or "Fight with a Carp," as a large fish and turbulent sea are projected onto the Bellagio Hotel Fountains in a battle scene.
The scenery set through artistic mastery via water screen projection, a high-tech visual technique in which an illusion is created from light beaming through an imperfect wall of water making it suddenly appear multidimensional. The display will be composed using 15 Panasonic PT-DZ21K projectors. This same model was selected to light up the London Olympic Games Opening Ceremony in 2012 and is a powerful, compact 20,000 lumen projector with a 10,000:1 contrast ratio and WUXGA resolution.
The event aims to raise global awareness of Kabuki, which is classical Japanese dance-drama. It also looks to blend a traditional art form with new high-tech elements such as water screen projection, designed by Tokyo artist collective teamLab. The event will be performed by famous Kabuki performers Somegoro Ichikawa and Yonekichi Nakamura. This is a prelude to the 2016 Kabuki Festival which will be held in Las Vegas.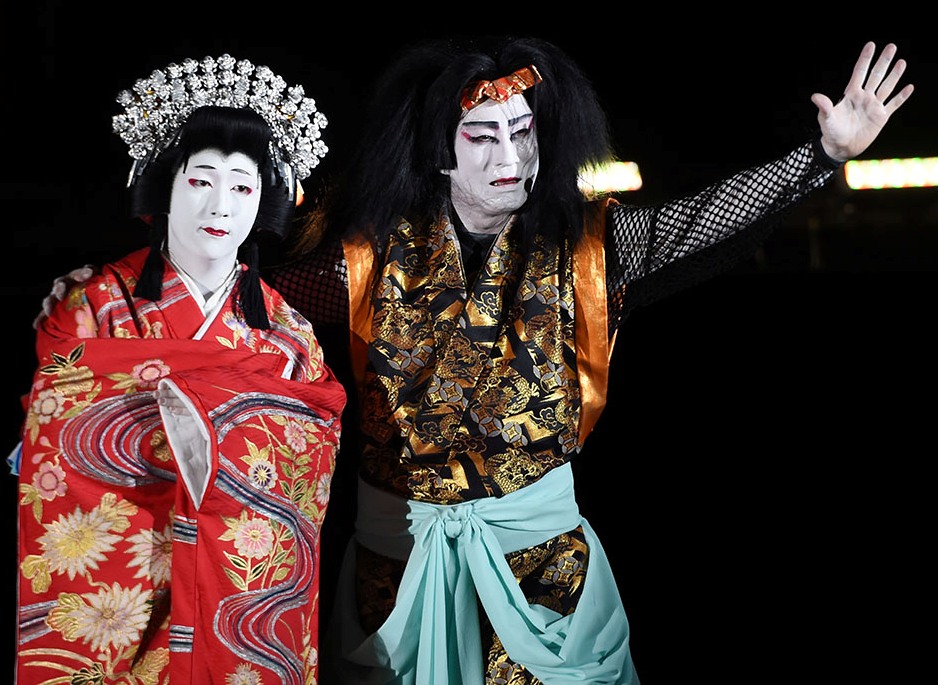 In a classic tale of good versus evil, renowned Japanese actor Ichikawa Somegoro will play a handsome samurai who falls in love with a beautiful maiden – depicted by fellow Kabuki actor Nakamura Yonekichi – only to discover she is actually a giant carp's spirit taking the form of a woman to seek revenge against humans for killing her carp lover. The 30-minute production culminates with a dramatic clash between Somegoro and the carp from an impressive 165-foot stage constructed on Lake Bellagio.
Photos: Las Vegas News Bureau
Comments