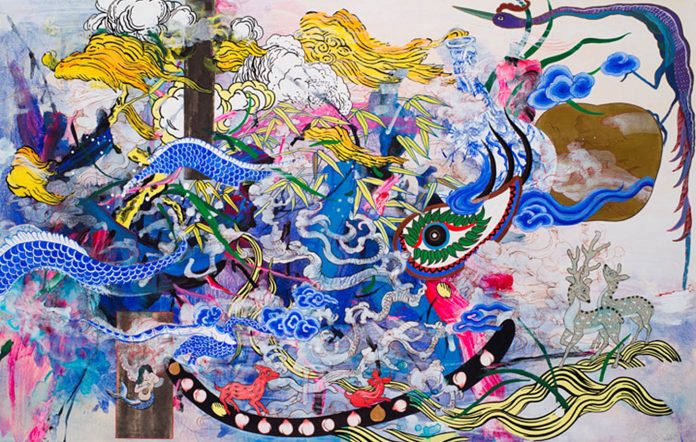 The Mennello Museum of American Art is pleased to present the work of multi-media Korean-American artist Jiha Moon in an upcoming solo exhibition, Jiha Moon: Double Welcome, Most Everyone's Mad Here. The exhibition will be on view from June 22 through August 12, 2018, with an Artist Talk and Opening Reception on June 29.
Based in Atlanta, Georgia, Moon harvests cultural elements native to Korea, Japan, and China and then unites them with Western elements to investigate the multi‐faceted nature of our current global identity as influenced by popular culture, technology, racial perceptions, and folklore. Featuring over 50 works, Moon blurs the lines between Western and Eastern identified iconography such as the characters from the online game Angry Birds© and smart phone Emojis
which float alongside Asian tigers and Indian gods, in compositions that appear simultaneously familiar and foreign.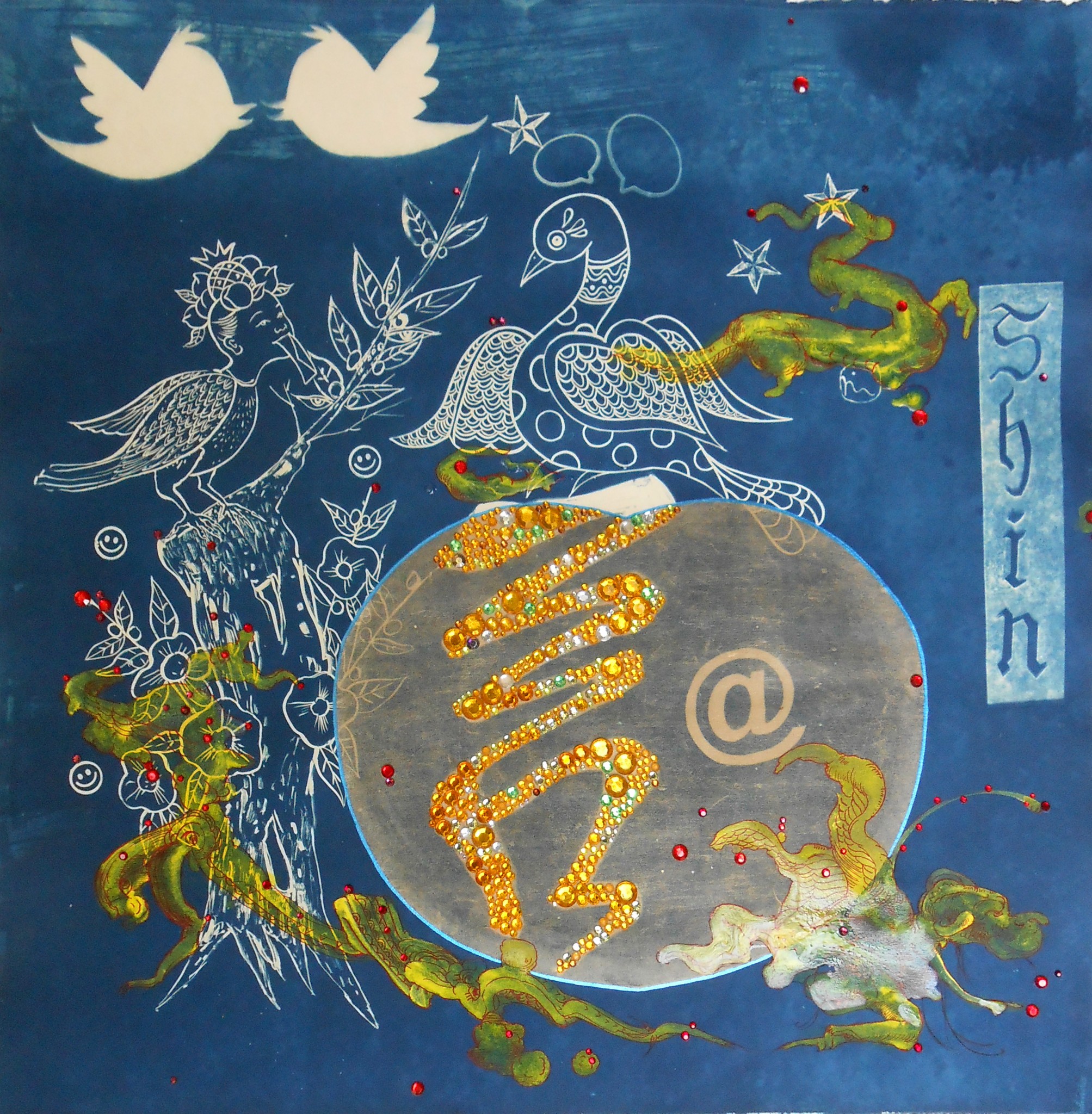 "I am delighted to welcome Jiha Moon and share her wonderful work with Orlando." States Shannon Fitzgerald, Executive Director.  She continues: "Jiha brings whimsy, fabulous energy, fantasy and joy to painting, printmaking, sculpture, and installation that awe and inspire.  Her image density and color-saturated work weave often incongruous narratives about culture and identity to address stereotypes and assumptions through her 'mad' use of metaphor and symbolism. Jiha's 'Wonderland' is truly something to wonder!"
Moon's witty and ironic work explores how Westerners perceive other cultures and how perceived foreigners see the West. Korean born, now living in the United States, Moon asks the pertinent question, "Why do people love foreign stuff so much? When we travel to other countries, explore different cultures, and meet with new people, we tend to fall in love with things that are not our own. People have a soft spot for foreign things. The world is so interconnected nowadays, how can you even tell where someone or something 'comes from' anymore?" In her work, Moon acts in the role of a traveler, and explores the notion that identity is not beholden to geographic location.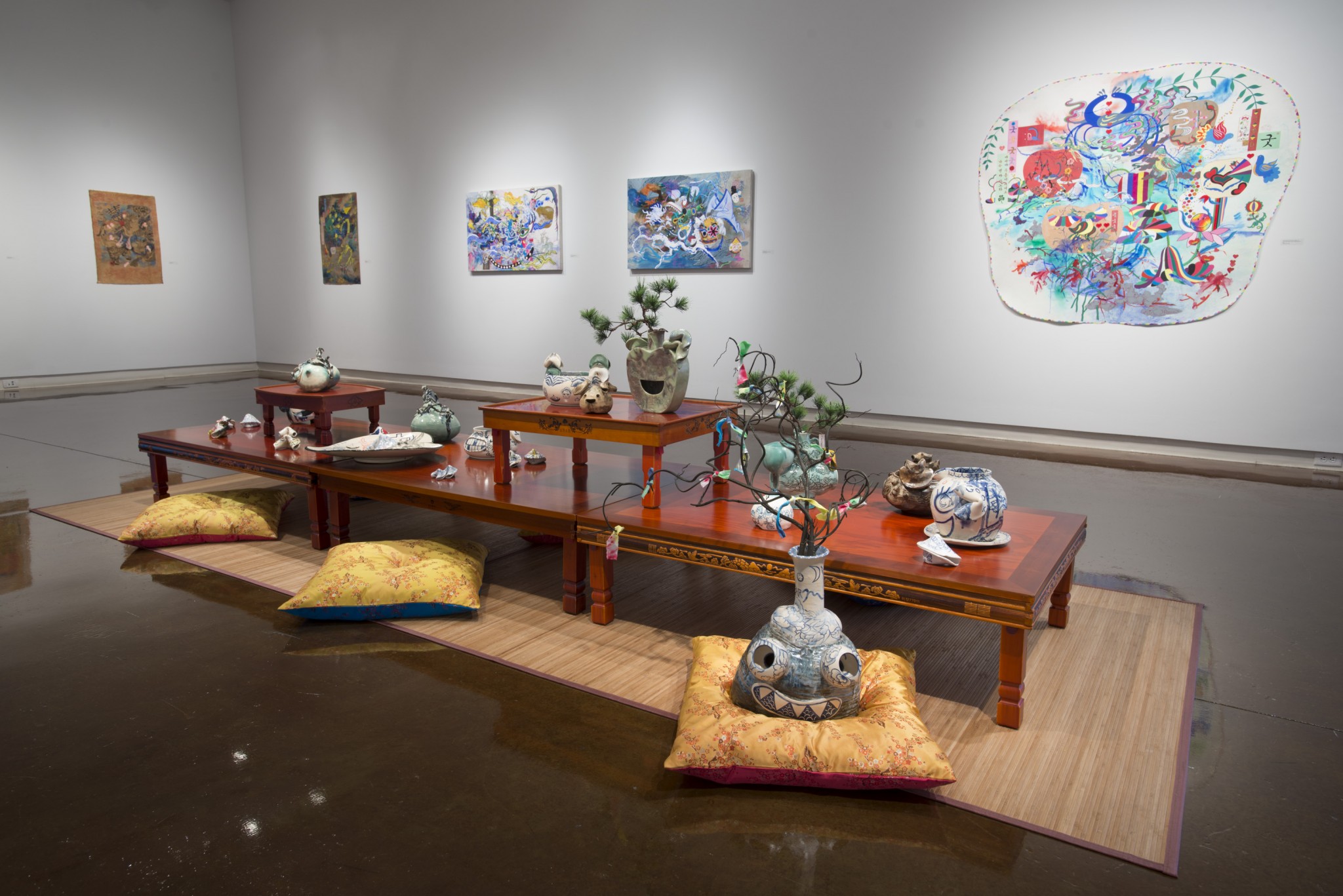 Honoring traditional Asian arts through her use of Hanji paper, Korean silk, and calligraphic brushstrokes, she plays with iconography and symbols throughout the exhibition that have been classified as "foreign" such as blue willow china patterns, fortune cookies (which originated in California but are identified as Chinese), Korean fans, and floating dragons. She intermingles them with references to Pop and southern folk art. Her use of the peach identified in Chinese mythology as a symbol of immortality is also a nod to her home state of Georgia's mascot, the "Georgia Peach." Moon transforms a traditional Korean fashion accessory called "Norigae" into endearing quirky manifestations of various personalities, with such names as Gloria and Rachel whose hair is interwoven with eclectic items such as children's plastic barrettes or Native American beaded dolls. Her misshapen and whimsical ceramics reference southern folk art face jugs yet are painted in traditional Asian ceramic glazes and motifs. At the heart of the exhibition, Moon presents an installation featuring perceived kitschy elements of Asian home décor: low wooden tables and silk embroidered pillows placed on Japanese tatami mats. Displayed on the various surfaces are her unconventional ceramic works reflecting her interest in the "beautiful awkward" in which she makes reference to a tourist's desire to collect foreign and exotic elements to beautify their houses back home.
At first glance, Jiha Moon's work appears as a mash-up of high-and-low brow cultural references. Upon further inspection, slyly ironic and humorous references emerge that are satirically filtered by the artist, who reminds us that our preconceived notion of "other" is not a true manifestation of actual identity.
This exhibition is organized by the Taubman Museum of Art in collaboration with the Halsey Institute and curated by Amy G. Moorefield, Deputy Director of Exhibition and Collections at the Taubman Museum of Art, and Mark Sloan, Director and Chief Curator of the Halsey Institute of Contemporary Art with special assistance from Andrea Pollan, Curator's Office, Washington, D.C.; Saltworks Gallery, Atlanta, Georgia; and Ryan Lee Gallery, New York, New York.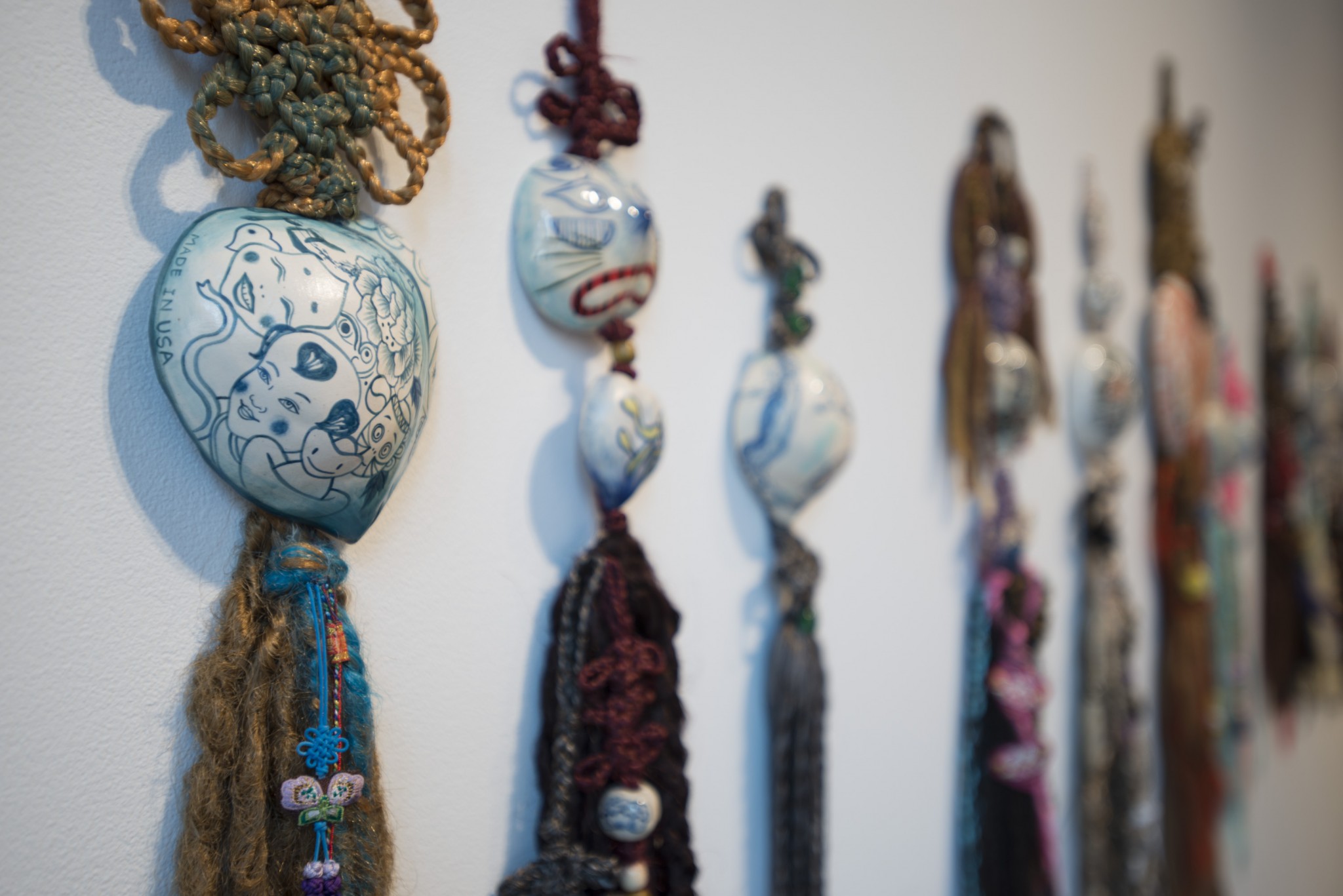 IN-GALLERY GUIDES
The addition of Jisha Moon has written descriptions of her pieces in the exhibition. These statements are printed in an exhibition guide that The Halsey Institute commissioned Lilly Wei to write an essay on Jiha Moon's work. This essay is available to visitors in an educational brochure. Visitors can browse through in the gallery.
ABOUT JIHA MOON
Born and raised in Daegu, Korea, Jiha Moon lives and works in Atlanta, Georgia. She received her Master of Fine Arts from the University of Iowa in Iowa City, Iowa and her Bachelor of Fine Arts from Korea University in Seoul, Korea. Her Work is in the permanent collections of the Asia Society, New York City, New York; the High Museum of Art, Atlanta, Georgia; the Hirshhorn Museum and Sculpture Garden, Washington, DC; the Virginia Museum of Fine Arts, Richmond, Virginia; And the Hunter Museum of Art in Chattanooga, Tennessee. Her work has been the subject of numerous solo exhibitions at notable museums nationwide including at the Mint Museum of Art in Charlotte, North Carolina; the Cheekwood Botanical Garden and Museum of Art in Nashville, Tennessee; and the Weatherspoon Museum of Art, Greensboro, North Carolina. She has been the recipient of several residencies including Omi International Arts Center, Ghent, New York; the Headlands Center for the Arts, Sausalito, California; the Fabric Workshop and Museum, Philadelphia, Pennsylvania; and the MacDowell Colony, Peterborough, New Hampshire. In 2011, Moon was the recipient of a prestigious Joan Mitchell Foundation Painter and Sculpture grant. She is represented by Curator's Office in Washington, DC, Saltworks Gallery in Atlanta, Georgia, and Ryan Lee Gallery in New York, New York.
---
Please save the date for the opening reception of Jiha Moon: Double Welcome, Most Everyone's Mad Here.
Preview & Opening Reception
Friday, June 29, 2018
Gallery Talk with Jiha Moon
5:30 – 6:30 pm
Opening Reception
6:30 – 8:30 pm
Free for members | $10 for Guests
Tickets » http://www.bit.ly/jihamoon
Family Workshop with Jiha Moon
Saturday, June 30
1 – 3 pm
Free with regular salary admission or Mennello Museum Membership
Explore the exhibit with Moon to see her norigae and paintings where a mash -up of Korean symbols meet Southern American iconography. Don't worry if you're a beginner, most everybody's mad here.
First Friday Tour
Friday, June 1, July 6, August 3
11 – 11:45 am
Free tour with the Executive Director or Associate Curator of Education with regular paid admission or Mennello Museum Membership
Free Family Funday
Sunday, June 10, July 8, August 12
12 – 2:30 pm
Comments