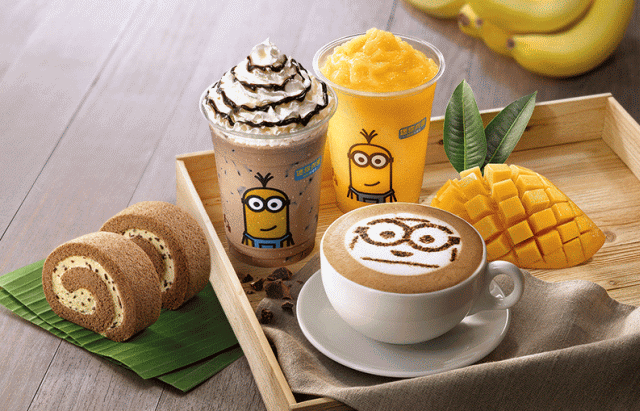 Who doesn't love the yellow minions? As the Minions movie hits the big screens in the world this summer, Minions fever hits McDonald's Hong Kong and the Shatin shopping mall.
Photos: Ada Wong
McDonald's in Hong Kong have Happy Meal toys and strawberry banana yogurt as part of a worldwide McDonald's x Minions movie tie-in, including a whole set of Minions cutlery. It includes a Banana Chocolate Roll Cake, Iced Banana Chocolate, Philippines Mango Frappe, and hot Banana Chocolate. To carry on the menu theme, the iced drink cup features a Minion design and the Banana Chocolate gets a stenciled cocoa Minion design on top of its foamed milk.
Besides the regular menu, there's also a special burger with the Minions campaign. They're calling it the "Eggcellent Silly Double Beef" burger, which includes a cracked egg (Egg McMuffin) and two beef patties.
But that's not all: they're also serving a Pineapple Sundae, fried Banana Pie, Calamansi McFloat (the yellow dessert matches the Minions yellow color), and a shareable box of fried chicken wings. Moreover, you can also buy a cutlery set (spoon and fork), featuring one of three Minions, for an additional charge when you order the (Minion) food.
New Town Plaza Minions display attracts thousands on busy shopping day. New Town Plaza is one of the largest shopping malls in Hong Kong, offering shoppers 350 international labels and boutiques, the latest electronics, 50 restaurants, and supermarkets selling Japanese and Taiwanese foods. Not to forget about the kids; they'll have a ball with Charlie Brown and his friends at Asia's first Snoopy's World. The mall's location at the MTR Sha Tin Station makes it a great pit stop for travelers coming from or going to Shenzhen on the MTR East Rail Line.
Article: Ada Wong
Comments