(Orlando) Maitreya Loving Kindness Tour, a free public exhibition of ancient and sacred relics of the historical Buddha Shakyamuni and 44 other Buddhist masters from India, Tibet & China is currently touring the world.
The exhibit will be on display at Phap Vu Buddhist Cultural Center, 716 N. Dean Road, Orlando, Florida 32825. Exhibit dates are November 20, 21 & 22, 2015.
In all there are 3,000 relics in this collection including those offered to the tour by His Holiness the Dalai Lama which are more than 2,600 years old, a collection from the Sakya Reliquary in Tibet and also from Meiktila Museum in Burma. Most of the relics in this collection resemble multi colored pearl-like crystals that in Tibetan are called 'ringsel' and in Sanskrit they are known as 'Sarira.' It is believed that relics embody the master's spiritual qualities of compassion and wisdom and are deliberately produced by the master at his death. The crystal relics were found among the cremation ashes of these masters.
"When these individuals were alive, they were practicing universal values, like for example, unconditional love, compassion, patience. Those qualities don't belong to any one kind of religion. It is universal," said Thubten Norbu, a Buddhist nun and one of the tour managers.
"So, the relics are really the manifestation of love and kindness and compassion. That is the real meaning," Norbu added.
Lama Zopa Rinpoche founded the tour in 2001 when he put his own collection of relics on tour with contributions from others, including His Holiness the Dalai Lama. The Tour has visited 68 countries and 2.5 million people have viewed the relics to date.
The purpose of the tour is to share the sacred relics to create community gatherings focused on loving kindness and openness with the goal of fostering local and global harmony.
"It's important for people to realize that loving kindness is the foundation of most all religions," previous tour host Kevin Thoren said. "So even though it's a Buddhist exhibit, it goes beyond any specific religious philosophy and gets at what's important."
Tour Manager Amanda Russell says, "Nearly everyone reports some kind of change or shift, whether it is releasing physical or emotional pain or experiencing a profound sense of peace".
Public exhibit hours:
November 20: 7:00 pm to 9:00 pm, Opening ceremony followed by relic viewing
November 21: 11:00 am to 7:00 pm, relic viewing
November 22: 11:00 am to 6:00 pm, relic viewing
                                                                ###
Local contact: Cindy Nga Pham, Email: [email protected]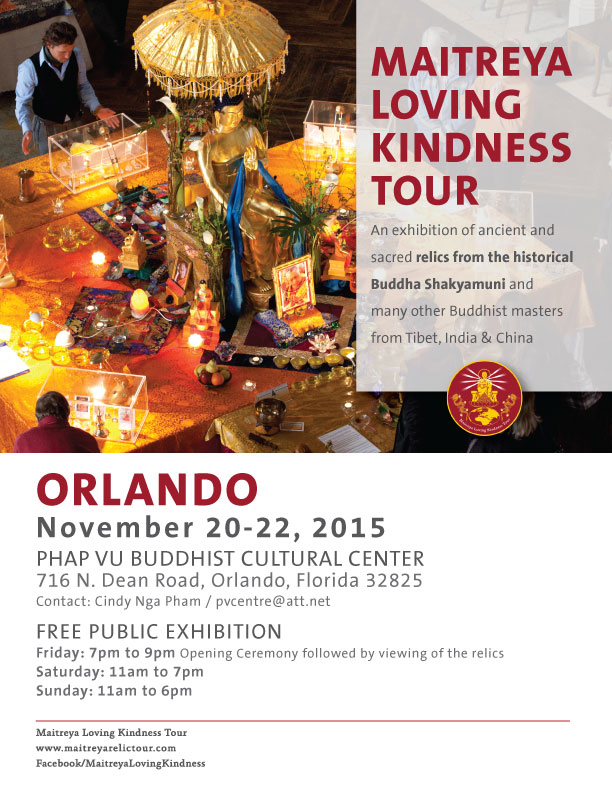 The Old Courthouse, 43 Renfrew Road, London SE11 4NA, England, United Kingdom
www.MaitreyaLovingKindnessTour.com
Comments