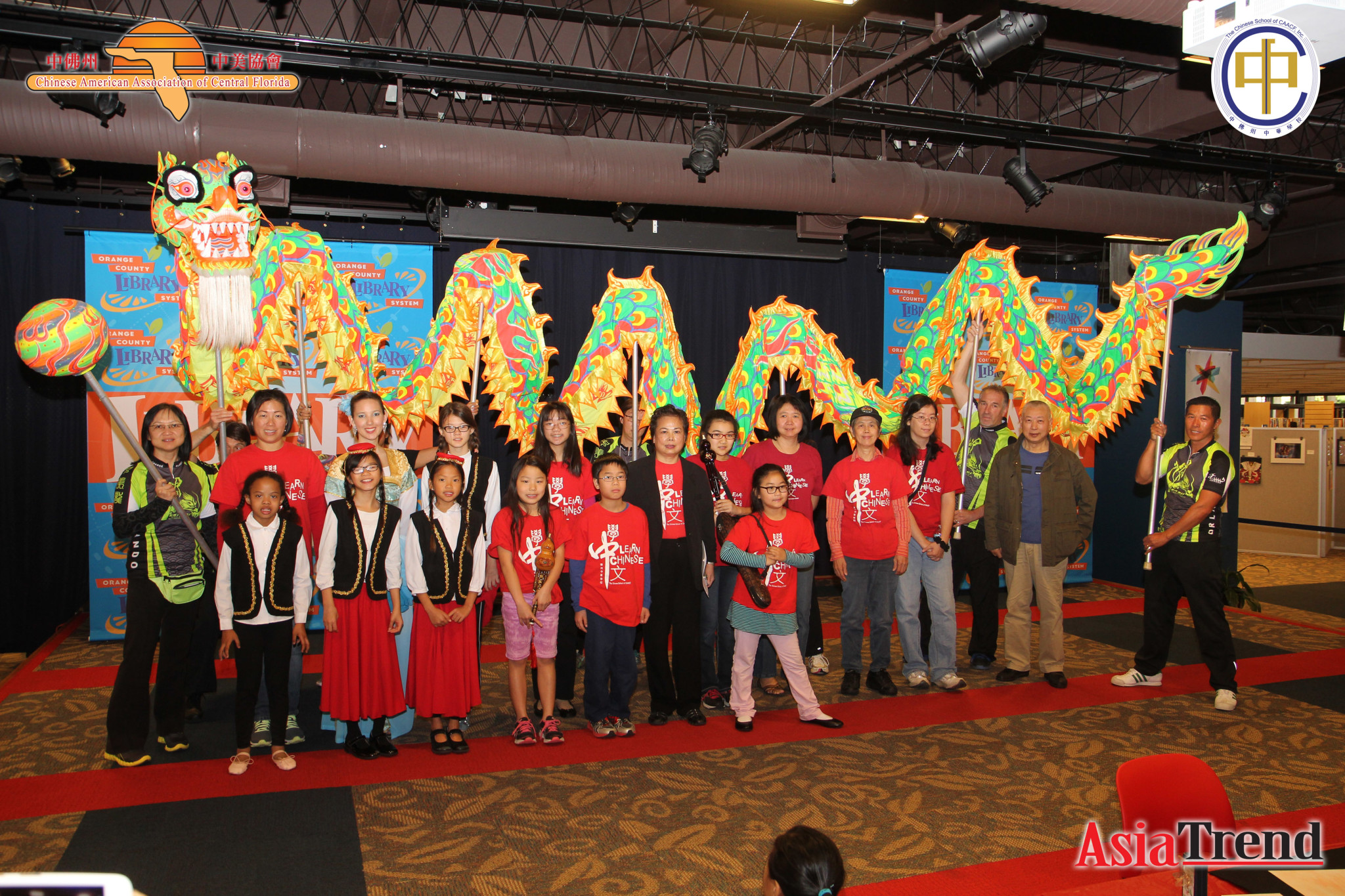 Orlando downtown library-goers got a chance to celebrate the Chinese New Year through a one-hour program presented by the Chinese School of CAACF on February 21, the third day of the Lunar New Year.
CHARGE dragon boat team of CAACF kicked off the program by performing a dragon dance, marching from the outside. Dragon dance, signifying the power, prosperity and good luck, is always the best way to welcome the New Year.
Chinese school students performed Chinese folk dance on stage. Folk dance instructor Celeste Hoeh performed an elegant long-sleeve dance. Chinese musical instructor Chang Kui Tang performed Erhu (Chinese Violin) and Dizi (Chinese Flute) with his students. At the end, attendees enjoyed the Chinese calligraphy demonstration by Chinese Calligraphy teacher Bih Yueh Luo and had a chance to bring some calligraphy home. Tusey Ing Lavender, the principal of the Chinese School, was glad to be invited again by the library and share so many educational programs with the general public.
The Chinese School of CAACF is one of the most established and premiere Chinese schools in the state. Offering a variety of language and cultural courses, the school offers classes to all age levels in a fun and friendly environment. Currently serving over hundred grade-school kids, high-school and college students, and many adults, the school has promoted the Chinese language, culture, and ethnicity in Central Florida for three decades. Chinese School not only offer language classes but also many after school cultural classes such as folk dances, Chinese instruments, kung fu, yoyo, table tennis and badminton. Visit www.orlandochineseschool.org for more details.
To view the photo album, visit www.facebook.com/Orlando.Chinese.CFL
Comments