From October 29 to November 1, 2015, St. Petersburg International Folk Fair Society, Inc. (SPIFFS) and its ethnic member groups will present the 41st Annual International Festival at Vinoy Park on St. Petersburg's beautiful waterfront, transforming it into a microcosm of the world.
In addition to ethnic foods and cultural displays, Folk Fair offers a multitude of special entertainment in the form of dancing, singing and drumming by more than thirty ethnic groups. On the two school days (October 29 and 30), Giving Tree Music will engage groups of students in drum circles, and various student groups will be performing on the main stage. On Saturday, October 31, the general public will enjoy cooking demonstrations, breathtaking music from Mongolia, featuring a beautiful instrument called Horse Head Violin (Morin Khuur), Polynesian dancers plus folk music and dancing from around the world. Be sure not to miss the Grand Parade of Nations at 2:00 pm, when members of the many SPIFFS ethnic groups will parade around the park, led by colorful bands, pipers and drummers. The parade will be followed by a swearing-in ceremony of 41 new citizens.  You will also have an opportunity to kick a few soccer balls with a couple of players from The Tampa Bay Rowdies.
Saturday's entertainment includes New Horizon Band, Urban Gypsies, Tony Wylie & Islands and Walter Strauss and Mamadou Sidibe on American guitar and Malian kamal'ngoni (hunter's harp). Sunday will feature The Islanders Greek Band and Lucid Druid.
Folk dancing and music will be performed throughout the festival on two stages. From one end of the globe to the other, you will find outstanding performances and demonstrations from North America, Asia, Europe, and Africa, not to mention food, cultural arts and crafts, art displays and more…….
SPIFFS is Tampa Bay's own United Nations and the only independent non-profit, multi-cultural folk fair organization in the country. Folk Fair is your chance to travel the world in a day – without leaving the country. Don't miss this once-a-year opportunity to take part in the magic of song, dance and foods from around the world.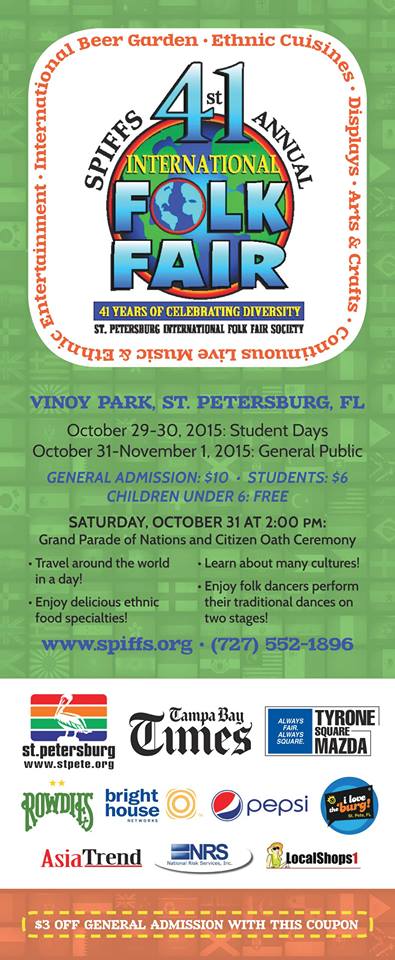 October 29 & 30 9 am – 3pm (schools only)
Saturday, October 31 10 am – 9 pm (general public)
Sunday, November 1 12 noon – 6 pm
Admission: Adults: $10.00 Students: $6.00
Children under 6 accompanied by adult: FREE
For more information, visit http://www.spiffs.org/.
Comments