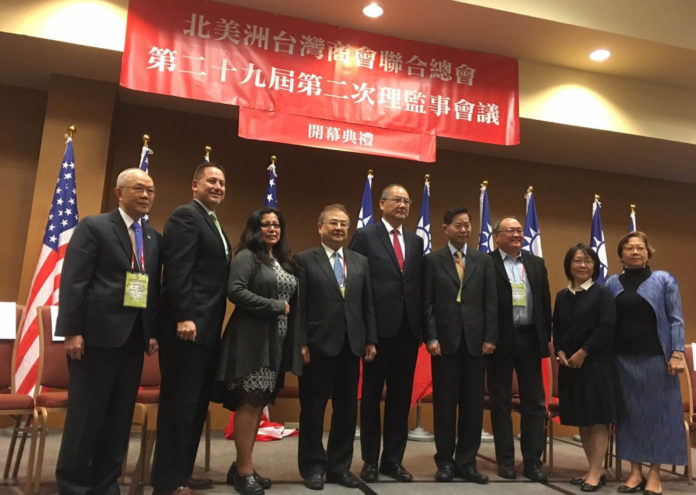 The Taiwanese Chambers of Commerce of North America (TCCNA) hosted its 29th 2nd MidYear Conference in Tampa. Since its inception in 1988, TCCNA has established thirty-nine local chapters in major metropolitan areas and embodies a coalition of more than 3,500 business members. Every year since, biannual conferences have been held. Through the efforts of Robert Chen, a Senior Board Director of TCCNA and a local representative of the conference, the conference was brought to Tampa. Over the course of three days members from chapters from all around the United States and Canada enjoyed some of the local sites, held a golf tournament, and learned about the value of investing Tampa Bay.
Members arrived Thursday through Tampa International Airport, and were welcomed by a group of hardworking volunteers who were there all day to guide and drive members to the hotel. Over two hundred fifty members attended the conference with most flying in. Many members from the nearby Orlando and Miami chapters also drove up to attend. The welcome dinner that evening was held at the The Italian Club, a historic venue in Ybor City. It was co-hosted by TCCNA President Liang Chih Peng and the Tampa Bay International Business Council (TBIBC). Distinguished guests were TBIBC President Renato Boca and keynote speaker Executive Director of the Tampa Bay Trade and Protocol Council Deborah Wilkinson.
On Friday, several chartered tour buses took members to see popular tourist destinations the Port of Tampa and Clearwater Beach, one of the top ranking beaches in the world. The welcome dinner that evening was hosted by the R.O.C.'s Ministry of Foreign Affairs with President Liang Chih Peng and Secretary Tim Chuang giving welcome remarks. Entertainment included violin performances by the talented Sophia Chen and Karishma Chapalamadugu who are both part of Florida's All-State Orchestra amongst other orchestras, as well as a party staple, karaoke.
Official business began Saturday morning with an opening ceremony guested by St. Pete Mayor Rick Kriseman, Mike Suarez of the Tampa Bay City Council, and Carmen LoBue of
Hillsborough County Community Affairs. Carmen presented President Peng with a proclamation declaring the day Taiwan Night in honor of Taiwan's contribution to the community.
Saturday afternoon a workshop in cooperation with TBIBC was held promoting the value of investing in Tampa Bay. Entrepreneurs and foreign investors have many opportunities to invest especially as state-backed incentives make it an attractive location. As a result there are many small to medium sized companies such as those that guested the workshop. The panel included Kimberly Archuleta (owner of Avance Learning Solutions), Kyle Klement (owner of The Veterinary Marketing Firm), Dan McCrady and Srini Venkat (VPs of Infi Systems), Erica Gerbolingo (owner of EG Event Management, LLC), Will G. Manuel (owner of Core Media Concepts), and Craig Kincheloe (president of Klout Real Estate Group).
Saturday evening's Gala Night and closing ceremony was hosted by the R.O.C.'s
Overseas Community Affairs Council. Local dragon boat team SACA (Suncoast Asian Cultural Association), which also volunteered throughout the conference, performed a traditional lion dance and impressive dragon dance. There was also a special San Taizi "Third Prince" photo-op. As a nod to New York City, the destination for the next biannual TCCNA conference, dancers performed the classic hit "New York, New York" as New York's chamber of conference members sang along and welcomed all members to New York City for the 29th Annual Conference (June 2017).
Article by Jacqueline Collier
Photos: C.K. Lau (To view the photo album, visit www.facebook.com/asiatrend)
Comments