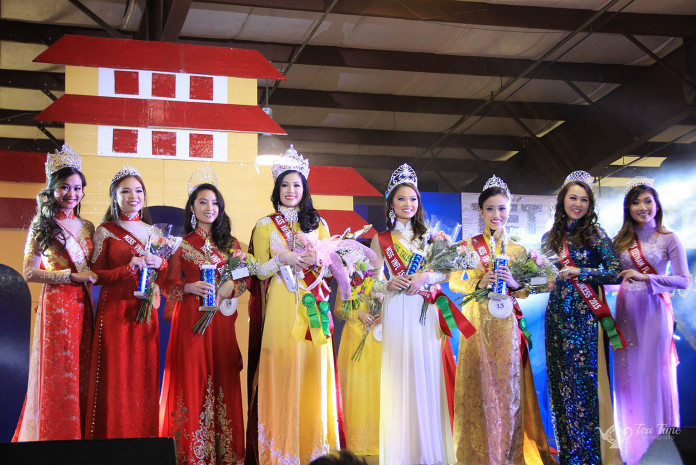 The 2016 Miss Vietnam Florida Pageant took place at the Central Florida Fairgrounds on February 7, 2016. After months of practice and preparations, fourteen beautiful young women embraced the stage vying for the 2016 Miss Vietnam Florida crown.
The pageant was scored on five different segments: ethnic gown, evening gown, talent, questions and answers and top five questions and answers. In addition, this year's competition contained many new elements compared to the years prior. A new superlative award, Miss Talent, was added for the contestant with the highest score in the talent portion. This was also the first year the Miss Vietnam Florida Pageant partnered with The Catalyst Foundation for philanthropy. This foundation raises funds to help build communities to fight against human trafficking in Vietnam. The contestants this year raised an astounding total of $8,000. The foundation has communicated they plan to use the full donation to supply a six-month food supply for multiple families as they travel back to Vietnam in March. Each contestant created their very own Go Fund Me account to raise funds. This is noteworthy for the funds were raised by donations from family members, friends and even supporters through their social media platforms.
The 2016 Miss Vietnam Florida Pageant opened with a traditional dance performance with the contestants adorning matching Vietnamese traditional Ao Dai dresses and Non La hats. Nhat Vy Thi Vo, a graduate from the University of Central Florida in December of 2015 with a Bachelor of Science majoring in Health-Sciences Pre-Clinical and plans to start Physician Assistant school this upcoming May at the Nova Southeastern University in Jacksonville, is the 2015 Miss Vietnam Florida Queen and contestant coordinator of this year's competition. "There was definitely a huge improvement on the girl's behalf seen throughout the entire pageant process. The contestants started out very tense. Both their walk and speech lacked confidence; however after interacting with their fellow contestants and the committee members, the contestants were able to open up more." Nhat Vy said. "Their walk, communication, and interactions improved tremendously. By the end of the process, they were able to maximize to their fullest potential and sparkle on stage."
Tina Vo, a senior at UCF pursuing a major in Health Services Administration, is the 2015 Miss Vietnam Florida Second-Runner up and stage manager in this year's pageant. "A memorable moment is getting to know all 14 beautiful contestants. This is one of my favorite parts of the Miss Vietnam Florida pageants. I am blessed with the opportunity to learn and create friendships with girls who I would have not been able to meet if I was not involved. Each girl has a unique sparkle to her and it is wonderful to be able to watch her showcase that on stage." Tina said. "Another memory I will cherish is help putting this pageant together alongside my very own Miss Vietnam Florida 2015 Royal Court. I was able to reminisce all the emotions I felt when preparing for my own pageant journey last year. The nervousness and excitement all consumed me and it is an experience I will always hold close to my heart."
Congratulations to the Miss Vietnam Florida 2016 Queen, Angel Van, 2016 1st Princess, Michelle Le, 2016 2nd Princess, Lili Le, 2016 3rd Princess, Alice Danh, 2016 4th Princess, Tam Pham, 2016 Miss Congeniality, Lily Nguyen, 2016 Miss Photogenic, Alice Danh, 2016 Miss Talent, Michelle Le, 2016 Miss Ao Dai, Angel Van, and 2016 Miss Philanthropy, Hoang Anh Doan.
There are also many wonderful plans for this year. Angel Van, a junior at UCF majoring in Health Science Pre-Clinical, who is also the current reigning Miss Vietnam Florida Queen said, "The Royal Court and I plan to attend the Vietnamese Community events and also do our own philanthropy work. We plan to host a calendar photo shoot with the current and past Miss Vietnam Florida Queens and a bake sale and use calendar and bake sales to raise funds for charity. We also plan to attend the annual Princess Ball held at the Orlando World Center at the Marriott Hotel where we mingle with and crown little princesses and help with proceeds to support programs at the Florida Hospital for Children." Wishing all of these ladies a wonderful reign and may pageant help as a platform to further pursue their dreams and goals.
By: Amanda Anh Thu Pham
[email protected]
2011 Miss Vietnam Florida Queen
2015 Miss National Asia First-Runner Up
Comments