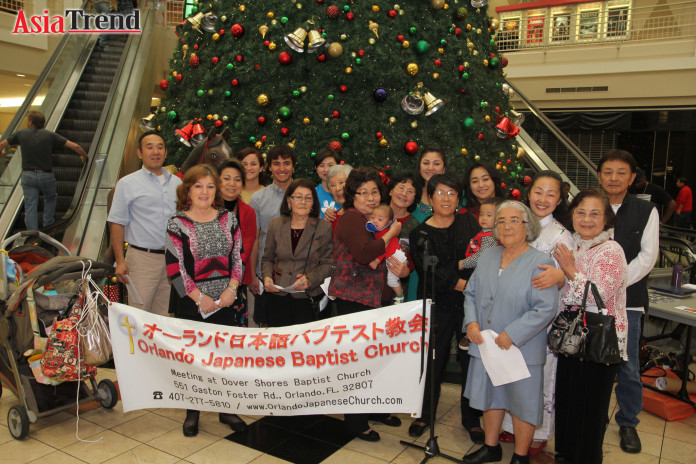 Photos: C.K. Lau (To view the photo album, visit www.facebook.com/asiatrend)
On December 21, 2014 the Orlando Japanese Baptist Church spread some holiday cheer to the shoppers at Orlando Fashion Square Mall. Caroling was one of four performances part of the mini Christmas concert hosted by the Asia Trend / YESS Center. The unique part of this performance was the bilingual aspect; all the songs were sung in both Japanese and English. Songs like "Joy to The World", "Angels We Have Heard on High", and "Oh Come, All Ye Faithful" were sung gleefully and led by Pastor Hiro Takaoka and his wife, Megumi Takaoka. The performance also featured Mrs. Takaoka's beautiful soprano voice. The finale was the crowd favorite, "We Wish You A Merry Christmas" as the choir wished the shoppers a Happy Holiday. The pastor expressed his delight in saying, "We were so glad that we could share the joy of Christmas with many people through our voice of singing. Many thanks to the mall and the people who helped us to have this wonderful opportunity!" The Orlando Japanese Baptist Church is currently the only Japanese church located in Florida. It was established in September of 2012 and locates at the Dover Shores Baptist Church. They welcome anyone regardless of their nationality. Their Sunday Worship Service and Tuesday Bible Study are both at 10:30am. You can contact them at (407) 924-6684 or at www.OrlandoJapaneseChurch.com.
The other three performances include Erhu (Chinese Violin) and Dizi (Chinese Flute) by Chinese instrument instructor C.K. Tang together with Soprano Saxophone solo by C.K. Lau from Asia Trend. Mr. Tang will start teaching traditional Chinese instrument at Asia Trend / YESS Center in March. Interested parties, please sign
up at www.yessfl.org.
Article: Yuni Sakurada
Comments