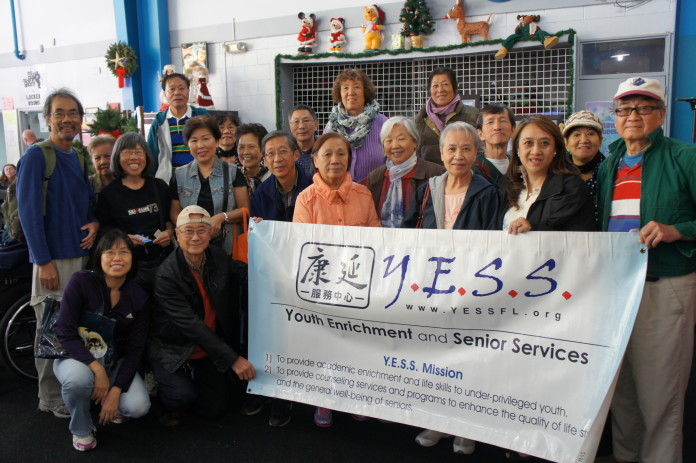 As an ongoing effort to connect with the local community, Asia Trend/Y.E.S.S. center organized a trip to the Ice Factory in Kissimmee for a Figure Skating show on December 13, 2015. As part of the promotion, seniors who visited the Y.E.S.S. Center FL at Orlando Fashion Square Mall were offered free tickets, while younger guests/associates were given a discounted price. We were also able to arrange free transportation from the center to the Ice Factory as part of our group trip. Carpooling was a service we were happy to provide since it meant that our outing was made much more accessible.
When we arrived, the Ice Skating Academy put on an excellent show, with figure skaters of all ages performing. It was upbeat, refreshing and wonderfully appropriate for the Christmas season. It's nice to know that in sunny Central Florida, we can still have some winter festivities. Beyond the setting, the performers themselves showed exceptional talent and quite a bit of flair. The crowd 'ooh'ed,'aah'ed, laughed and cheered as the skaters did some harrowing moves with both energy and expression.
Our trip's goals were two-fold. We wanted to provide the Asia Trend/Y.E.S.S.'s guests/associates with a fun event to come together as a community in a way that connects to the larger local Orlando community. Secondly, we want the relationship to be mutually beneficial, where the diversity of our members helps to enrich culture of our area. Culture exchange works both ways and fostering communication benefits all. Events like these can reach a larger audience than they would otherwise, while the participants may find the opportunity to enjoy something they might not have thought of before.
We hope to continue to have events like these for that reason, as well as a thank-you to our lovely guests who visit the Y.E.S.S. Center FL. This was also only possible through the efforts of Agnes Chau, our President, in particular since she pretty much arranged the whole thing and even snagged us some reserved seating. So please look forward to future events that can easily be found at our Meetup page or by stopping by the Y.E.S.S. center itself. Asia Trend / Y.E.S.S. center's next event will be the Dragon Parade Lunar New Year on February 14, 2016 to celebrate the year of the Monkey.  Stay tuned for more.
Comments