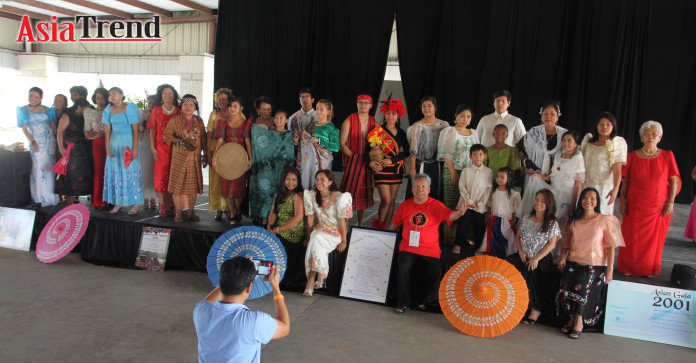 Asian Pacific American Heritage Month is celebrated in May as mandated by Public law 102450 of the U. S. Congress and the White House annual Procla-mation to honor the achievements and contributions of Asian Pacific Americans with observances through appropriate programs, ceremonies and activities.
Photos: C.K. Lau (To view the photo album, visit www.facebook.com/asiatrend)
Last May 24th, Florida's Space Coast Filipino-American Charitable and Educational Foundation, Inc. (SFACEF) hosted their fourth Asian Pacific Festival at the Wickham Park Main Pavilion in Melbourne. Festivities featured a day of music, ethnic dances and ethnic foods including the refreshing "halo-halo" for a hot day. Throughout the day entertainment consisted of vocal renditions, saxophonist, Thai classical dance, Indonesian Dance and Musical groups with the little known "Angklong" and several Hawaiian and Tahitian dances.. Then a Cultural Fashion Show ensued featuring costumes from different Asian Countries, mainly from the different regions of the Philippines modeled by our own Filipina residents and young men wearing the "Barong Tagalog".
In the evening, the highlight entertainment was the internationally travelled Leyte Dance Theatre of Tacloban City, Philippines, survivor of the 2013 super typhoon Haiyan/Yolanda. They have been performing in different cities in the USA to raise funds to help rebuild their City in Leyte. Their repertoire is composed of dances from the different regions of the Philippines including dances of the Hispanic era. The choreography fused folk movements with ballet and contem-porary forms giving it a distinctive dance interpretation. The 21 members are also accomplished singers giving us a rendition of both the U.S. and Philippine national anthems among other songs. This was a delightful two hours of dance and music enjoyed by everybody. We had visitors from Miami, Orlando and Jacksonville among others.\
All in all, this celebration of our heritage was enjoyed by all. Thank you to all who came, especially the volunteers who made it possible to put on such a show and to the families who housed the dance troupe. Maraming salamat!
Mabuhay!
Comments