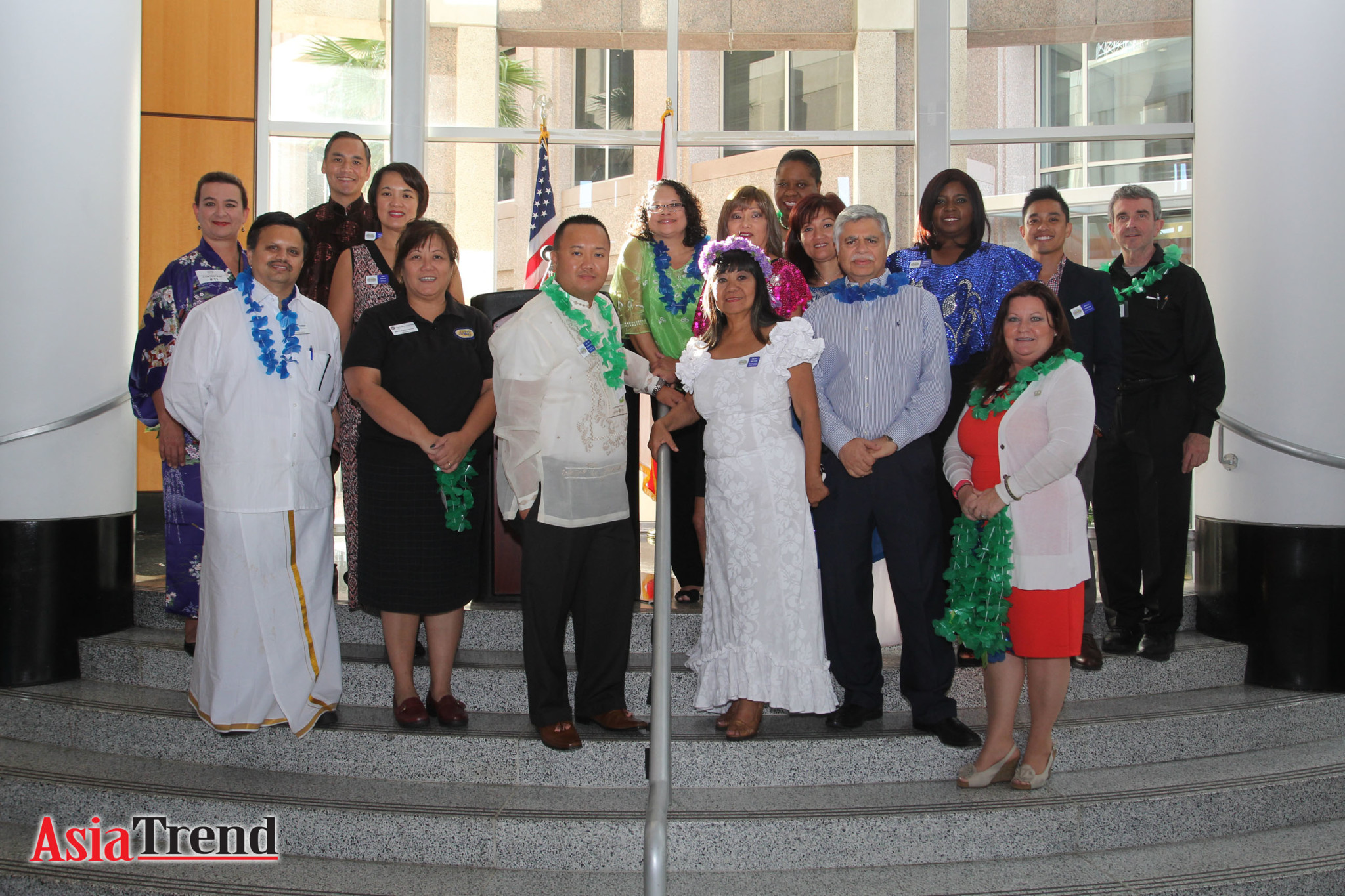 More than 200 Central Floridians gathered in Orlando City Hall on May 6 as City Commissioner Patty Sheehan read the proclamation by Mayor Buddy Dyer declaring the month of May 2015 as Asian Pacific American Heritage Month.
The 6th annual Asian American Chamber of Commerce of Central Florida Celebration of Culture in the Rotunda of City Hall opened with a high-energy performance by the Orlando Young Lions, featuring youth ages 7 through teens, and culminated in the annual Parade of Nations fashions of countries that included China, the Philippines, Vietnam, India and Japan.
"Asian Americans are the fastest-growing demographic in the nation, and there are more than 10,000 businesses in Greater Orlando whose owners are of Asian descent," said Gail Rayos, President of the Asian American Chamber of Commerce in her opening welcome to the crowd.
Photos: C.K. Lau (To view the photo album, visit www.facebook.com/asiatrend)
That presence and appreciation of culture was on display at expo tables hosted by many businesses and associations – from the Orange County Asian Committee to the Council for Filipino American Organizations in Central Florida to Asia Trend and including companies such as Orlando Health, Fifth Third Bank, Pepsico-Frito Lay, Global KTech, GBR&R Marketing, Fifth Third Bank, XStream Travel, Origami Owl and Florida Institute of Technology. Orange County Property Appraiser Rick Singh, Orange County Supervisor of Elections Bill Cowles and Orange County Sheriff Jerry Demings joined in the celebration along with the Orlando's City Commissioner Sheen and Luis Martinez, City of Orlando director of multicultural affairs.
Bento Café, which has been the lead food sponsor of the event for the past six years, was joined by Hawkers Asian Street Fare, Caribbean Sunshine Bakery & Restaurant and Woodlands Pure Vegetarian Indian Cuisine in sharing food tastings.
As the proclamation recognizes, Orlando is enriched by the significant and lasting contributions of its residents of Asian and Pacific Island heritage, and Orlando recognizes their exceptional achievements and success in all aspects of society, including business, education, law, the arts and sciences.
more info about the Asian American Chamber of Commerce of Central Florida (AACC) at asianamericanchambercfl.org
Comments