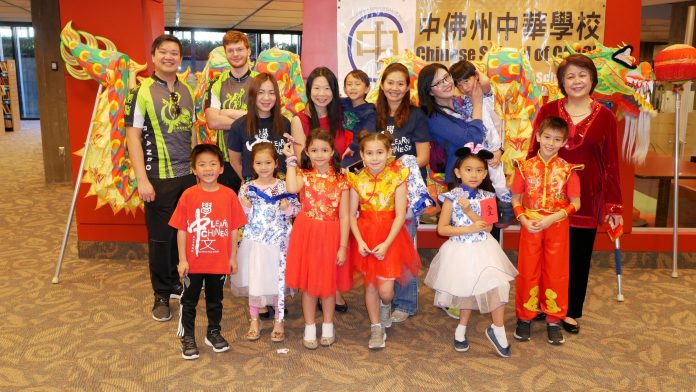 On February 8, hundreds of people turned out for the seventh annual Chinese New Year Celebration at Orlando downtown library organized by the Chinese School of CAACF.
Photos: Chet Karwowski and C.K. Lau (To view the photo album, visit www.facebook.com/asiatrend)
CHARGE dragon boat team of CAACF kicked off the program by performing a dragon dance, marching from the Rosalind Ave outside. Dragon dance signifies a new beginning and it is generally believed that it brings luck to those who invite the dance troupe to their celebration.
Students of Chinese School and Dance troupe of CAACF performed Chinese folk dance. A student of Lake Highland High School sang a Chinese New Year song. Pipa demonstration by professional Chinese Instrument musician Ms Jianping Yang. At the end, attendees enjoyed the Lucky Origami and Chinese calligraphy demonstration by Chinese Calligraphy teacher Ms Bih Yueh Luo. Mary Liang, the principal of the Chinese School, was glad to be invited again by the library and share the Chinese educational programs with the general public.
Watch the event's videos at www.YouTube.com/AsiaTrend
The Chinese School of CAACF is one of the most established and premiere Chinese schools in the state. Offering a variety of language and cultural courses, the school offers classes to all age levels in a fun and friendly environment. Currently serving over hundred grade-school kids, high-school and college students, and many adults, the school has promoted the Chinese language, culture, and ethnicity in Central Florida for three decades. Chinese School not only offer language classes but also many after school cultural classes such as Chinese chess, calligraphy, folk dance, Chinese yo-yo, western chess and kung-fu. Visit www.orlandochineseschool.org for more details.
Comments