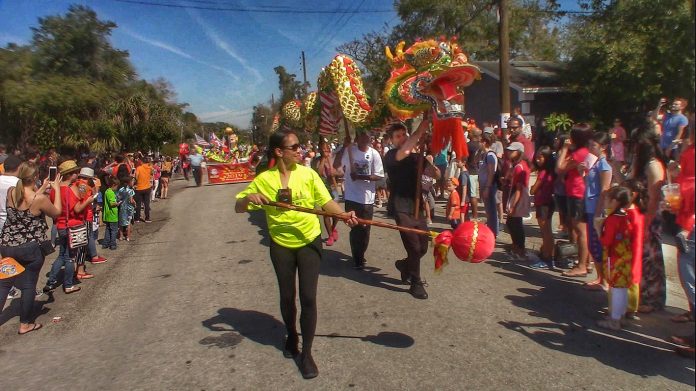 During the month of February, billions of people all over the world celebrated the Year of the Pig, a symbol of wealth and fortune in Chinese culture. On Sunday, February 17th 2019, the Orlando community celebrated the new year with the return of the 8th Annual Central Florida Dragon Parade and Lunar New Year Festival. Once again, Asia Trend Magazine partnered with Mills 50 – Orlando Main Street District, R.E.A.C.H. (Recognizing Experiencing Asian Cultural Heritage) and Y.E.S.S. (Youth Enrichment and Senior Services) to host the event.

The Dragon Parade started just before noon at the corner of Lake Highland Drive and North Mills Avenue and ended at North Thornton Avenue and East Colonial Drive.
more Dragon Parade videos at https://goo.gl/rcStnS
Thousands of people gathered on the sidewalks to take photos of and wave at leaders of the City of Orlando and Orange County and representatives of almost 50 Asian organizations marching in the parade.
Directly following the end of the parade, the festival began its opening ceremony on the main stage located at 728 N. Thornton Avenue.

To view additional photos of this year's festivities at https://www.facebook.com/AsiaTrendMagazine/media_set?set=a.10216194136699691&type=3

The inclusivity of the community sets this Lunar New Year celebration apart from any of the others. The festival welcomes participants from all backgrounds to celebrate with them and includes performances that appeal to all. The charismatic festival emcees Yuni Sakurada and Khaled Itani and program coordinators Jessie He and Anthony Chung introduced each of the twenty-four acts that performed that day. Attendees of all ages enjoyed cultural acts representing many Asian countries, including China, Indonesia, Vietnam, Japan, and Russia, among others. This year's festival also featured first time performances from non-cultural, contemporary acts, such as a special yoyo performance by Noel Kunz, a kpop cover dance by KillaPop, and a vocal performance by Nina Oh. These upbeat performances were a great addition to engage the audience closer to end of the day.

The festival also provided a variety of multicultural food options – from Thai Island dishes to Italian ice – and hosted numerous promotional booths for local businesses. The colorful tents of the booths that filled the venue attracted a great deal of people who were just passing by, aimlessly walking around Downtown Orlando.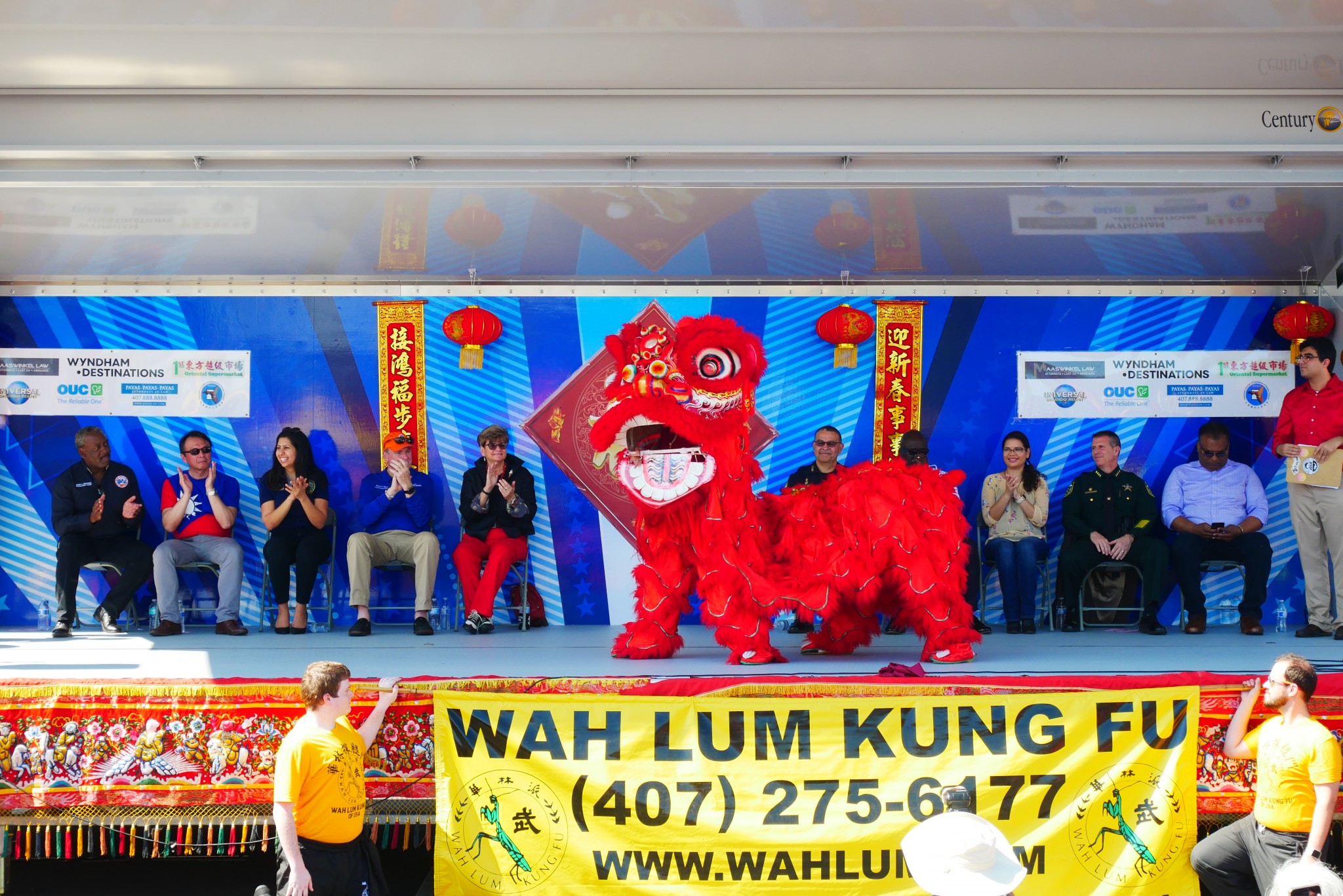 Due to the growing attendance of cultural events in Central Florida, the Dragon Parade and Lunar New Year Festival has received notable media attention. Over the past eight years, the event has exponentially grown in size and it's only just the beginning. According to the Orange County Government's online article, "Dragon Parade Lunar New Year Festival Brings Unity to Orange County," the 2018 festivities saw over 8,500 visitors and "this year's crowd counts should exceed previous attendance figures." The article covers the event and the elected officials in attendance, including Orange County Mayor Jerry L. Demings, who participated in the parade and delivered a proclamation that day.

"Orange County's greatest strength lies in the diversity of our people," said Mayor Demings. This could not be more true. This event draws the attention of not only those in the Asian community, but also art and culture enthusiasts – locals and tourists alike.

Recently, the festival was recommended by VisitOrlando as one of the must-see Multicultural Festivals in Orlando, which likely boosted the amount of out-of-town visitors that attended this year.

In comparison, Thomas Thorspecken detailed his experience from a local's perspective at the festival in full length on his website, Analog Artist Digital World. While he sketched the entrance of the venue, he took in the scenery around him, "I was watching two dragon dancers getting ready to perform. Once the head was put on the dragon came alive and a large crowd gathered all around me. The dragon was rather silly often falling down and always getting in the face of small children. One little Chinese girl was mesmerized and she followed the yellow dragon around grinning the whole time. The dragon looked at the sketch in my lap and so I lifted it up so she could see it right side up. She nodded her head with delight." Since 2009, Thorspecken has posted a sketch every day on his blog, which is, as he describes, "his way to finally put down roots, to become part of a community, one sketch at a time."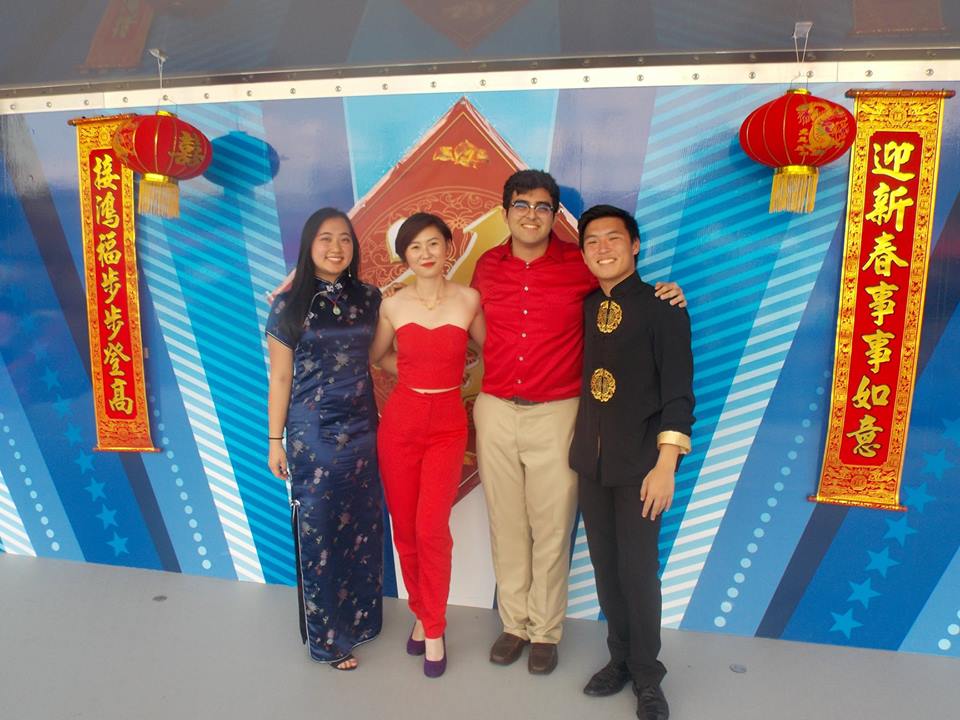 As the end of the fifteen day Lunar New Year holiday came to a close, Central Florida came together for one last big event to celebrate the coming wealth and prosperity we hope for ourselves and our loved ones in the new year.

To learn more information about the event, visit their website: CentralFloriDadragonParade.org

To view additional photos and videos of this year's festivities, visit their Facebook and Instagram page: www.facebook.com/Orlando.Dragon.Parade and www.instagram.com/dragonparadecfl and Asia Trend YouTube channel at https://goo.gl/rcStnS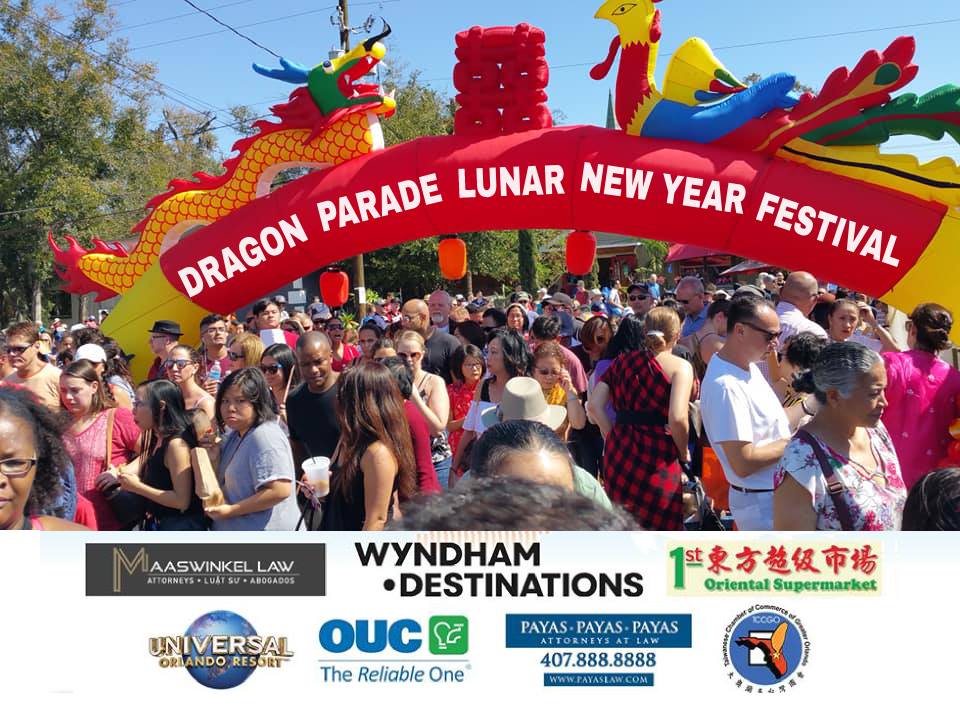 This year's sponsors include Wyndham Destinations, Maaswinkel Law P.A., 1st Oriental Supermarket, Taiwanese Chamber of Commerce of Greater Orlando TCCGO, OUC – The Reliable One, Payas Payas Payas Attorneys at Law, and Universal Orlando Resort.

Comments