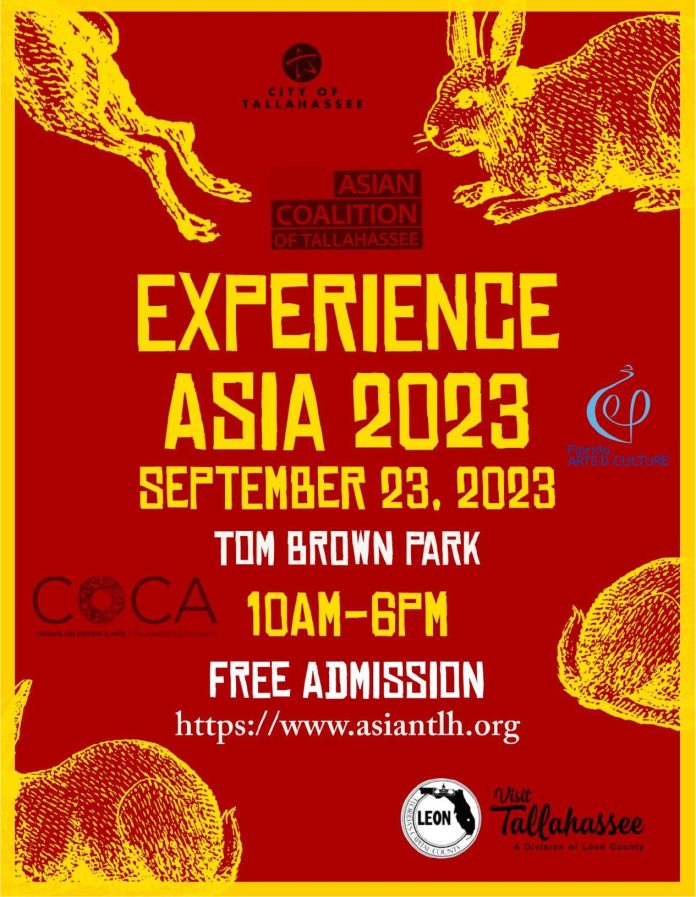 Celebrating its 20th Year, The Free Festival Showcases Asian and Asian Pacific Cultures
TALLAHASSEE, FLA. (SEPTEMBER 23, 2023)–, From the organizers: The Asian Coalition of Tallahassee, Inc. (ACT) presents its 20th annual Experience Asia Festival on Saturday, September 23 from 10a.m.-6 p.m. at Tom Brown Park. Featuring free admission, the family friendly festival celebrates the diversity of Asia and Asian Pacific cultures through performance, demonstrations, cuisine, arts, crafts, exhibits, children's games and activities, a photo opportunity wearing attire from the different Asian countries with other countries that have a unique Asian population.
The festival stage will host performers from Japan, the Philippines, India, China, Taiwan, the Middle East, Indonesia, the Polynesian Islands., Hawaii, Panama, and Mexico. Musicians, martial artists, singers, dancers, and others will represent their unique culture and heritage that the audience can share through these various cultural presentations.
Additionally, Experience Asia features more than 60 vendors of food, arts, crafts, clothing, jewelry, and other cultural items that are available for purchase.
Sponsored by the Consulate-General of Japan in Miami, Florida, the festival's featured performers are the MATSURIZA TAIKO DRUMMERS who offers a thundering performance of the 2,000-year-old Japanese art form on the stage. Be sure to catch their performance at 11:45 a.m. for the opening ceremonies or their afternoon performance from 4:00 p.m.-4:30 p.m.
A fan favorite of the festival each year, Matsuriza continues to mesmerize the listeners with their rolling clashing and dramatic choreography and sound.
There will also be an exciting Japanese Kendo demonstration as part of the day's Japan-related activities.
Each year the Experience Asia Festival attracts more than 18,000 people from Florida and Georgia. Launched by the Asian Coalition in 2004 (the year that it became a 501(c)3 , the festival brings together various Asian communities within the Tallahassee area and shares the Asian heritage with the community at large through cultural experiences.
Experience Asia is co-sponsored by the City of Tallahassee and the Council on Culture and Arts (COCA), and the Department of State Arts and Culture and Visit Tallahassee. The performance lineup includes performers representing China, Middle East, Hawaii, Indonesia, India, Japan, Korea, and Taiwan, including local community performers. The  program is very inclusive as Asians are represented all over the world.  Please note that entertainment is subject to change.
For additional information, please go to ACT's website: asiantlh.org or call 850-728-0039, 850-300-1535 or 850-321-1114.
Comments