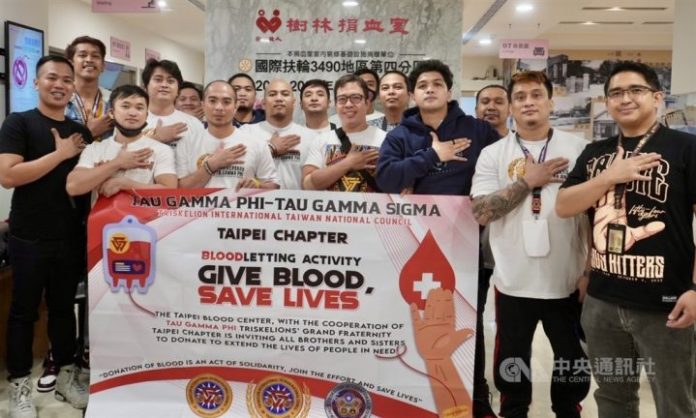 Taipei, Oct. 24 (CNA) Close to 30 Filipino donors participated in a blood drive in New Taipei organized by the Philippine fraternal organization Tau Gamma Phi Sunday.
Bernard Paul Cruda, head of the Taipei chapter of the Tau Gamma Phi under the Triskelion International Taiwan National Council, said the blood drive at the Taipei Blood Center's Shulin Donation Site was a way to show "gratitude to our host country and its people who have generously provided employment to countless Filipinos."
Before Sunday's event, the Shulin Donation Site only had four to seven days of blood for most blood types and aimed to collect at least 14 bags of blood.
This figure was quickly surpassed as 27 Filipinos each donated 250 milliliters of blood.
San Paolo Escudero, a 36-year-old Filipino office worker from Taipei, told CNA that helping out gave him and the other donors a "sense of fulfillment."
"We have to give back to the community where we belong, and since we are in Taiwan, we have to do our part," Escudero said.
Joseph Visaya, a Filipino factory worker living in Hsinchu, encouraged his fellow Filipinos in Taiwan to participate in any future blood donation programs organized by Tau Gamma Phi.
The blood donation campaign follows a beach cleanup event organized by the chapter at Taoyuan's Zhuwei Beach in September, which saw around 30 Filipino volunteers pick up trash along the coastline.
Along with its sister organization Tau Gamma Sigma, Tau Gamma Phi has around 300 members in Taiwan in eight chapters ranging from Taipei to Kaohsiung.
Tau Gamma Phi, otherwise known as the Triskelions' Grand Fraternity, was founded on Oct. 4, 1968 by students from the University of the Philippines' Diliman campus in Quezon City. It has since spread internationally with members in Filipino communities around the globe.
Comments