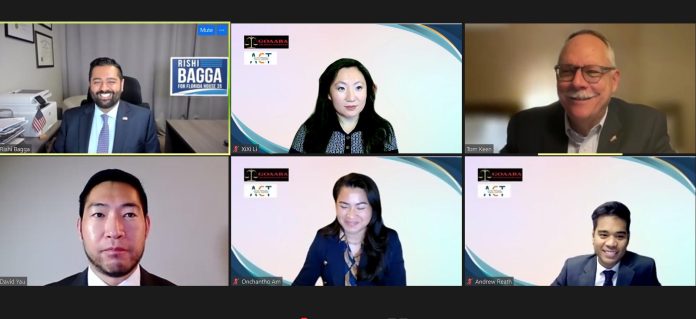 The Greater Orlando Asian American Bar Association (GOAABA) and Asian American Pacific Islanders Coming Together (ACT) hosted a nonpartisan virtual candidate forum spotlighting the candidates for Florida House District 35 special elections on Oct 25, 2023.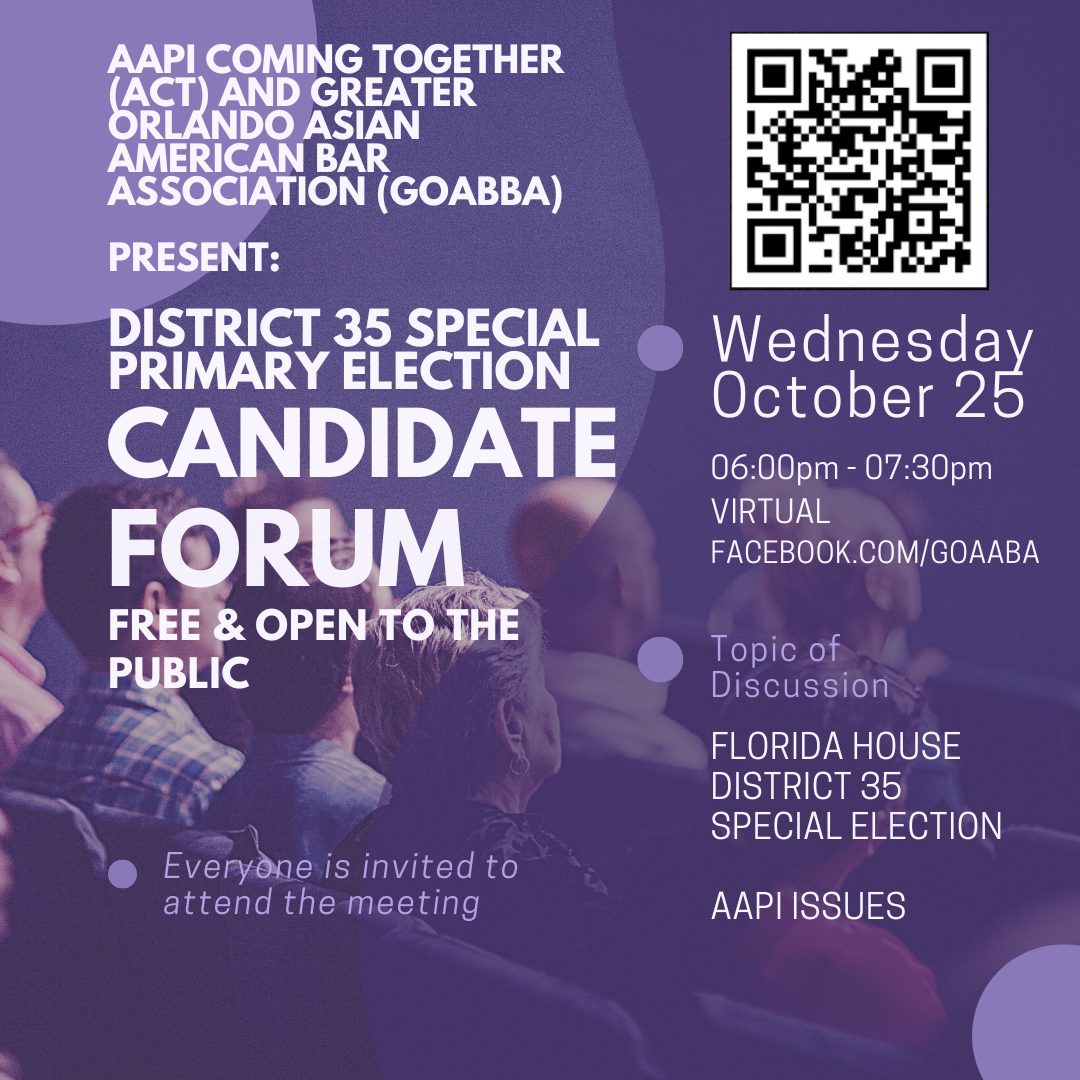 The House District 35 is home to a large percentage of Asian American Pacific Islanders who could swing the election. Historically, AAPI have been the least likely to vote but progress has been made in recent years.
This discussion in this forum covered a wide range of critical issues, including the rise of home insurance cost, affordable housing, immigration, education, and hate crimes in Florida. It provided a great opportunity for voters to understand each candidate's stance on these vital matters.
Attended candidates include Rishi Bagga and Tom Keen. Both candidates have expressed their commitment to participating in this essential conversation.
The Candidate Forum provided an invaluable opportunity for our AAPI community to better understand the perspectives and goals as a candidate including Rishi Bagga for Florida HouseTom Keen for Florida
Remember: Orange Couny – October 26, 2023, 5 pm – Deadline to request a vote-by-mail ballot for the November 7 Primary Election
Early voting October 28-November 5, 2023, 10am-6pm
November 7, 2023, 7am-7pm – Election Day!
Got questions go to: www.ocfelections.com
Osceola County Early Voting – Saturday, October 28, 2023, through Saturday, November 4, 2023, 9:00am to 6:00pm. https://www.voteosceola.gov/en-us/
For a Map of House District 35 – visit https://www.myfloridahouse.gov/…/Distri…/small/HD_35.pdf
About GOAABA:
The Greater Orlando Asian American Bar Association (GOAABA) is a community of legal professionals dedicated to promoting and supporting the Asian American legal community in the Greater Orlando area. Through networking, education, and outreach initiatives, GOAABA works tirelessly to advance the interests of its members and contribute to the broader legal community.
About ACT:
Asian American Pacific Islanders Coming Together (ACT) is an organization committed to fostering unity, understanding, and empowerment within the AAPI community. Through various initiatives, ACT advocates for the rights and well-being of AAPI individuals, creating a platform for collaboration and positive change.
For more information about their future events or to learn more about the participating organizations, please visit facebook.com/goaaba.
Comments