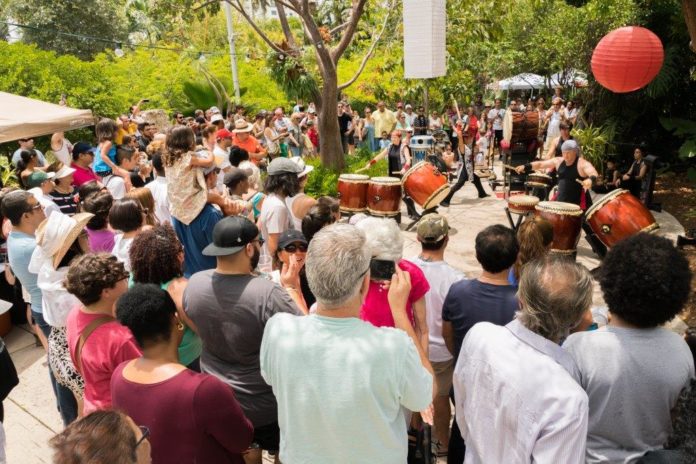 The festival features a kimono fashion show sponsored
by the Consulate-General of 
Japan

 in 

Miami

MIAMI BEACH, Fla. (February 23, 2018) – The annual Japanese Spring Festival returns on Sunday, March 25 from 10 a.m. to 5 p.m. to the Miami Beach Botanical Garden, located at 2000 Convention Center Dr. in Miami Beach. Admission is free.
Featuring Taiko drumming performances by Fushu Daiko, Ikebana workshops, authentic Japanese tea ceremonies, origami lessons, martial arts demonstrations, anime and more, the Japanese Spring Festival celebrates the rich culture of Japan and the friendship between Florida and Japan. Sister city relationships exist between Miami Beach and Fujisawa as well as Miami and Kagoshima.
Additionally, the Consulate-General of Japan in Miami is bringing the kimono designs of New York-based fashion designer Hiromi Asai to center stage with a kimono fashion show, a highlight of this year's festival. Beginning at 1 p.m., the wedding-themed fashion show will feature a variety of kimonos including a Furisode, traditionally worn by unmarried women in Japan, as well as a Hikifurisode and an Uchikake, formal bridal kimonos worn by a woman on her wedding day.
Born in Tokyo, Asai grew up surrounded by traditional Japanese art and culture. Recognizing that the popularity and prominence of kimonos were slowly fading in Japan, Asai decided to embrace and revitalize the art of kimono design and creation. Her one-of-a-kind kimonos combine traditional Japanese fashion with contemporary and innovative styles, continuing the thousand-year-old art form and adapting it for the modern age.
Asai's work has been featured in The New York Times, Vogue Germany, Newsweek and The Independent among others. She has exhibited her kimonos at venues around the world including the Van Gogh Museum in Amsterdam and the Museum of World Culture in Sweden. Her kimonos were modeled during New York Fashion Week in 2016, the first ever kimono fashion show to take place at the event.
With the goal of strengthening the U.S.-Japan friendship and bringing Japanese experiences to the people of Florida, the kimono fashion show is sponsored by the Consulate-General of Japan in Miami. Additional sponsors of the Japanese Spring Festival include Miami Beach Garden Conservancy, Inc., Miami-Dade County, the City of Miami Beach, Miami Living and Culture Owl.
For more information about the Japanese Spring Festival and the Miami Beach Botanical Garden, contact Executive Director Sandy Shapiro at [email protected] and305-673-7256 or visit https://www.mbgarden.org/.
For more information about the kimono fashion show, contact Miwako Patton at [email protected] or Hector Franco at [email protected] and visitwww.miami.us.emb-japan.go.jp/itprtop_en/index.html.
For more information about Hiromi Asai, visit http://www.kimonohiro.com/index.html.
Comments