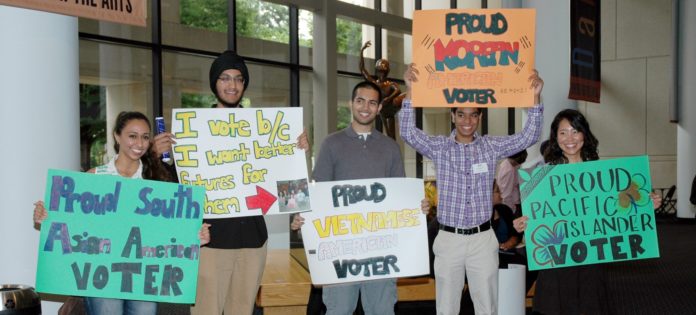 APIAVote invite you to join Asian and Pacific Islander American Vote (APIAVote) and the  community partners in Ohio and Pennsylvania at the Republican and Democratic National Conventions for a briefing on the AAPI electorate and reception celebrating AAPI leadership.
On July 18, 2016, APIAVote briefing and reception at the Republican National Convention will take place at the FirstEnergy Powerhouse (2000 Sycamore St Cleveland, OH 44113). The briefing begins at 4PM, and the Convention Kick-Off Reception begins at 5PM.
APIAVote briefing and reception at the Democratic National Convention will be held on July 25, 2016, at Hilton Philadelphia at Penn's Landing (201 S Christopher Columbus Blvd Philadelphia, PA 19106). The briefing will begin at 12:30PM, and the Convention Kick-Off Reception will begin at 6PM.
Register for our events at the Conventions→
Presidential Town Hall
Although registration is not yet open for the Presidential Town Hall organized by APIAVote and AAJA taking place on August 12, 2016, you may sign up to receive more information and updates when registration is available.
Make plans to join them in Las Vegas—come a few days earlier and stay after the Town Hall to also participate in other activities, including APIAVote's trainings. A master calendar of events will be released in the next few weeks.
See the coalition of organizations joining us in Las Vegas »
Tickets to the Town Hall is open and free to the public, but prior registration will be required. Click through for more information on the event!
Get more info on the Town Hall→
Comments