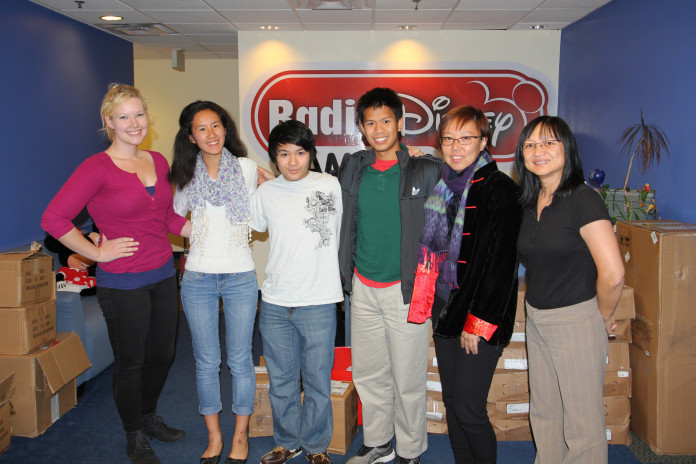 Mic Check: One…Two…Three… We are airing! This past month I was blessed with the opportunity to talk about my Asian cultural heritage on Radio Disney along with my fellow REACH members Frank Lau and Wendy Ng, accompanied by Shally Wong and Susan Hoeh from the Chinese American Association of Central Florida. Sometimes people are reluctant to love Asian culture because they do not understand it. I was given a platform and the power to leave a positive impression on kids and adults about how fascinating Asian culture truly is.
My favorite aspect of Asian culture is no doubt celebrating Chinese/Vietnamese New Years. You do not have to be Asian to celebrate! In fact, anybody can! A little under a month away, the festivities shall begin. I am talking about the best times of the year include going down to Mills Avenue and watching the majestic Dragon Dance. A tradition which did not become popular until the early 1970s. The dragon scares away evil spirits for the new year as well as the firecrackers that go off. You do not want to miss the performances! Do you like red envelopes? What if I said they were filled with money? I thought so. Red envelopes called hongbao or li xi symbolize good luck, good fortune, and success. I enjoy receiving li xi, but family time is the best part. All your family members come over and you have a large feast. It is not so much about the tasty dumplings as the timeless company you get to have. The silly times. The memories made. For a moment, all your problems cease to exist. That is the true beauty of Chinese/Vietnamese New Years.
Tracing back my roots, I am proud to be an Asian-American. If you want to learn more tune in to AM 990 at 6:30am on January 25th (The interview will be aired!). Here is to a new year, the year of the Horse!
Duc-Quy Nguyen is an IB senior at Winter Park High School. He plans to major in biomedical engineering in college and impact lives around the world. Outside of school, he enjoys playing viola in FSYO (Florida Symphony Youth Orchestra), volunteering at the VA hospital, and playing ultimate frisbee.
Article: Duc-Quy Nguyen
Comments