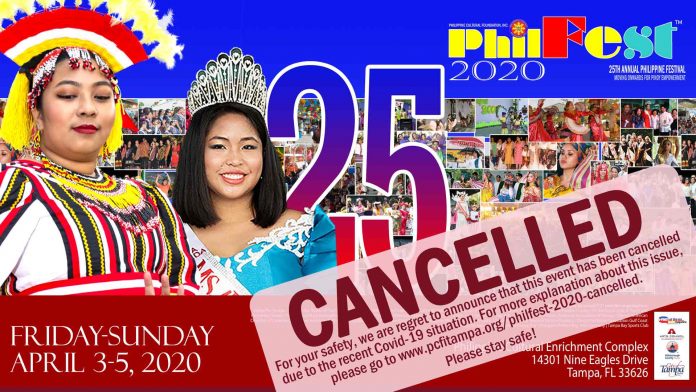 March 8, 2020, Tampa, Florida – Due to the pandemic spread of the Coronavirus all over the United States and globally, the Officers and Members of the Board of the Philippine Cultural Foundation, Inc. (PCFI) organizers of the most popular annual Philippine festival in the East Coast have decided to cancel this year "PHILFEST" that was originally scheduled for April 3-5 at the Philippine Enrichment Complex located in the Oldsmar area. PCFI said that should the situation change within 90 days, the organization will consider re-scheduling PhilFest before the end of the year.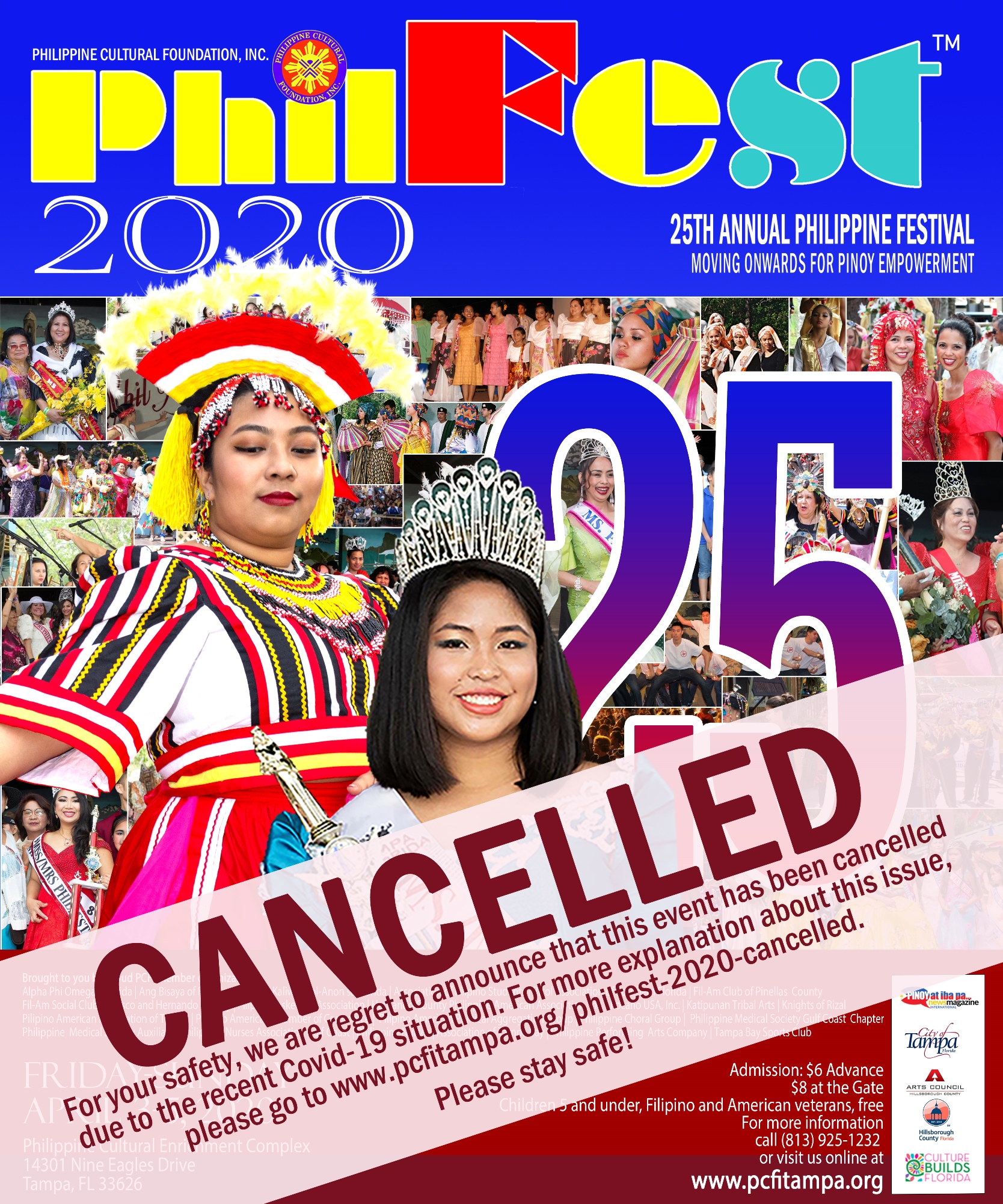 Reasons for the cancellation of the event was based on the pandemic spread of the virus including in the State of Florida with more than 100,000 cases now globally. The declaration of a State of Emergency by Governor Ron DeSantis last March 1, 2020, the governor's mentioning in his televised speech last week warning all Floridians to stay away from crowds and events with diverse attendees, also played a big factor in the decision of PCFI canceling PhilFest.
Many were disappointed to hear that the event has been canceled as PhilFest was supposed to have celebrated it's 25th year anniversary since the very first festival in 1995 that was held at the Al Lopez Park in Tampa. 23 Philippine member organizations were gearing up to have the biggest celebration this ever with parades, movie star guests from the Philippines, food festival and cultural exhibits. PCFI plans to move the celebration to next year with the hope that the Covid-19 pandemic will be over.
People who purchased the discounted advance tickets need not worry as these tickets will be honored at the next scheduled PhilFest.
PhilFest is now considered as one of the most successful Philippine festivals in the United States held outdoor in the a 10-acre property owned by the Philippine community of Tampa Bay located at 14301 Nine Eagles Drive in the Westchase area where also the ever so popular Bayanihan Arts & Events Center is located. Every year, the 3-day festival draws more than 12,000 attendees from all over Florida and neighboring states with cultural performers coming in from Pittsburg, Chicago, Toronto, and Los Angeles. The festival offers everything about the Philippines, from food to handicrafts, cultural exhibits, street parades, singing and dance competitions. One guest was quoted when asked why he comes to PhilFest year after year and his reply was, "coming to PhilFest is like going the Philippines without traveling for 21 hours and paying the expensive fare. PhilFest is the Philippines here in America."
Comments