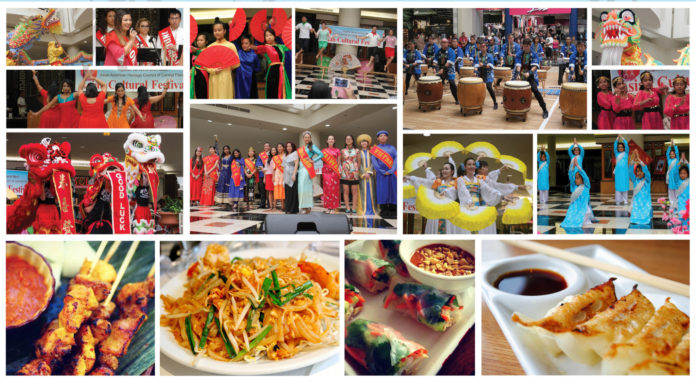 May is Asian American and Pacific Islander Heritage Month proclaimed in 1978.  It celebrates the culture, traditions, and history of Asian Americans and Pacific Islanders in the United States.  The Asian American Heritage Council, also known as AAHC, is an organization of Asian American organizations in Central Florida established in 1980.  The groups are ranging from social, cultural, business, religious, educational, professional, to health & fitness and diversity networks.  Fifteen Asian cultural non-profit organizations joint force to produce this annual Asian Cultural Festival in May to raise fund for the annual Asian American Student Achiever awards in November.  For the past twenty five years, the AAHC has recognized several hundred Asian-American students for their excellence in academia, community service, preservation of Asian culture and language.  AAHC of Central Florida's mission is to preserve Asian Heritage and Culture and to represent the interest of diverse Asian American ethnicities.
Come celebrate Asian Pacific American Heritage Month this year and enjoy cultural entertainment, arts & crafts and Asian Ethnic food featuring China, India, Indonesia, Japan, Korea, Philippines, Taiwan, Thailand, and Vietnam on May 27, 2017 at the Orlando Fashion Square Mall.  Please visit http://www.aahc-cf.org for more details.
Highlights for 2017 Asian Cultural Festival
Don't miss the Mrityun Dance Studio's multi-faceted performances at the upcoming May 27th Asian Cultural Festival. The studio will display their cultural versatility with two dances articulating western-Indian fusion style as well as semi-classical traditions. One of their dances will feature a dynamic and vigorous dance depicting Lord Shiva's tandav performance. The studio has performed throughout Florida under the direction of Naveena Murugesan and continues to keep students of all ages active and fit through lesson sessions and stage performances.
The powerful taiko drum is indicative of Japanese heritage and traditions and will be featured in a 30-minute spectacular at the upcoming Asian Cultural Festival. The performance group, Orlando Taiko Dojo, is an expansive group comprised of students ages 12–73 who keep an active performance schedule throughout Florida. According to the Dojo, their "students not only learn the techniques of how to play Taiko drums, but they also learn about other essential values in life such as respect, manners, concentration, tenacity and teamwork. The group has performed at many local venues such as Chinese New Year Celebrations, the Orlando Japan Festival and in the Disney Princess Marathon."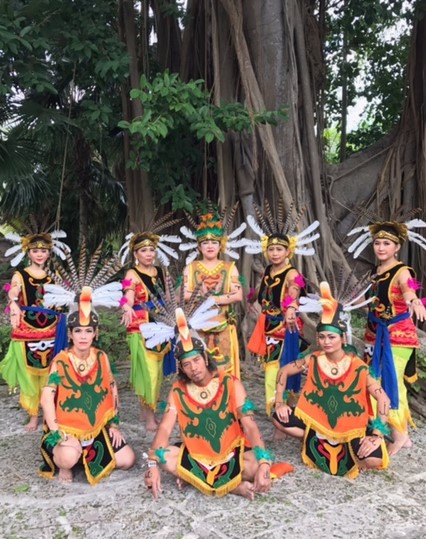 ANGIANG DANCE FROM DAYAK -CENTRAL KALIMANTAN or AKA: central Borneo of INDONESIA, by their tribe called DAYAK NGAJU. It describes how the tribe in ancient time to heat people that were affected by natural/supernatural objects. This dance develops mainly in Central Borneo's sub called Telaga (Lake) "Antang"  Organization Mission:  Together we preserving, presenting and promoting the diversity of Indonesia's heritage through cultural, education, and charitable events.
The Dance Troupe of CAACF (
Chinese American Association of Central Florida) was established by a group of enthusiastic ladies in 1980. The main goal of the organization is to promote the Chinese culture through Chinese traditional dance. The troupe has been performing the traditional dances in many multi-cultural events.
Representing Vietnam in the upcoming Asian Cultural Festival is Thuyền Mây Productions, a dynamic entertainment and dance group of all ages and possibilities. Culture is the forefront of Thuyền Mây Production's stages as expressed in the "Journey to Mekong Delta" (featuring non la hats) and the "Three Regions Dance," a cultural potpourri uniting all three Vietnamese regional traditions. Thuyền Mây's name is Vietnamese for "cloud boat," which represents their all-encompassing group that sets sail to bring Vietnamese cultural dances & entertainment, cultural education, and Asian community involvement to Central Florida and beyond.
The UCF Filipino Student Association will present authentic Filipino dance traditions with tinikling, a dance tradition that involves long bamboo rod techniques and various dancers. According to the FSA @ UCF on their performance traditions and their dance Sayaw Sa Bangko, "Tinikling is a popular Filipino dance that is an imitation of the tikling bird dodging these said bamboo traps set by rice farmers. Sayaw Sa Bangko translates to dance on top of benches. It tells a love story between a girl and a boy as they dance on top of a bench with flirty playfulness towards one another. They show off their skills by exchanging places and maneuvering their way around the bench."
"Classically-trained USF professor Kyoung Cho (soprano) and her husband Won Cho (bass) will perform Korean music in traditional attire for the upcoming 2017 AAHC Cultural Festival. Both accomplished vocalists hold professor positions and have performed internationally in countries including Canada, China, Italy, Germany, Thailand, and Korea. Kyoung Cho has released many CDs, one of them titled Korean Art Songs (Centaur Records). Both Kyoung and Won are versed in Korean folk and art songs as well as classical and opera repertory."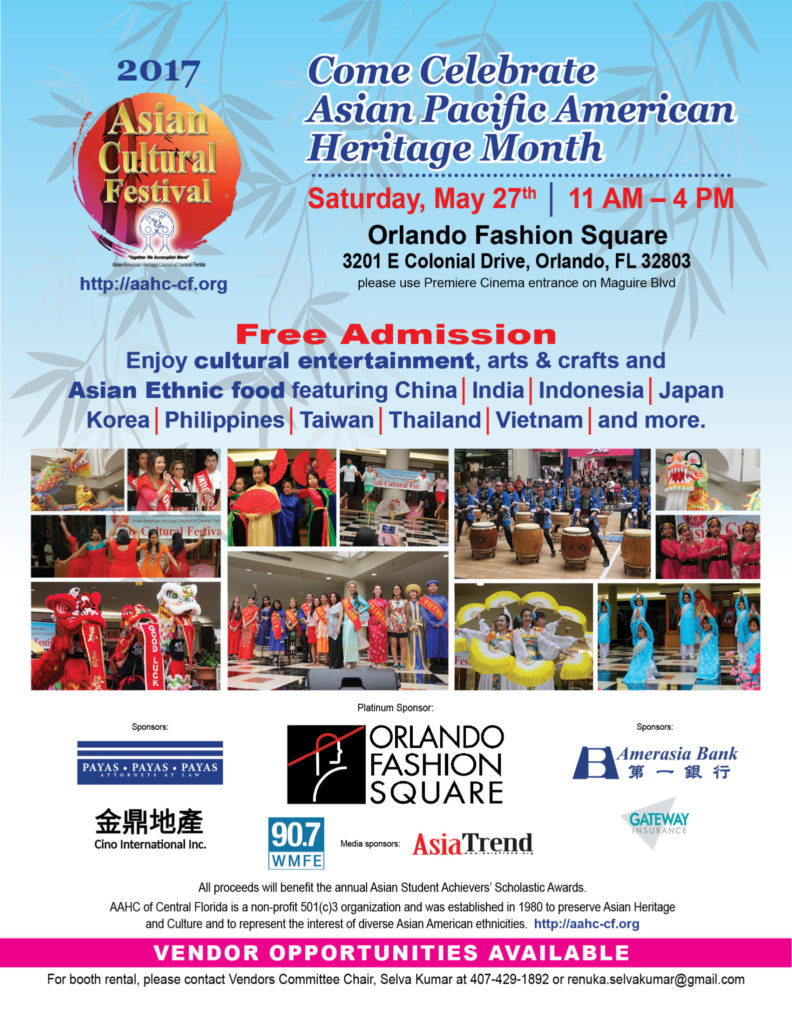 Comments