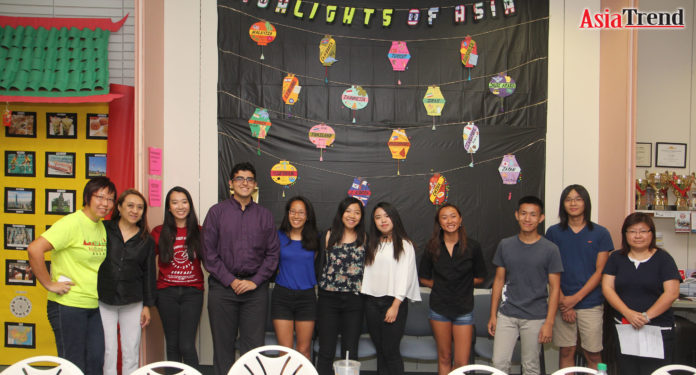 REACH of Central Florida officers and members from Five (Cypress Creek, Winter Park, University High, Seminole High, Lake Nona) different high schools came together to decorate the Asia Trend Cultural Learning Center as a summer project in 2016.  The idea came from the center's executive director Shally Wong who would like to showcase the richness of Asian culture to the public.  "I have this idea for long and these high school students make my dream come true," says Shally Wong.  Within two short, yet productive weeks, the REACH officers and members utilized their creativity and dedication to create eight walls which represent Asia, including countries such as China, India, Indonesia, Japan, Philippines, Korea, and many more. As they decorated these walls, they incorporated aspects which displayed the uniqueness and beautiful culture of each Asian country. Many of the REACH officers and members enjoyed this experience as it exposed them to individual cultural traditions.
Pauline Ho, Vice President of Y.E.S.S. Center FL and also the Chair of REACH of Central Florida, awarded three prizes to the members who got the highest score based on their variety of cultural content (food, art, monuments, famous people, etc.), creativity, attractiveness, and usage of different props.
"It is a tough decision as all of them put great deal of effort on them.  It is amazed to witness how they can present the cultural theme through passion, creativity and thorough research. India wall displayed drawings from children at India Temple while some walls applied teamwork makes perfect to ask their peers or families to put together prop. It is my hope that through this project, REACH officers and members can have a deeper understanding and appreciation of Asian cultures which is one of the missions of REACH."
Besides the three prizes, Pauline Ho also awarded the best presenter to Vietnam as the presenter was able to present not only the culture but demonstrated the understanding of the history of Vietnam.
The center will keep these walls on display until July 28, 2017.  The public can visit the center on Sunday between 1 pm through 5 pm.
The mission of the Asia Trend Community Learning Center is to educate, connect, and engage the community about the history, cultures and emerging business opportunities of Asia through partnership.
The mission of REACH is to promote the Recognition and Experience of Asian Cultural Heritage by reaching out to the Central Florida community. REACH provides many wonderful programs to foster young leaders in the Central Florida community through cultural performances, classroom presentations and carnival activities.  http://www.reachocf.org/
Edited by Jackie Deo
Comments