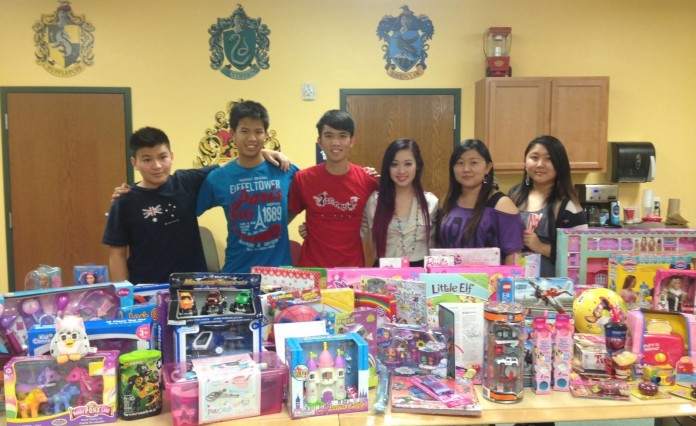 As Christmas rapidly approaches, the spirit of giving makes itself known. REACH (Recognizing | Experiencing | Asian | Cultural | Heritage) of Central Florida hosted its annual toy drive. With a plethora of support from schools and companies, we collected over 250 toys this year. REACH distributed these toys to the Harbor House on December 20th while the REACH Ensemble played holiday music in the background. It is undeniably touching to see how the smallest gifts can bring a smile to the little children. In a society that is run on materialism, it is easy to forget to be content with our lives, but seeing these families at the Harbor House, ecstatic over Play-Doh, small cars, and Barbies, causes us to remember an important message: Remember the little things.
The Harbor House is a safe haven for survivors (women, men and children) of domestic violence and abuse as well as victims of human trafficking from anywhere in the world. They provide a home for people to stay, as well as counseling and daycare for children with no cost. The parents are given training for jobs, financial training, and long-term support. Harbor House embodies the true spirit of giving every day of every year, not just during this holiday season.
On the behalf of REACH of Central Florida, I would like the thank the students from Winter Park High School's BETA Club, and the students from University High School's BETA Club for donating toys to this toy drive. Your support is greatly appreciated! I'd also like to thank all the teachers and sponsors from any Central Florida school for allowing our officers to leave boxes in your school. The support from Florida Integrative Medicine, Chinese American Association of Central Florida, CHEP USA, China Garden Restaurant, RE/MAX 200, Asia Trend Magazine as well as Commerce National Bank & Trust was essential to success of this toy drive, so thank you all for allowing REACH to leave boxes in your venues. REACH thanks you, and the children and their families thank you for bringing the holiday spirit to the Harbor House due to your generosity.
We appreciate all the support and all the donations! Have a fantastic holiday!
Karen Sun is a student in Winter Park High School's International Baccalaureate Program. She has an unfettered love for the school's orchestra, and is an active participant in many clubs at Winter Park High, including Asian American Associate, BETA Club, Tri-M, Medical Club and Science Olympiad. As a junior, she plans of either studying biochemistry or entering a premedical program with a minor in music.
Article: Karen Sun
Comments