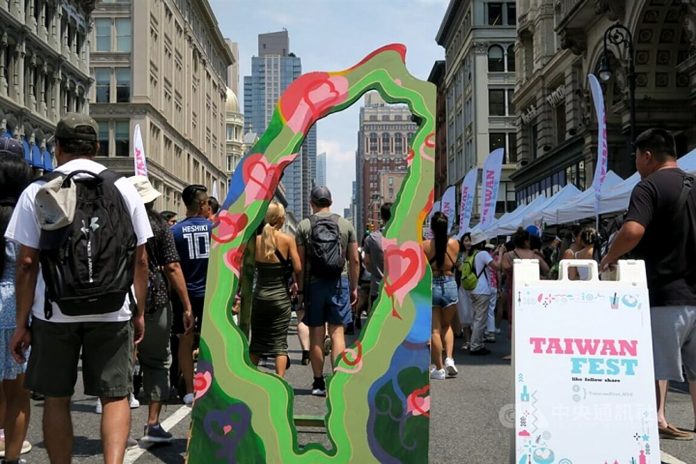 Boba tea and steamed buns were the flavors of the day in New York City Saturday, as vendors at the Taiwan Fest street market in Manhattan dished up popular Taiwanese delicacies.
Hsu Puo-chen (許伯丞), the event's executive organizer, told CNA that staging the festival in the borough's Chelsea neighborhood felt like a "return home," given that the annual Passport to Taiwan Festival is hosted in nearby Union Square.
In addition to food vendors, Saturday's event also featured live Indigenous music and Hoklo glove-puppetry shows, as well as interactive stalls set up by the likes of the New York branch of Taiwan's Tourism Bureau teaching subjects such as calligraphy and Taiwanese cooking.
Hsu said it was hoped that the event could help Taiwan's culture take root in neighborhoods that have seen a decline in the local Taiwanese American population.
"A lot of traditional dishes are secret recipes, and we hope that this event will encourage the next generation to put their ideas into action and help introduce quality Taiwanese products to New Yorkers," Hsu said.
Organizers of Saturday's event said they were aiming to make it a semiregular companion to the annual Passport to Taiwan Festival, an outdoor cultural celebration held since 2002 and billed as the largest Asian American festival in the United States.
The Passport to Taiwan Festival, traditionally held at the end of Taiwanese American Heritage Week in the second week of May, was canceled in 2020 and held online in 2021 due to the COVID-19 pandemic.
With the easing of restrictions in New York, the Passport to Taiwan team held the first Taiwan Fest on June 19 in Brooklyn's Park Slope neighborhood.
Comments