Orlando's October 17, 2015 Walgreens International Dragon Boat Festival Presented by Pepsico  was a smashing success. From the gorgeous weather to the rocking paddlers, the competitive race times, the improving recreational teams, the fantastic Asian Festival, the food trucks, beer garden, SWAT Hummer, Orlando Police Department horses, canines, motorcycle and pink squad car and both the children's play area and the adults beer garden there was something for everyone.
This was the biggest and best Dragon Boat Festival yet. We had teams from 2 countries and 10 Sponsors including Walgreens, PepsiCo, Neutrogena, BB&T, UF Health Cancer Center at Orlando Health, New Belguim Brewing, Chinook Paddles, Asia Trend, WFTV 9, Cox Media and Sub2.  With the help of the Orlando Police Department Police Explorers we parked 2736 cars and had approximately 5,000 spectators out to enjoy the day.
The fastest time in the Mixed Event was: 2:04.59 by Puff from Florida and in the  Open it was 2:03.97 by Florida Tarpons Open. This event is attracting fast competitive paddlers and has opened the door to fun for recreational paddlers. As always the town favorites were Charge, Dueling Dragons(cops and kids), Scorch, SWEAT, WOW and the Orlando Health teams.

The Asian Festival was a big hit with the crowds. The energy was contagious as they were entertained by more than 120 performers in 4-hour show (15 performances) including four workshops – Tai chi,  Tinikling Dance, Yoyo and Taiko Drumming.  The costume colors, sounds of music and dancing created a sense of happiness to support the races and families out at the Festival.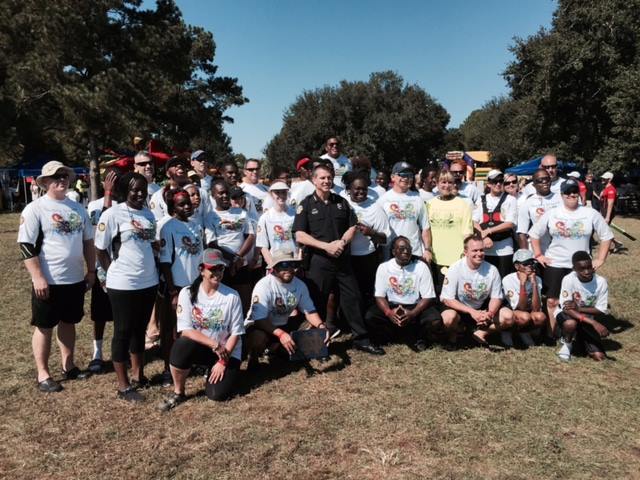 Orlando Police Chief John Mina came out to watch the races and meet the paddlers and sponsors. WKMG and WFTV covered the event and aired it in their 6pm news.
New this year were vendors to buy personal items and gifts, more food trucks, more rest rooms, a children's play area and a larger beer garden.
If you want to paddle in next year's Festival, join our CHARGE team or come try paddling with the Orlando Dragon Boat Club via www.meetup.com/Orlando-Dragon-Boat-Club-RSVP 
For more information go to GWN Dragon Boat.
Comments