《52Hz, I love you》- Screening in Tampa, FL Premiere 全球巡迴天霸特映會
Nov 12, 2016 @ 1:00 pm

-

5:30 pm

$10 – $50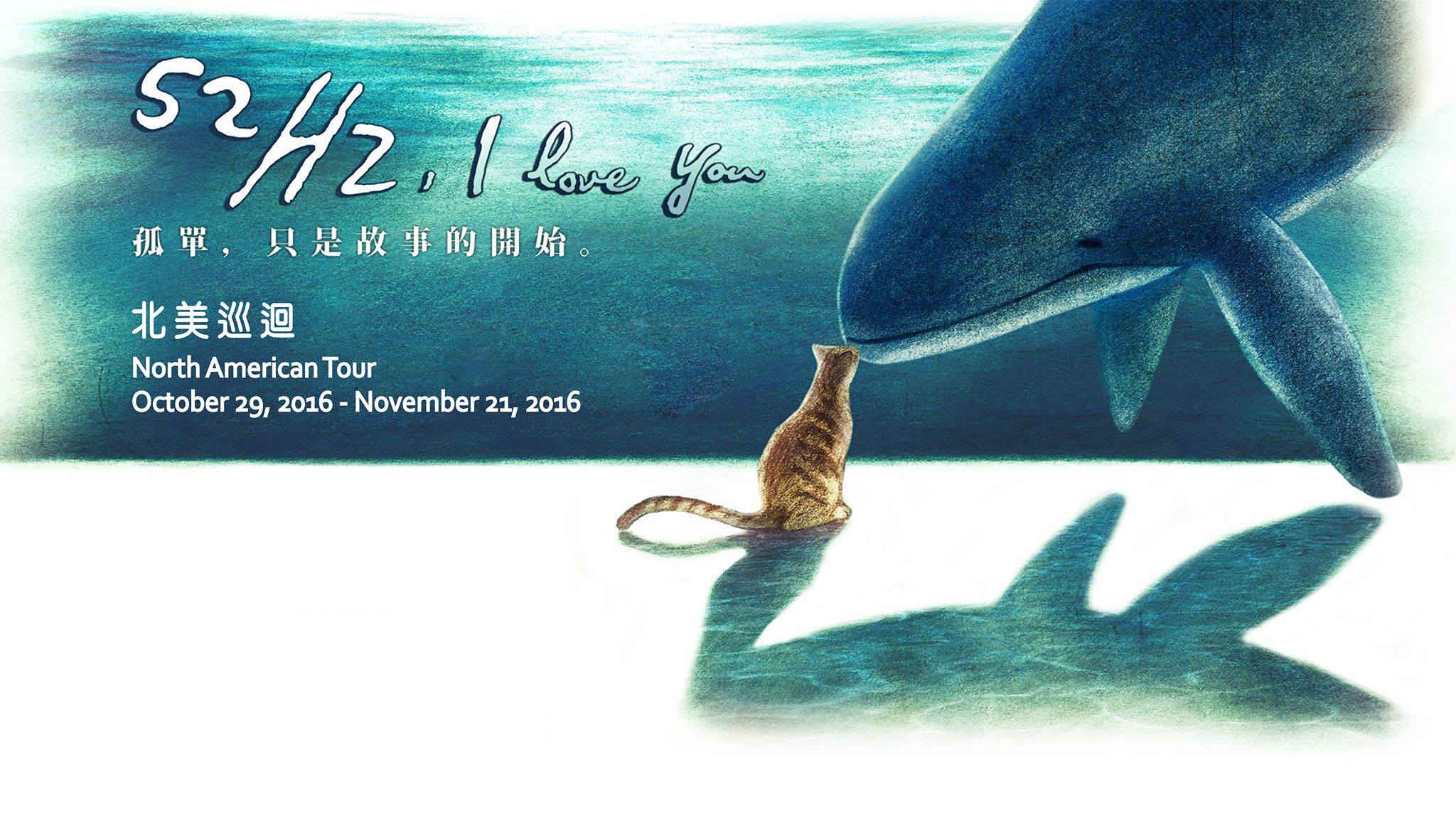 Welcome to see the newest Taiwan film "52HZ, I love you" @ Tampa. The Taiwanese director, Te-Sheng Wei, introduces to Tampa with his newset film and film actresses touring around North America this year. This time, we have the privilege to see the new film on Nov 12, 2016. Attendees will have chance to meet the actresses and crew members with posting signing and Q&A time!!!
Event Detail:
1:00 pm Welcome
1:30 pm Seating
2:00 pm 《52Hz, I love you》Screening
4:00 pm Q&A time
Ticket Link: https://goo.gl/forms/zx2eTBBQJJpNoTfH3
Early Bird Ticket : $10 ( End at Nov. 4 )
Ticket on the Spot: $15
Premier Ticket: $25 ( Ticket + Taiwan Yes Shirt $20 value)
VIP Ticket: $50 ( One Ticket + One Dinner Voucher
with Director Wei on 11/15)
Platinum Sponsor Combo : $100
( Two Tickets + Two Dinner Vouchers
with Director Wei on 11/15 )
After 9 years later, Director Wei is coming with his newest romance musical film!!! Let Director Wei tell you why he shoots the film.
"52Hz" is a very unusual frequency that is sung by the loneliest whale in the world which was detected in the Pacific Ocean. The mysterious pitch is like no other; the song sounds like crying out for companionship that never comes. The Taiwan film "52Hz, I love you" shows that even though in the hustle and bustle of Taipei, city life should not be millions of lonely people living without love.
2017年魏導賀歲片於2016天霸市感恩節前,感人歡樂搶先放映 2016-11-12 詳情請按活動專頁,更有機會與演員及魏導在天霸市面對面心情分享對電影的感想。
活動流程:
1:00 pm Welcome
1:30 pm 進場
2:00 pm 電影放映
4:00 pm 映後分享
訂票連結: https://goo.gl/forms/zx2eTBBQJJpNoTfH3
Early Bird Ticket : $10
Ticket on the Spot: $15
Premier Ticket: $25 ( Ticket + Taiwan Yes Shirt $20 value)
VIP Ticket: $50 ( One Ticket + One Dinner Boucher
with Director Wei on 11/15)
Corporate Sponsor Combo Tickets: $100
( Two Tickets + Two Dinner Bouchers
with Director Wei on 11/15 )
導演魏德聖睽違9年音樂愛情電影,帶來全新觀影體驗
★7位音樂創作人聯手量身打造17首原創音樂
為什麼要拍這部電影?現在就讓魏導親自告訴你~
偌大的海洋中,擁擠的城市裡,
唱著52赫茲的我,不小心成為了世界上最寂寞的鯨魚。
但有沒有一種可能,因為你,我的孤單只是故事的開始…
//你聽過「52赫茲鯨魚」的故事嗎?//
一隻被科學家命名為「52赫茲(Hz)」的鯨魚,發出獨一無二的神秘低鳴,至今沒有人看過牠的模樣。「52赫茲」是牠唱歌的頻率,牠被判斷應為鬚鯨亞目類,可是這類鯨魚一般約以15至20赫茲和同伴交流、歌唱;牠應該是因為這樣而落單了,唱著只有自己聽得見的歌,成為了世界上最寂寞的一隻鯨魚。1989年的時候,「52赫茲」在北太平洋被發現了,二十幾年後的今天,「52赫茲」仍然沒有加入任何一支隊伍,獨自游在大海裡。
主辦單位: 台美文化協會 (Taiwanese American Culture Organization)
活動贊助:
1. Jade Soap Shop : https://www.facebook.com/JadeSoapshop/?pnref=lhc
2. FAPA Tampa Chapter
3. 僑委會邁阿密辦事處
4. Lee Fisher International