10th Annual Journey to the East
Sep 30, 2017 @ 6:30 pm

-

9:30 pm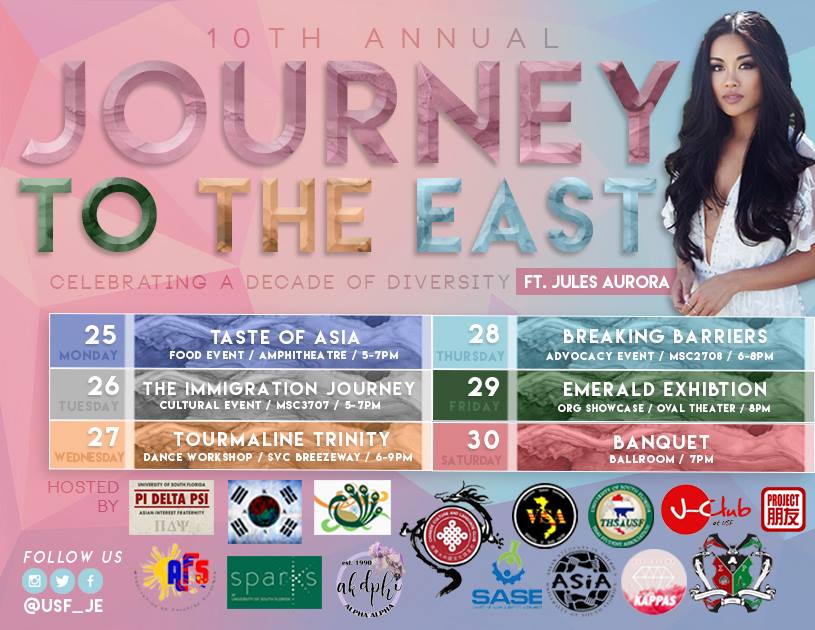 × CELEBRATING A DECADE OF DIVERSITY ×
Established in 2008, Journey to the East was created at the University of South Florida to unite the Asian organizations on campus through a week-long program of events. To many, JE has provided an introduction to the strong Asian organizations at USF, new perspectives of the AAPI experience, the development of professional and leadership skills, renewed senses of self, and so much more.
It has evolved to diversify its own definition of the Asian experience, increasing exposure for the growing number of identities that exist and intersect within the Asian American Pacific Islander (AAPI) label.
Just like the AAPI community, crystals are a product of their environment, they come in countless different colors and formations but are all beautiful. Each event for #JE10 is themed after a different crystal for its association with values such as creativity, strength, dedication, and love, which we all see represented in the USF and larger AAPI community.
In celebration of a Decade of Diversity, the 10th Executive Board and 15 of your favorite Asian student organzations are honored to invite you to Journey to the East 2017!
× × × × × × × × × ×
*All events are FREE and are NOT Asian-exclusive!*
? SATURDAY // BANQUET ?
September 30 | 7:00PM, doors open 6:30PM | Ballroom
Dresscode: cultural or semi-formal
Don't forget about our biggest food event of the week! This year's Banquet is not to be missed–we'll be enjoying performers from Tampa and other schools, announcing the winner of our inaugural "I am AAPI" Scholarship, and of course be serenaded by our beautiful headliner Jules Aurora! Make sure to come out and help us celebrate 10 years of diversity at USF!
× × × × × × × × × ×
Contact us here or email our co-Directors with questions/comments!
JOURNEYEAST.DIRECTOR@GMAIL.COM
INSTAGRAM/TWITTER @usf_je
Purchase your commemorative #JE10 T-SHIRT here:https://www.facebook.com/events/1026893264119487/?ref=70
We accept payments and/or donations through our Assistant Director of Finance Vladimir Valencia
Cash or VENMO @vladvalencia
Apply for our innaugral $100 "I am AAPI" Scholarship here:
https://www.facebook.com/events/1774034339560473/?ref=70
Applications open September 17-27
× × × × × × × × × ×
PARTICIPATING ORGANIZATIONS
alpha Kappa Delta Phi Sorority, Inc.
Asian Students in America
Association of Filipino Students
Chinese Culture + Language Club
Japanese Club
Kappa Phi Lambda Sorority, Inc.
Korean American Student Association
Pi Delta Psi Fraternity, Inc.
Project Pengyou
Sigma Beta Rho Fraternity, Inc.
Society of Asian Scientists + Engineers
sparks Magazine
Students of India Association
Thai Student Association
Vietnamese Student Association
× × × × × × × × × ×
10th Executive Board
co-DIRECTORS Kamille Janess Tai Hailé
journeyeast.director@gmail.com
AD of CULTURE Megan-Joy Daorerk
journeyeast.culture@gmail.com
AD of ADVOCACY Heather Berto
journeyeast.advocacy@gmail.com
AD of ENTERTAINMENT Maverick Mangosing
journeyeast.entertainment@gmail.com
AD of FINANCE Vladimir Valencia
journeyeast.finance@gmail.com
AD of CUISINE Sabrina Uy
journeyeast.sponsorship@gmail.com
AD of DESIGN Chelsea Timonera
[email protected]om
AD of MULTIMEDIA Ash Alonzo
journeyeast.multimedia@gmail.com
ADVISORS Ahl Vin Dimaculangan + Romel Pancho