12th Annual Asian Cultural EXPO 2022
Nov 19, 2022 @ 10:00 am

-

3:00 pm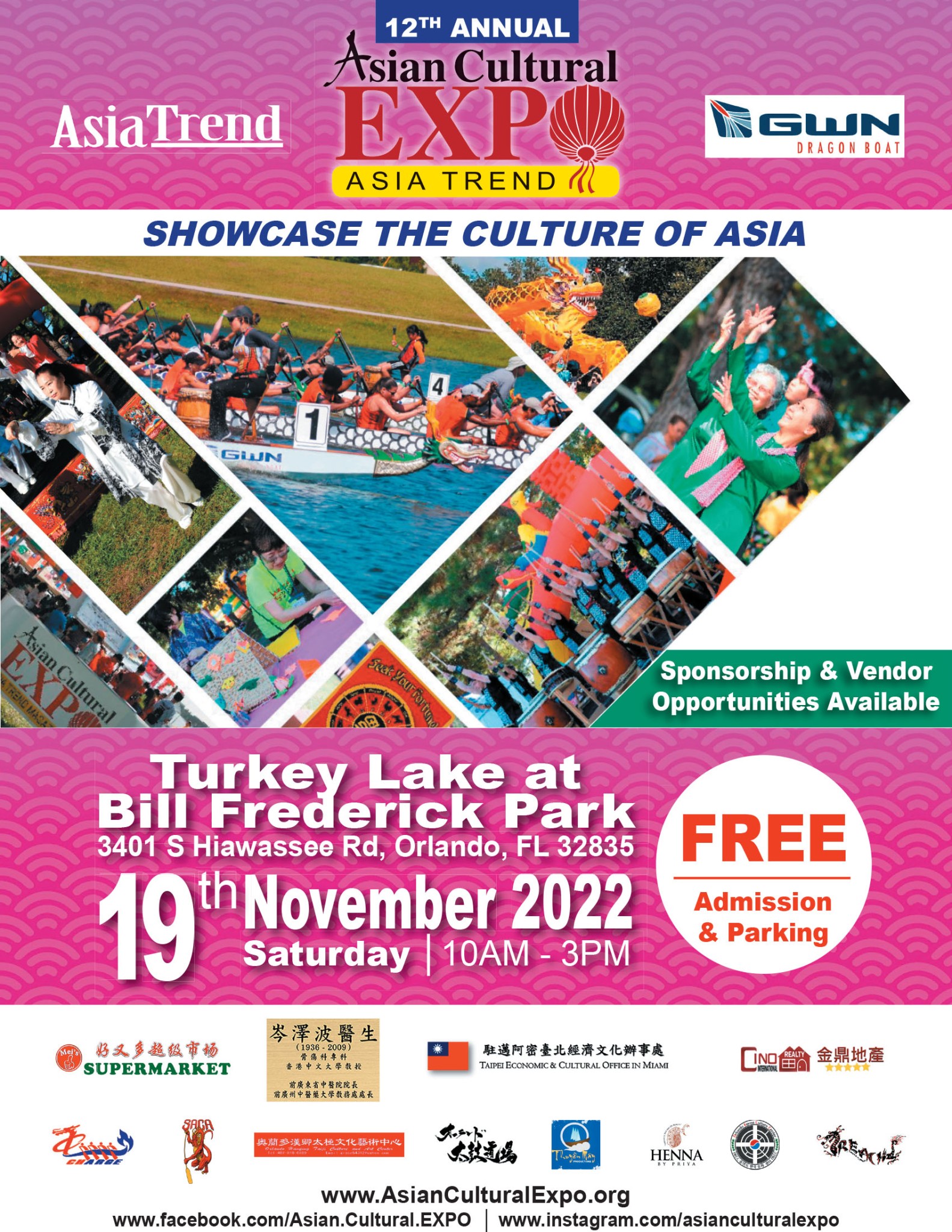 Hey everyone! We, unfortunately, have to postpone the 12th Annual Asian Cultural EXPO on Nov 19th! Keep an eye out for the updated date and time. Thank you!
With the impact of Hurricane Ian felt across Florida, GWN Dragon Boat have been working closely with the City of Orlando and the staff at Bill Frederick Park, as they assess damages not just at the park, but across the city. As always, GWN Dragon Boat mission and strict priority is for your safety and the safety of our staff, volunteers, and exhibitors.
Today GWN Dragon Boat received an update.
There is a water advisory for all of Orlando, shutting down all lake activities. The City cannot commit to it being lifted prior to next weekend.
Unfortunately, this means the Orlando festival and the Asian Cultural EXPO will be postponed. We are working to finalize a new date for the event in November and will advise as soon as possible.
---
The 12th annual Asian Cultural EXPO
Nov 19, 2022 :: 10am – 3pm at Turkey Lake at Bill Frederick Park
3401 S Hiawassee Rd, Orlando, FL 32835.
Admission is FREE! Parking is FREE!
SHOWCASE THE CULTURE OF ASIA 
● Performances ● Exhibitions ● Workshops

CHINA │ INDIA │ INDONESIA │ JAPAN │ KOREA │ PHILIPP INES │ TAIWAN │ VIETNAM
The family-friendly event includes art and crafts vendors, exhibitions and cultural demonstrations, music, and dance performances. We encouraging visitors to come out and spend the day enjoying Asia Fest, and the Orlando International Dragon Boat Festival, which will feature dozens of competitors paddling colorful boats with dragon heads on the vessels' bows. Drummers aboard the boats keep their crewmates paddling in unison. The races get underway at 8 a.m. Saturday on the waters, with heat running every 10 minutes until the winning team is selected.
Bring your lawn chair to enjoy these exciting performances.
SPONSORSHIP OPPORTUNITIES AVAILABLE
The Asian Cultural EXPO provides a unique opportunity for Asian Vendors or Exhibitors
to sell or feature their products or brand. The Festival puts you in front of a diverse group
of consumers and the corporate community. The captivating environment offers a truly
unique community event providing strong marketing and sales opportunities.
• 1-Day Festival • 2,000 Participants • 3,000 Spectators
• Ethnically Diverse • Part of Major Dragon Boat Festival
• FREE cultural workshops are available throughout the day