29th Annual Asian Culture Festival
Mar 2, 2019 @ 10:00 am

-

Mar 3, 2019 @ 5:00 pm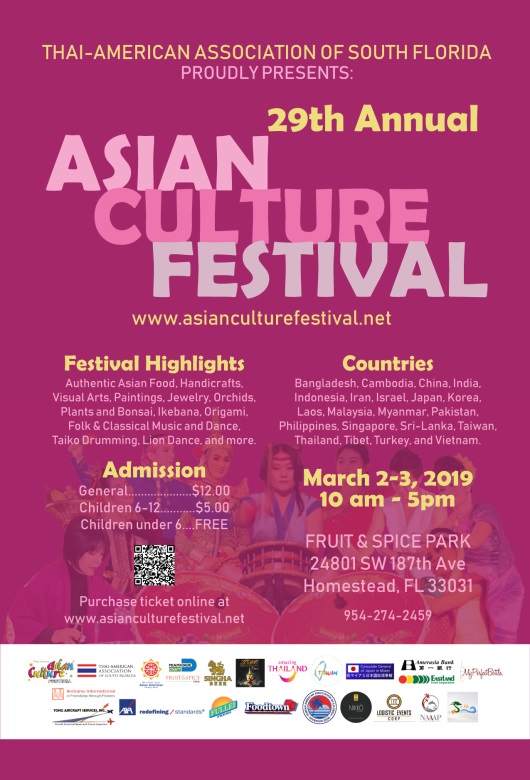 The Thai-American Association of South Florida together with Miami Dade County Asian-American Advisory Board will offer a day trip to Asia via the 29th Annual Asian Culture Festival. On March 2-3, 2019 from 10 a.m. to 5 p.m. event-goers are invited to visit Fruit & Spice Park located at 24801 SW 187th Ave. Homestead, FL 33031 for what promises to be even bigger and better than last year!
The annual fun-filled family event, the Asian Culture Festival, celebrates the diversity of Asian cultures through an enchanting journey of music and dance, performances, demonstrations, arts, and hand crafts, highlighted by a tasty selection of authentic Far Eastern cuisine. All of the flavors of Asia will be on full display, featuring gastronomical delights from Thailand, Japan, Taiwan, South Korea, Indonesia, Turkey, Malaysia, Bangladesh, Cambodia, China, Indonesia, Iran, Israel, Laos, Myanmar, Pakistan, Philippines, Singapore, Sri Lanka, Tibet, Vietnam and more.
The two-day festival will offer a range of entertainment that set to dazzle audiences of all ages with drummers, dancers, musicians, martial artists and others expressing their heritage through shared cultural experiences. Featured performances include Lion Dance, Dragon Boat Racing, The Thai Dance Troupe of Ottawa and Fushu Daiko Japanese Taiko drummers, which will embrace traditions with extravagant costumes, original instruments and dance styles rooted in historical celebrations, that date back over thousands of years.
An array of family-friendly activities will be curated for children, to actively learn about and experience the traditions, contribution, and heritage of Asia. Kids will receive a traveling Passport as they embark on educational adventures visiting each country, where they will learn how to write their name in Chinese, and origami. A children's playground will boast enjoyable games such as rock climbing, a bounce house fun and more.
Additional unique programs include: Traditional Thai Fruit and Vegetable Carving, Free Ikebana & Japanese Flower Arrangement workshops at the Coral Rock Auditorium. Asian arts, crafts, cultural products and a variety of plants will also be on display and available for purchase.
With the continuous loyalty of the Asian-American community, and Asian-enthusiasts alike, the Asian Culture Festival attracted more than 15,000 visitors last year. The festival seeks to continue bringing together the South Floridian community at large, for years to come; promoting the importance of cultural diversity in building a vibrant, prosperous and healthy community.
The Asian Culture Festival will take place Saturday & Sunday March 2-3, 2019 from 10:00AM to 5:00PM at Preston B. Bird/ Mary Heinlein Redland Fruit & Spice Park, operated by Miami-Dade Parks, Recreation and Open Spaces Department, located at: 24801 SW 187th Ave. Homestead, FL 33031.
To purchase tickets, visit: http://www.asianculturefestival.net/