2nd Sarasota Asian Cultural EXPO
May 11, 2019 @ 11:00 am

-

2:00 pm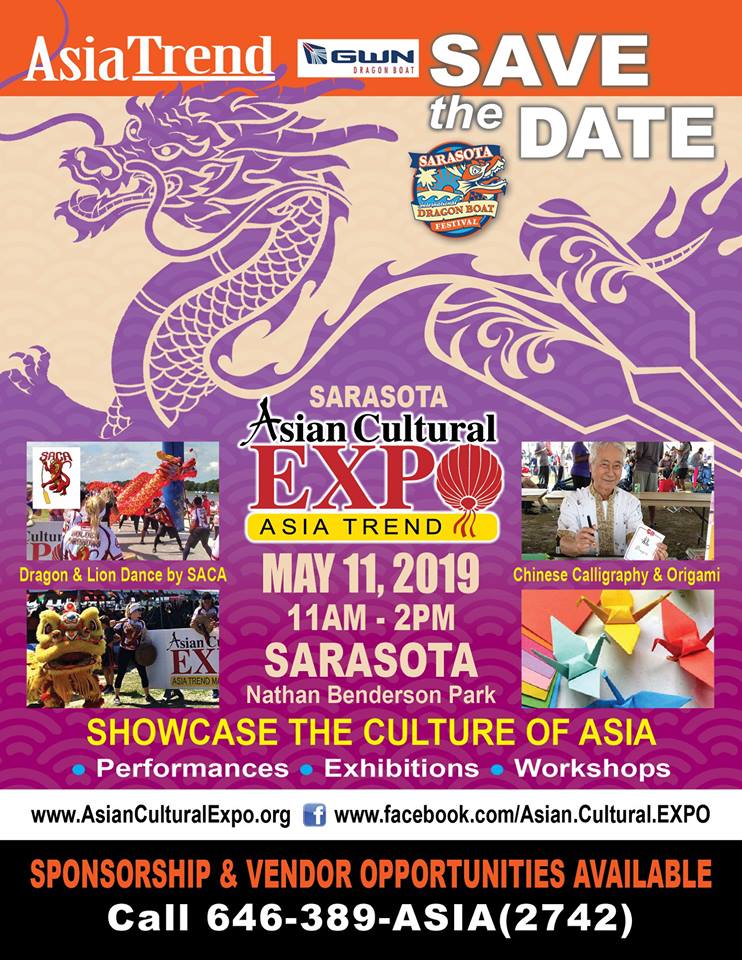 Calling all Sarasota Asian performing group! The 2nd Sarasota Asian Cultural EXPO 2019 is looking for Asian cultural performance for this year's event! With thousands of visitors during the GWN Dragon Boat Sarasota International Dragon Boat Festival 2019. It's a great way to advertise and promote your group, please comment or email us at [email protected] for more info.
Showcasing the many cultures of ● China ● India ● Japan ● Korea ● Taiwan ● Vietnam
Asia Trend Magazine is proud to present the 2nd Annual Sarasota Asian Cultural EXPO to showcase the culture of Asia on May 11, 2019 at ​Nathan Benderson Park. Come experience and honor the wonders of Asian culture through exhibitions, performances, and workshops! Asian Cultural EXPO will be held together with the Orlando International Dragon Boat Festival which will be participated by over a thousand Corporate and Community members and spectators. The event is free and good for all ages. Free Admission and Parking! Bring your lawn chair to enjoy the fun festival and the Dragon Boat race! This event is made possible by GWN Dragon Boat, Suncoast Asian Cultural Association, Asia Trend Community Learning Center, and C.H.A.R.G.E. Dragon Boat – Orlando.
Asia Trend Inc. is a registered 501(c)(3) non-profit organization with a mission of strengthening mutual understanding, creating effective channels of communication between Asian Americans and non-Asian Americans and promoting cultural performing arts since 2005. Asia Trend Community learning center, opened in November 2014, is to educate, connect and engage the community about the history, cultures and emerging business opportunities of Asia through partnership. Visit http://www.asianculturalexpo.org/ to know more.
The Sarasota International Dragon Boat Festival will be held at the same time, racing every 15 minutes!
http://www.gwndragonboat.com/Default.asp?id=sarasota&l=1
Vendor and sponsorship opportunities are available! Call 646-389-ASIA(2742)
http://www.asianculturalexpo.org/
https://www.facebook.com/Asian.Cultural.EXPO