ANGKLUNG INDONESIA FALL BAMBOO MUSICAL CONCERT in Tampa
November 11 @ 5:00 pm

-

7:00 pm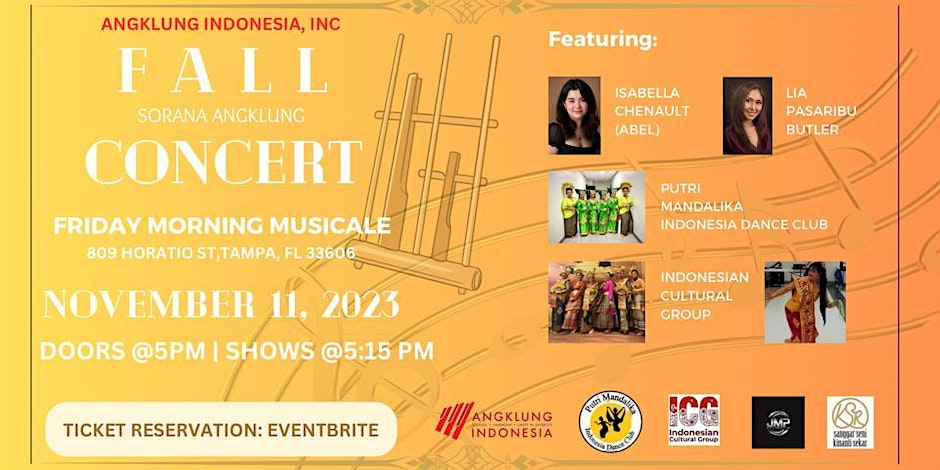 Finally, we arrived at one of the initial dreams of the Indonesian Angklung organization being founded, namely to make a performance which we named: FALL BAMBOO MUSICAL CONCERT with the theme: SORANA ANGKLUNG. SORANA ANGKLUNG which in Indonesian means SOUND ANGKLUNG, with the hope we can present the distinctive sound of bamboo clashing and blending together harmoniously. This Fall Concert is also in celebration of WORLD ANGKLUNG DAY which falls on November 16, 2023. We also invite Indonesian Angklung friends to perform together to present the beauty of art and Indonesian culture which is increasingly well-known in the land of Uncle deSantis ❤️🇮🇩❤️.Fall Bamboo Musical Concert will be held on:
Day/Date: Saturday, 11 November 2023
Time: 5 to 7 pm
Ticket Price: $15.⁰⁰
https://www.eventbrite.com/e/fall-bamboo-musical-concert-tickets-695331454097?aff=ebdsoporgprofile
Place and address: Friday Morning Musicale
809 W Horatio St, Tampa, FL 33606
For ticket reservations we will announce this summer, but if you are afraid of running out of tickets, please contact me here or via japri. Florida, 27 May 2023
ANGKLUNG INDONESIA, Inc.Tampa, Florida.