APAC at UCF Presents: Adventure Awaits!
Aug 27, 2017 @ 5:00 pm

-

11:30 pm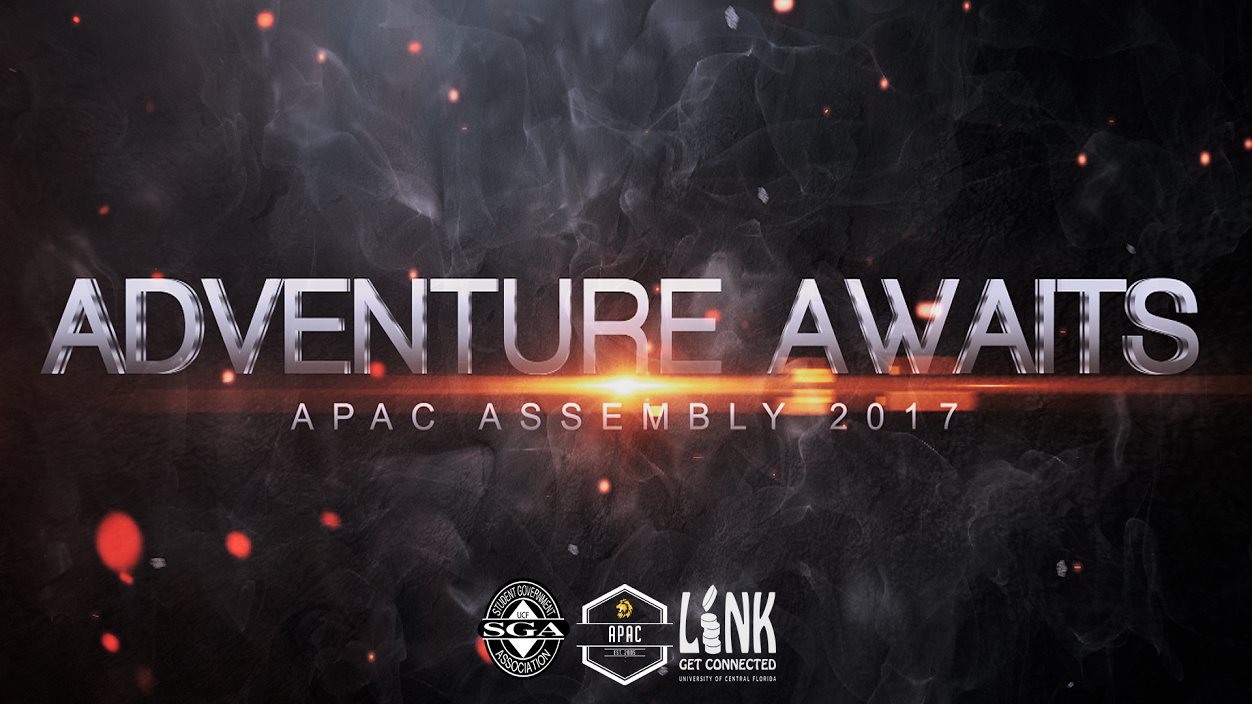 APAC ASSEMBLY 2017: ADVENTURE AWAITS
August 27, 2017
Are you looking to find your way through this new game that is College? Trying to see what all these organization levels have to offer? Come on a journey with us to let you see what our organizations stand for, as the Asian Pacific American Coalition at The University of Central Florida presents the 12th Annual APAC Assembly: Adventure Awaits!
Just press start and we'll get you to level up! Join us on Sunday August 27, 2017 at the Pegasus Ballroom inside the UCF Student Union to begin a brand new journey! Doors open at 5:00pm, and the show will begin at 5:30pm! This event is open to all UCF students, faculty, and community! This will be a FREE show with FREE food, raffles, and entertainment. Plus a FREE meet and greet with our special guest(s)! Please bring your UCF IDs for LINK Loot worth 1000 POINTS!
Featuring performances by: Asian Student Association (ASA), Chinese American Student Association (CASA), Delta Epsilon Psi Fraternity Inc. (DEPsi), Delta Phi Lambda Sorority Inc. (DPhiL), Delta Phi Omega Sorority Inc. (DPO), Filipino Student Association (FSA), Pi Delta Psi Fraternity Inc. (PDPsi), Pakistani Student Association (PSA), Indian Student Association (Sangam), Vietnamese American Student Association (VASA), and more!
Come out and learn about what UCF's Asian community has to offer, so you can join our officers in making a difference in the Asian community and the world! Did we mention that everything is FREE?!? Come see what these organizations have been working hard to prepare for you all! BUT will we all get to level up? Stay tuned as we close our show with a unique performance… you have to be there to believe it!
The mission of the Asian Pacific American Coalition at The University of Central Florida is to develop leadership, be a source of political and social advocacy for issues facing Asian Americans, and to promote unity and a voice for the campus and community at UCF. Be sure to follow us on our social media for more updates and announcements of all of our events!
FACEBOOK: https://www.facebook.com/apac.unity
SNAPCHAT: apac.unity
INSTAGRAM: https://www.instagram.com/apac.ucf/
SUBSCRIBE to our YouTube Channel: https://www.youtube.com/channel/UCLtaJz548Mv6Bn3giSFOCrw
EMAIL: [email protected]