7th annual Asian Cultural EXPO 2016
Oct 15, 2016 @ 10:00 am

-

3:00 pm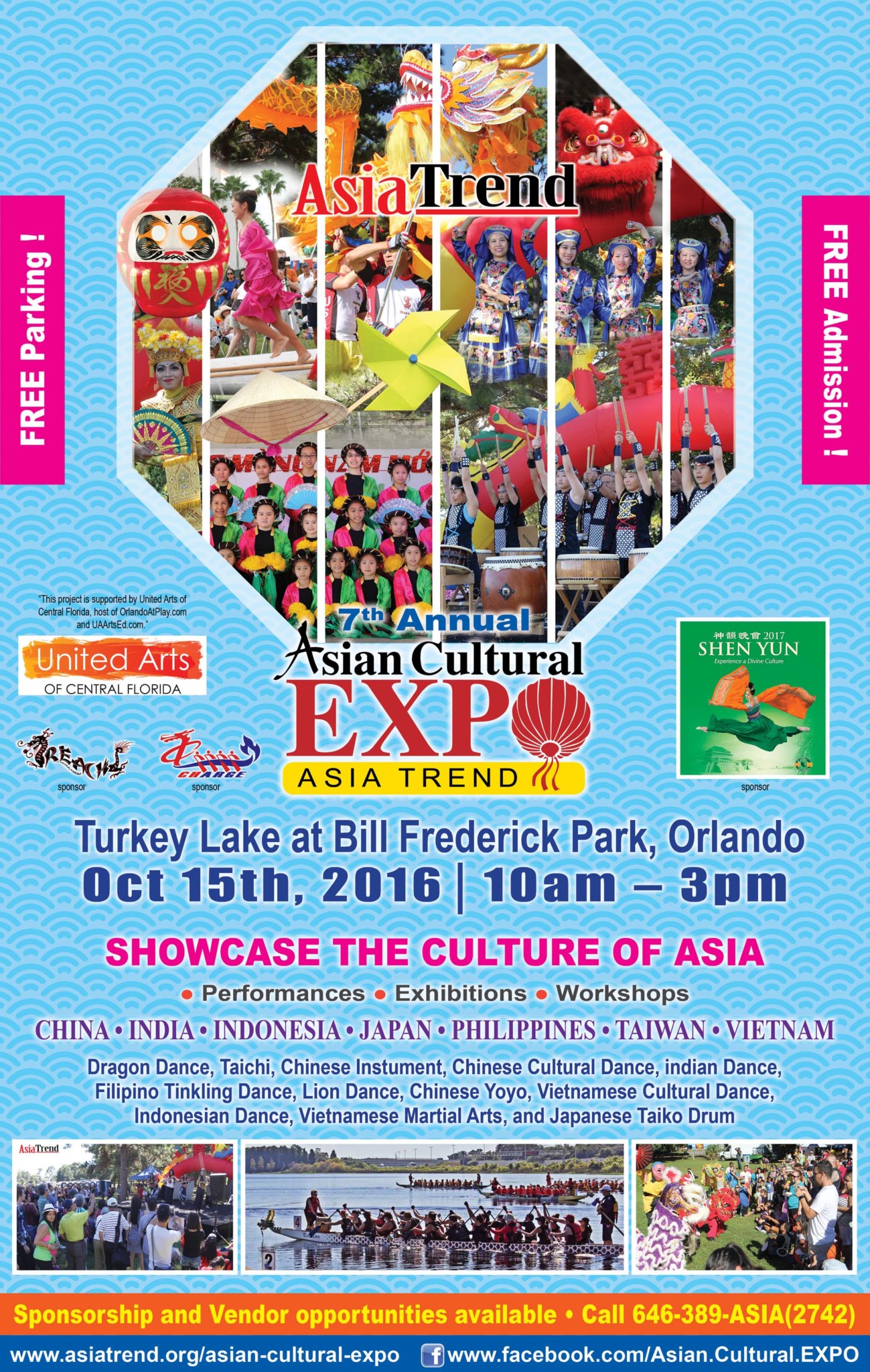 The 7th annual Asian Cultural EXPO
Oct 15 (Sat), 2016 10am – 3pm at Turkey Lake at Bill Frederick Park
3401 S Hiawassee Rd, Orlando, FL 32835.
Admission is FREE! Parking is FREE!
Showcase the Culture of China ● Japan ● Philippines ● Polynesia ● Taiwan
through exhibitions, performances and crafts.
The family-friendly event includes art and crafts vendors, exhibitions and cultural demonstrations, music and dance performances. We encouraging visitors to come out and spend the day enjoying Asia Fest, and the 9th annual Walgreen Orlando International Dragon Boat Festival, which will feature dozens of competitors paddling colorful boats with dragon heads on the vessels' bows. Drummers aboard the boats keep their crewmates paddling in unison. The races get under way at 8 a.m. Saturday on the waters, with a heat running every 10 minutes until the winning team is selected.
Bring your lawn chair to enjoy these exciting performances.
2016 Performance Schedule

Time
Performance
10:00AM
Dragon Dance by Suncoast Asian Cultural Association
10:15AM
Chinese Instrument – Erhu and Dizi by CK Tang
10:25AM
Taichi Demonstration by Sifu Sam Winters
10:35AM
Chinese Cultural Dances by CAACF Dance Troupe
10:45AM
Indian Dance by Delta Phi Omega of UCF
10:50AM
Indian Dance Workshop – audience participation
11:05AM
Dance of Philippines by Filipino Student Association Dance Troupe of UCF
11:20PM
Tinkling Dance Workshop – audience participation
12:00PM
Orlando Young Lions
12:10PM
Yoyo Performance by FASCA
12:15PM
Yoyo Workshop – audience participation
12:30PM
Co Xanh Vietnamese (PhapVu) Dance Group
12:45PM
Indonesian Dance by Voice of Indonesians in Florida
1:00PM
Vovinam Martial Arts Orlando and International I
1:30PM
Indonesisan Dance by Voice of Indonesians in Florida
1:30PM
Orlando Taiko Dojo Workshop – audience participation
2:00PM
Orlando Taiko Dojo Performance
2:30PM
Vovinam Martial Arts Orlando and International II
more info at http://www.asiatrend.org/asian-cultural-expo.html or www.facebook.com/Asian.Cultural.EXPO
SPONSORSHIP and VENDOR OPPORTUNITIES AVAILABLE
Call 646-389-ASIA(2742)
The Asian Cultural EXPO provides a unique opportunity for Asian Vendors or Exhibitors
to sell or feature their products or brand. The Festival puts you in front of a diverse group
of consumers and the corporate community. The captivating environment offers a truly
unique community event providing strong marketing and sales opportunities.
• 1-Day Festival • 2,000 Participants • 3,000 Spectators
• Ethnically Diverse • Part of Major Dragon Boat Festival
• FREE cultural workshops are available throughout the day