ASiA's 4th Annual Night of Thanks Charity Banquet
Nov 4, 2017 @ 7:00 pm

-

10:30 pm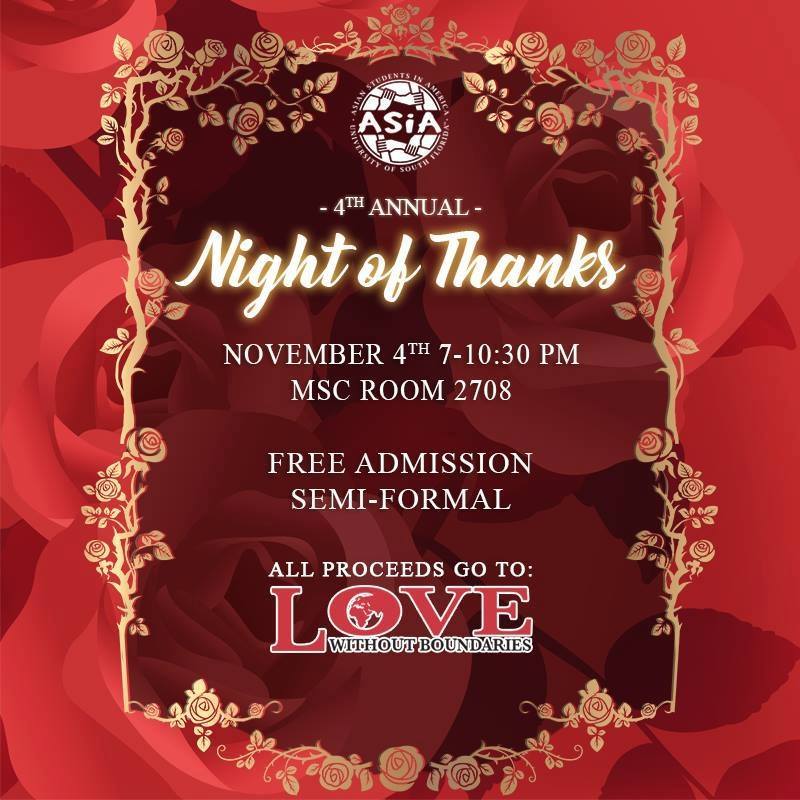 ♦️WHAT IS NIGHT OF THANKS? ♦️
ASiA invites you to attend it's 4th Annual Night of Thanks Charity Banquet! The purpose of this event is to raise money for a different charity each year and bring awareness to it. There will be free food, entertainment, and a guest speaker from the Love Without Boundaries Foundation!
Doors open: 7:30 PM
Event starts: 8:00 PM
Cost: NONE- event is free
Attire: Semiformal- dress to impress
Limiting seating!
Donation Goal: $750
Raffle and Donate Website: https://usfasiapresident.wixsite.com/donate

♦️RAFFLES ♦️
We have created a website where you can either 1. Venmo (preferred), use PayPal on the website, or pay in cash at Bull Market to be entered for the raffle(s) of your choosing! If you pay with Venmo OR Cash, the package price is $1 cheaper!! Don't forget that ALL proceeds go to Love Without Boundaries! We will also be accepting monetary donations too. Any donation is tax deductible and you will receive a receipt after the event! The raffle winners will be picked during the event. Bull market dates are 10/11 and 10/25 9 AM- 1 PM.
♦️DONATIONS AND/OR PAYMENT FOR RAFFLES♦️
Venmo: Asia at USF (PREFERRED)
Pay Pal: Via website.
Cash: Bull market
Check: Please make all checks to "Asian Students in America" and mail to: 4202 E. Fowler Ave. MSC Box #131 Tampa, FL 33620
♦️PERFORMERS AND HEADLINER♦️
TBA
Want to perform?? ASiA is looking for performers for this event! If you are interested, please fill out this form. The deadline is 10/22 at 11:59 PM.
Performer Interest Form: https://goo.gl/forms/ff4mnmyaCI4Skjwv1
♦️VOLUNTEERS♦️
We are looking for volunteers to help set up, serve food, and help clean up during the event! Volunteers will receive VIP seating plus 1 guest AND you will receive 1 coupon valid for $4 off a raffle package of your choosing! You are able to volunteer for more than one section! Deadline is 10/27 at 11:59 PM.
Volunteer Form: https://goo.gl/forms/n6qbxhreFarqOLFF3
♦️MC♦️
Interested in MCing? ASiA is looking for 2 MC for this event! If interested, please apply by 10/27 at 11:59 PM.
Form: https://goo.gl/forms/zYe24aqMCuoFCv143
♦️WHAT IS LOVE WITHOUT BOUNDARIES?♦️
Love Without Boundaries began in 2003 to help save the life of one tiny boy in China. Following his successful heart surgery, we realized that nothing is impossible when passionate and dedicated people come together to impact the lives of children.
It is a nonprofit organization that transforms the lives of orphaned and impoverished children by providing hope and healing. They provide life-changing surgeries and medical care, run well monitored foster care programs, operate schools and offer student support, and give quality formula and nutrition to children in need. Love Without Boundaries Foundation is a 501(c)(3) nonprofit organization and any donation is greatly appreciated and tax deductible.
♦️BUSINESSES♦️
Thanks to the generous donations from these businesses:
Asiatic Street Food + Noodle Bar, Kobe Japanese Steakhouse, Hawkers St. Pete, Sweet Magnolia Bakery, Whatever Pops, The Blind Tiger Cafe Ybor City, The Revolution Ice Cream Co., 4 Rivers Smokehouse, OtterBox, LifeProof, Chicken Salad Chick, Princeton Review-Tampa, Jeremiah's Italian Ice, Passion Planner, The Ringling, The Dali Museum, Kahwa Coffee at Henderson, Innovative Foods Supply Supercenter, Wonderworks, AMC Theatres, Panda Planner, Tampa's Lowry Park Zoo, SeaWorld, Aquatica Orlando, Cooper's Hawk Winery & Restaurant, Clearwater Marine Aquarium, Whole Foods Market, Kaleisia Tea, The Melting Pot, The Hyppo Tampa, The Melting Pot, Filipiniana Philippine Cafe, Evos Carrollwood.
♦️SOCIAL MEDIA♦️
Follow us on social media to get updates on our events! #AsianUnity
Facebook: https://www.facebook.com/asiaatusf
Twitter: https://twitter.com/asiausf
Instagram: https://www.instagram.com/asia_at_usf
Snapchat: https://www.snapchat.com/add/asiaatusf
Bull Sync: https://orgsync.com/87210/chapter