Chen Jia Live Across North American concert in Orlando 
August 19 @ 7:00 pm

-

9:00 pm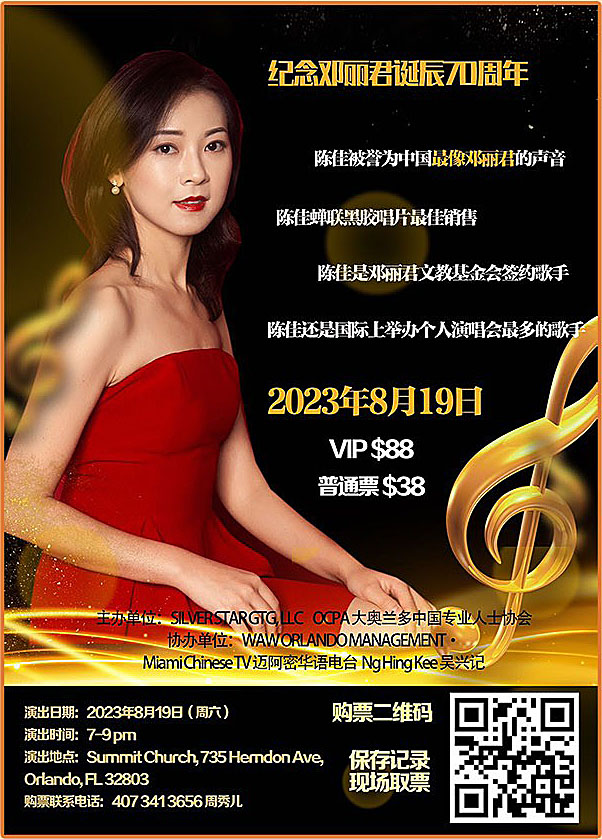 Teresa Teng's beautiful singing has been lingering. Although she is no longer in the world, her beautiful timbre left an unforgettable impression on the world and echoed for a long time.
Over the years, many artists have followed in her footsteps and sang her songs. Among them, Chinese singer Chen Jia is known as the contemporary singer who is closest to Teresa Teng in terms of timbre and interpretation.
She can accurately recite songs of Teresa Teng in multiple languages in various periods. She is proficient in piano and can also compose and write lyrics. She has released many solo albums and received rave reviews. She is hosting commemorating the 70th anniversary of Teresa Teng's Birth at her North American Tour. She will bring more beautiful and wonderful classic songs to the audience!
Organizer: SILVERSTAR GTG LLC. and OCPA Greater Orlando Chinese Professionals Association
Co-organizer: WAWORLANDOMANAGEMENT, Miami Chinese TV, Ng Hing Kee
Performance date: August 19, 2023 (Saturday)
Performance time: 7-9pm
Venue: Summit Church, 735 Hendon Ave., Orlando, FL32803
For ticket information, please call: 4073413656 Zhou Xiuer
Purchase tickets online at https://www.ocpa-usa.org/shop 
or scan the QR code

---