Chinese Immigration into the Caribbean Basin
Feb 16, 2019 @ 1:30 pm

-

5:30 pm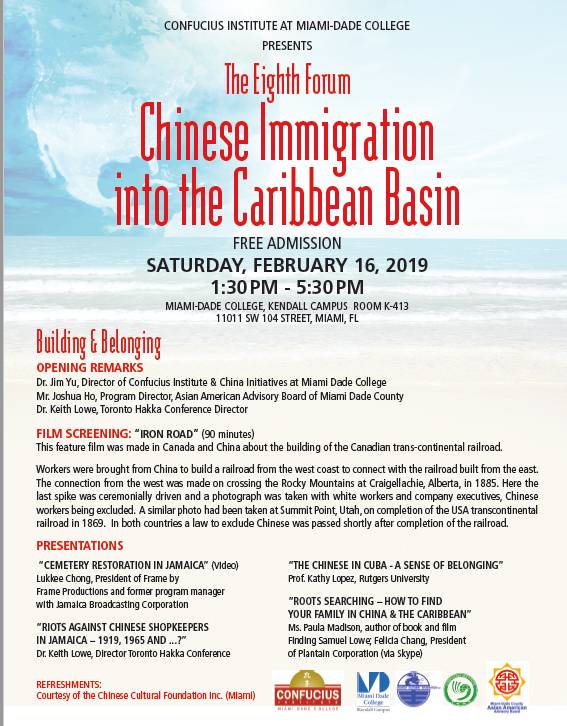 CONFUCIUS INSTITUTE AT MIAMI-DADE COLLEGE PRESENTS
The Eighth Forum Chinese Immigration into the Caribbean Basin 
FREE ADMISSION
SATURDAY, FEBRUARY 16, 2019
1:30PM – 5:30PM
MIAMI-DADE COLLEGE, KENDALL CAMPUS ROOM K-413
11011 SW 104 STREET, MIAMI, FL
OPENING REMARKS
Dr. Jim Yu, Director of Confucius Institute & China Initiatives at Miami Dade College
Mr. Joshua Ho, Program Director, Asian American Advisory Board of Miami Dade County
Dr. Keith Lowe, Toronto Hakka Conference Director
FILM SCREENING: "IRON ROAD" (90 minutes)
This feature film was made in Canada and China about the building of the Canadian trans-continental railroad.
Workers were brought from China to build a railroad from the west coast to connect with the railroad built from the east. The connection from the west was made on crossing the Rocky Mountains at Craigellachie, Alberta, in 1885. Here the last spike was ceremonially driven and a photograph was taken with white workers and company executives, Chinese
workers being excluded. A similar photo had been taken at Summit Point, Utah, on completion of the USA transcontinental railroad in 1869. In both countries a law to exclude Chinese was passed shortly after completion of the railroad.
PRESENTATIONS 
"CEMETERY RESTORATION IN JAMAICA" (Video) 
Lukkee Chong, President of Frame by Frame Productions and former program manager
with Jamaica Broadcasting Corporation
"RIOTS AGAINST CHINESE SHOPKEEPERS
IN JAMAICA – 1919, 1965 AND …?"
Dr. Keith Lowe, Director Toronto Hakka Conference
"THE CHINESE IN CUBA – A SENSE OF BELONGING"  
Prof. Kathy Lopez, Rutgers University
"ROOTS SEARCHING – HOW TO FIND
YOUR FAMILY IN CHINA & THE CARIBBEAN"
Ms. Paula Madison, author of book and film
Finding Samuel Lowe; Felicia Chang, President of Plantain Corporation (via Skype)