Chio-Tian Folk Drums & Arts Troupe 九天民俗技藝團 :: *Location CHANGE!
Sep 18, 2017 @ 7:00 pm

-

9:00 pm

$10 – $50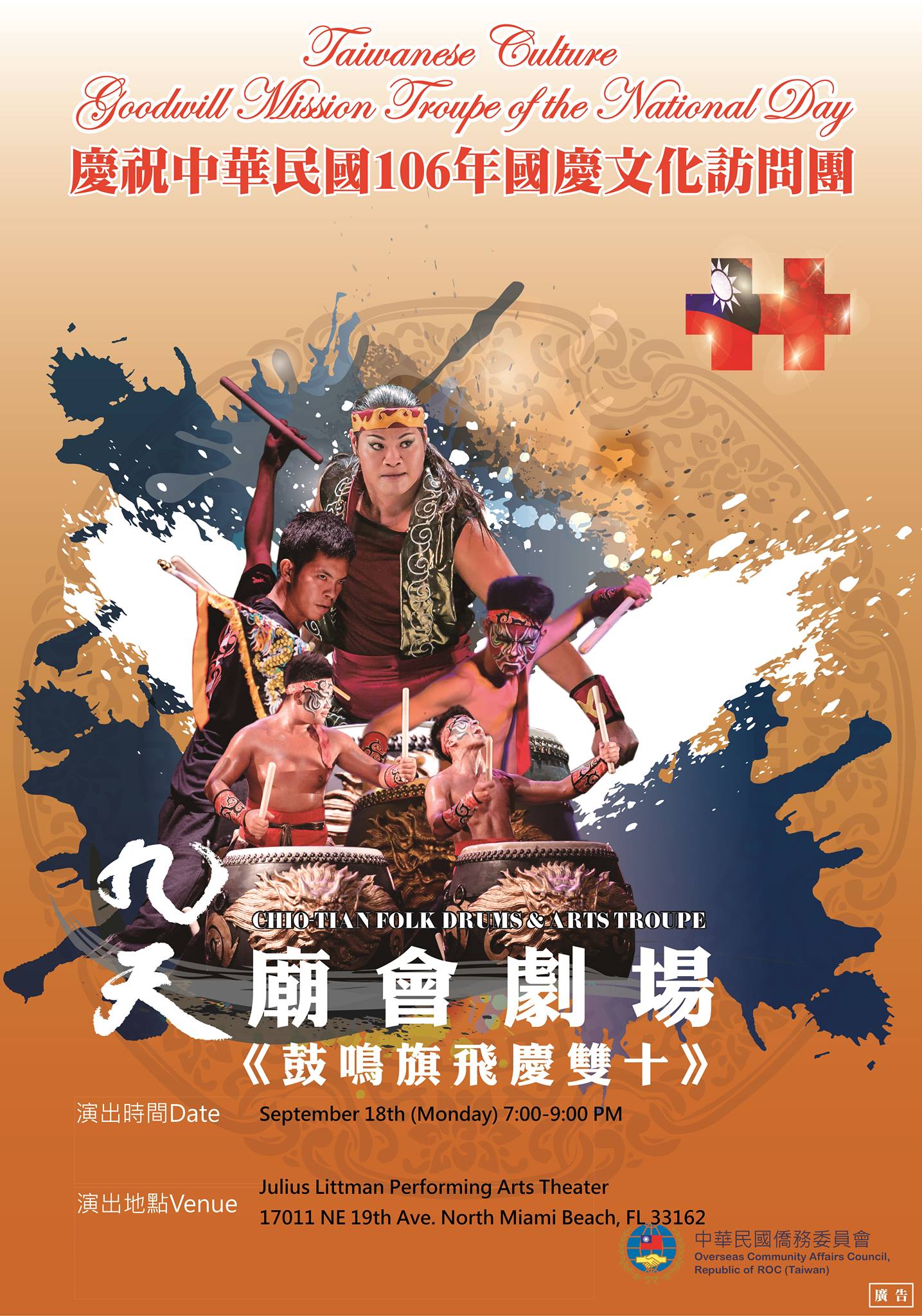 Due to Hurricane Irma influence, the location for the venue of Chio-Tian Folk Drums Performance has been relocated to the "Asian Community Resources Centre, 16320 NW 48th Ave., Miami Gardens, FL 33014" at 7:00 PM on September 18th (Monday).
Chio-Tian Folk Drums & Arts Troupe has developed an unique style of incorporating folk music, dance, along with martial arts discipline to express the traditional Taiwanese culture in a performance that traditionally take place as part of religious ceremony in Temples. The group now sits on top of the list representing Taiwanese culture and heritage and is currently on schedule touring various countries and will be in South Florida September 18, 2017 for one appearance.
「九天民俗技藝團」(以下簡稱「九天」),原為傳統廟會陣頭團體;但隨著時代更迭,為使傳統民俗文化得以轉型並永續傳承,九天致力創新與改變,不斷精進技藝、豐富表演內容,強化陣頭表演的藝術性,逐步讓傳統地方廟會陣頭走向藝術化、專業化。
為慶祝中華民國106年國慶,九天將於2017年9月18日晚間7:00至9:00假Asian Community Resources Centre, (16320 NW 48th Ave., Miami Gardens, FL 33014) 表演,歡迎各界踴躍購票給予支持鼓勵。由於場地座位有限,如有意願參加者敬請於106年8月15日前向各僑團聯絡詢問贊助票務資訊,VIP票贊助價50元,一般票贊助價10元。
1.Asian Community Resources Center 南佛州華人耆英服務中心
吳國鍊