Concert: Taiko, Koto, Shamisen, Japanese Classical Dance
Mar 13, 2020 @ 7:00 pm

-

8:30 pm

$35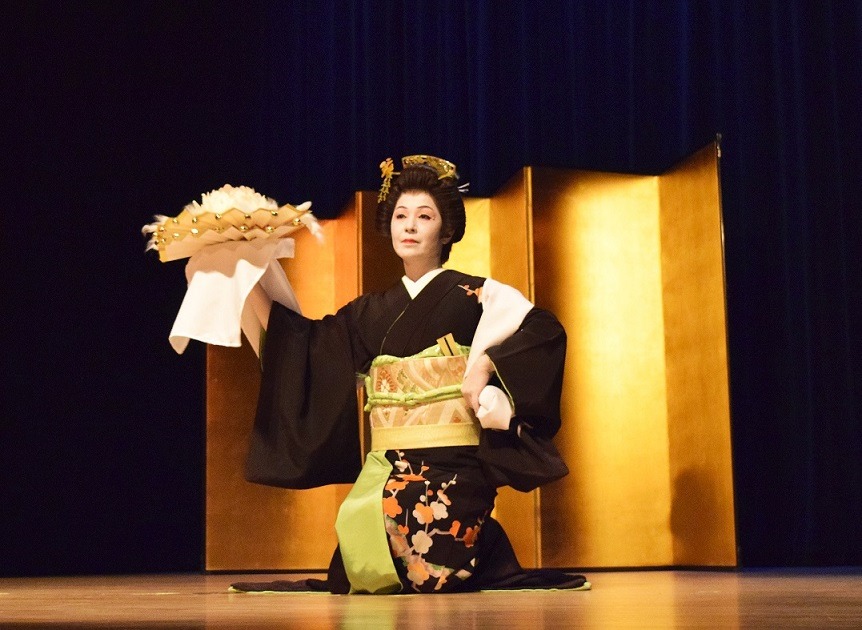 Kokoro: Synchronizing Hearts & Minds
Join us in an artistic adventure with performers from Japan and Florida united in an evening of dance and musical revelry to join our kokoro. Kokoro in Japanese is used interchangeably to mean the "heart" and "mind." In Japan there is no separation of the two, compared to the Western notion where the heart and minds act independently of each other. The evening will showcase the unique talents of these artists – from the exhilarating beats of the taiko drums, the tranquil melodies of the koto, the Japanese zither, the elegant movements of Japanese dance, and the energetic strumming of the shamisen, the Japanese banjo. Don't miss this night to transport yourself to another world, where your kokoro is one with many.
Fushu Daiko began in 1990 and has been training in the art of Taiko, a modern art form that builds on the traditional rhythms of Japanese drumming. The group performs in concerts and festivals in the US and abroad. Since their founding, Fushu Daiko has practiced joyously in the pursuit of ever increasing mastery of taiko drumming, understanding, and appreciation in the way of taiko, Japanese culture, and all of life. Fushu Daiko is made up of many nationalities and backgrounds, yet have been drawn together by the taiko. Through its sound, Fushu Daiko wishes to create a sense of connection in the hearts of those who hear the taiko's beat. Based in Davie, FL., Fushu Daiko, offers classes and community group demonstrations.
Yoshiko Carlton is a native of Kagoshima, Japan. She started her koto training at the age of nine years. She continued her koto studies after moving to Florida with Mrs. Kyoko Okamato, founder of the Washington Toho Koto Society based in Washington D.C. She furthered her studies with renowned 25 stringed koto player, Brian Yamakoshi. Since 1990 she has directed, mentored, and performed with the taiko drumming ensemble Fushu Daiko, in which she was a founding member. She established "Yoshi no Kai", "Friends of Koto" in 2002 for the purpose of educating and introducing koto music to the West. In 2003, she was awarded a certificate of recognition by the Consulate General of Japan in Miami for her contribution in promoting Japanese culture, especially koto, to the community. In her efforts for not only Koto music but also her building relations between two countries, In 2016 she received the most prestigious recognition from the Japanese Government a " Foreign Ministry Award" which only a limited number of people world wide receives annually.
Mayuko Ishikura and Sayaka Kikuchi are professional Japanese taiko drummers with over 10 years experience with the Orlando Matsuriza Taiko group. They began their shamisen ensemble Matsuriza Tsugaru Shamisen in 2008 and have performed at Orlando's Japan Festival and throughout the Southeast USA. Their repertoire includes traditional tsugaru shamisen music from Northern Japan and their own original compositions and arrangements.Tsugaru shamisen is a type of Japanese banjo, which originated in Aomori prefecture located in Northern Japan. The unique and powerful performance of the tsugara shamisen reflects the harsh lifestyle one encounters in the snowy environment of Northern Japan. Tsugaru shamisen displays at times an eloquent melody or a commanding presence with vigor and intense rhythm.
Satomi Hirano began her dance instruction in Tokyo at the age of four years. She studied under Master Kichifuji Wakayagi and the late Kisaho Wakayagi. At the age of 16 years, she received the title Fujichiho Wakayagi. She danced "Sagi Musume" for her inaguration, and began her career as a classical dance teacher in Sasaduka, Tokyo. Following a move to the US, she resumed teaching in Orlando, Florida. Her speciality – Wakayagi-Ryu – is one of the five main classifications of Japanese dance styles. Through her mastery of classical Japanese dance, coupled with her certification in Yamano-style kimono dressing, she is dedicated to revive and spread traditional Japanese culture.