Def Talent Jam XXV: GLORY
Oct 28, 2017 @ 7:00 pm

-

10:00 pm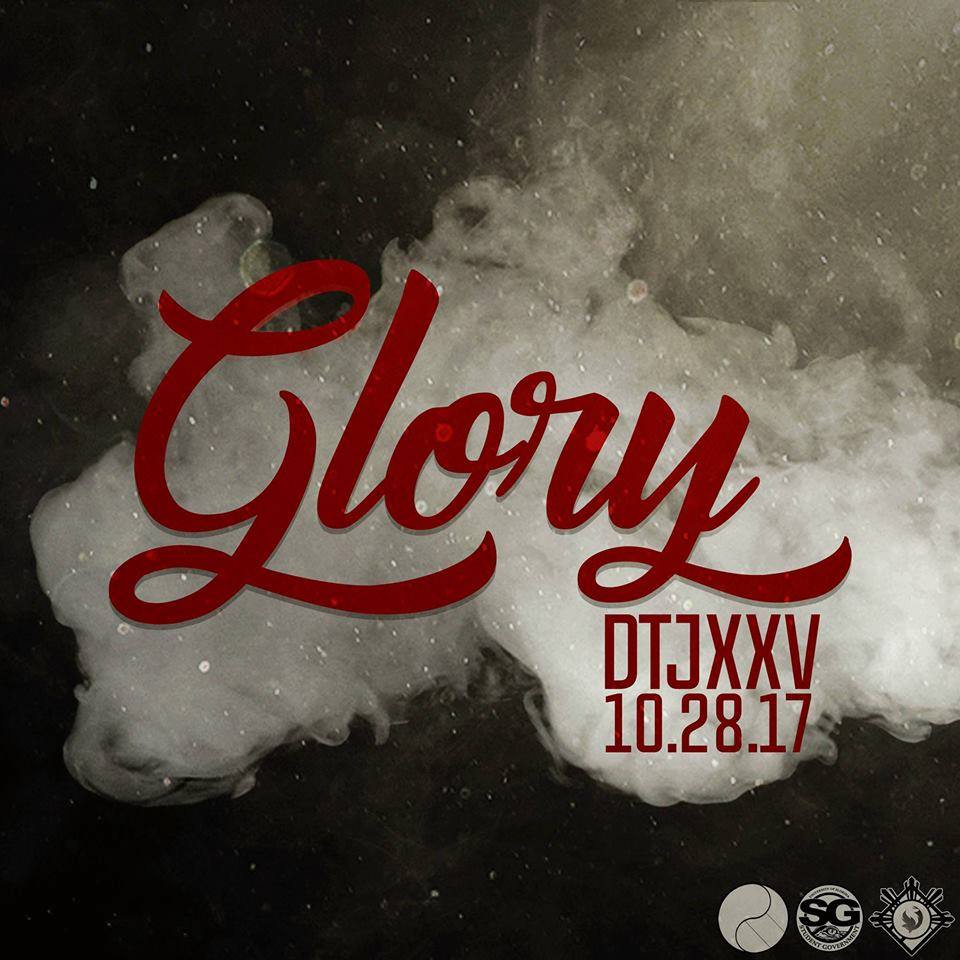 8 incredible teams. 7 extravagant events. 25 magical years. 1 GLORIOUS weekend.
◈ DEF TALENT JAM XXV: GLORY ◈
FRIDAY OCTOBER 27, 2017
Filipino American History Month 2017: Closing Ceremony
Location | UF Senior Recreation Center
(5701 N.W. 34th Blvd.)
Doors Open at 6PM | Show Starts at 6:30 pm
Kicking off the Def Talent Jam Weekend is FAHM Closing Ceremony! FAHM Closing Ceremony is the culmination of this amazing month of culture! Reconnect with your pamilya, watch cultural dances, eat incredible food, learn more about our heritage, and enjoy the sweet sounds of our special guest!
Event Page: Filipino American History Month 2017 Closing Ceremony
✯✯✯✯✯✯✯✯✯✯✯✯✯✯✯✯✯✯✯✯✯✯✯✯✯
SATURDAY, OCTOBER 28, 2017
DTJ Pre-Show Mixer
Location | First Magnitude Brewing Company
Event Starts at 3:00PM
What better way to bond with pamilya members, both new and old, than great drinks, games, and Gator football? Catch the infamous Florida-Georgia football game on the big-screen with specials just for DTJ attendees! Current students and alumni from all schools are invited to join us!
Def Talent Jam XXV: GLORY
Location | Curtis M. Phillips Center for the Performing Arts
Doors Open at 6:00PM | Show Starts at 7:00PM
Get ready for the most anticipated event of the year, hosted by the University of Florida Filipino Student Association (UFFSA) and University of Florida Filipino Alumni Association (UFFAA). DTJ started from the bottom as a small talent show at Orange and Brew, then grew to now being known as one of the biggest events of the year! This year, we are so proud to celebrate our 25th anniversary of uniting FSAs from across the Southeast. This year DTJ will be completely FREE! Make sure to bring your friends, adings, ates, kuyas, titas, titos, and lolas and lolos to enjoy this jam-packed show!
This year, DTJ takes on a social justice theme, entitled DTJXXV: Glory. Join our pamilya as we #WITNESSGLORY, where you can witness the magic of the theater, dance, and song. Each FSA team must portray their own interpretations of an issue of personal, local, or global significance. The theme will allow teams to challenge themselves, impress judges, and wow audiences with dances that will give you chills. Additionally, teams must create "living pictures" using their bodies to represent objects for a chance to take home the gold. This challenge allows teams to use their creativity, and draw on inspiration from their chosen issue to engage the audience and judges! Come out and watch FSAs from UCF, FSU, UWF, USF, FIU & UM, and ATL compete and see how they will execute this challenge. In addition, check out exhibition performances by Apocalypse Dance Crew, Anomaly Dance Crew, and of course UFFSA Wolfpack!
To keep up-to-date with DTJ XXV news, follow us on our Facebook page Def Talent Jam, Instagram @deftalentjam, and Twitter @DefTalentJam
For Alumni tickets, please contact Ronit Dastidar at uffsa.internalaffairs@gmail.com to reserve yours today.
✯✯✯✯✯✯✯✯✯✯✯✯✯✯✯✯✯✯✯✯✯✯✯✯✯
SUNDAY, OCTOBER 29, 2017
Adobowl
Location | TBA
Games start at 9:00AM
The infamous day after one of the biggest events of the year is upon us. Men and women from across the southeast gather at the heart of Gainesville to compete in a battle for pride and bragging rights. What better way to end DTJ weekend than to support your team as they lay it all out on the field?
Adobowl is UFFSA's annual 7-on-7 men's and women's flag football tournament. It will be held on Sunday, October 29, 2017, as part of DTJ weekend. In addition, there will also be other sports available to play during football. And of course, there will also be FREE food for everyone! If you have any questions or concerns, please contact Rebecca Castillo and Sabrina Magpantay at [email protected].
Sign up here: http://bit.ly/Adobowl2017
Dance Workshops
Location | Ben Hill Griffin Stadium Gate 4
Doors Open at 2:00PM | Event Starts at 2:30PM
For the first time ever, we are proud to present dance workshops taught by our headliners! That's right, you'll be able to learn from the creative minds behind some of the greatest teams in the nation, such as Kinjaz, Choreo Cookies, and more! Put on your dancing shoes and get your sweat on, because we'll be dancing all night long.
✯✯✯✯✯✯✯✯✯✯✯✯✯✯✯✯✯✯✯✯✯✯✯✯✯
We'd like to thank our sponsors for their endless support in making every event of DTJ Weekend completely FREE! DTJ Committee and UFFSA are so grateful for UF Student Government Cabinet, UFFSA Alumni, AASU, Taste, Impress Ink, Philippine Express, Beque Holic, The Trophy Shop, and Philippine-American Association of Gainesville and Surrounding Areas (PAGASA).
As always, all UFFSA events are free and open to all backgrounds, identities, genders, and abilities. If you require any assistance in attending any of our events, please contact Ronit Dastidar at uffsa.internalaffairs@gmail.com.