Hội Chợ Tết Cộng Đồng Xuân Đoàn Viên Canh Tý 2020 in Tampa
Jan 19, 2020 @ 12:00 pm

-

8:00 pm

$5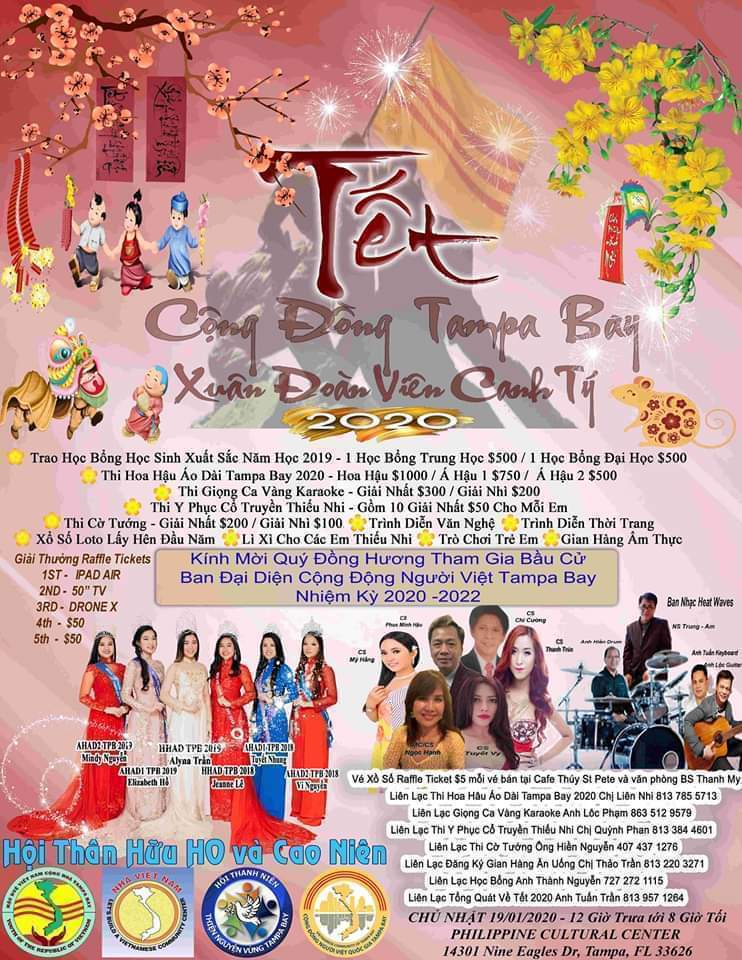 Tampa Bay TET Vietnamese New Year Festival 2020 on Sunday 19 January 2020 from 12pm to 8pm at the Philippines Cultural Center!
This year's Tet Market Fair is unique including the Tampa Bay Ao Dai Miss 2020 Program, 2020 Karaoke Golden Sing Competition, Chinese Chess Competition, Traditional Children's Clothes Competition, and Scholarship Program Study Encouragement for Students in Grades 11 and 12 as well as University students, the program to fire firecrackers for the Dance of the Lunar New Year and the New Year of the Blossoms for them, as well as the musical performance of the spring music and dance.
This year is especially the election year for the Tampa Bay NKNCDNP 2020-2022 and you will have the opportunity to vote at the ballot box right in the Fair!
Thay mặt BTC gồm 5 Hội Đoàn, Hội Thân Hữu HO và Cao Niên Tampa Bay, Hội Thanh Niên Thiện Nguyện Tampa Bay, Nhà Việt Nam, Cộng Đồng Người Việt Quốc Gia Tampa và Hậu Duê Việt Nam Cộng Hòa Tampa Bay trân trọng Kính Mời Quý Đồng Hương đến tham dự vui xuân Hội Chợ Tết Cộng Đồng Xuân Đoàn Viên Canh Tý 2020 vào Chú Nhật 19 tháng 1 2020 từ 12 giơ đến 8 giờ tối tại Phillipines Cultural Center !
Chương trình Hoi Chợ Tết năm nay thật đặc sắc gồm có Chương trình Thi Hoa Hậu Áo Dài Tampa Bay 2020, Chương trình Thi Giọng Ca vàng Karaoke 2020, Chương trình Thi Cờ Tướng ,Thi Y Phục Cổ truyền Thiếu Nhi, Chương trình Trao Học Bổng Khuyến Học cho Học Sinh lớp 11 và 12 cũng như sinh viên Đại Học ,chương trình đốt pháo Múa Lân và Lì Xì Tết cho các em và cũng như văn nghệ xuân ca vũ nhạc kịch.
Sẽ có nhiều món án quê hương đặc sắc qua các Quán Lai Rai, Quán Món ăn Huế, Quán Bánh Cuốn Chào Lòng Lyna, Cafe Thúy, Quán Cháo….. vvv
Đặc biệt năm nay là năm bầu cử BCHCDNVQG Tampa Bay NK 2020-2022 và Quý Vị sẽ có cơ hội đi bầu tại thùng phiếu ngay trong Hội Chợ!
Kính mời Quý Vị tham dư và quảng bá!
---