Japan: Food in Film "A Tale of Samurai Cooking"
Sep 18, 2015 @ 2:00 pm

-

4:30 pm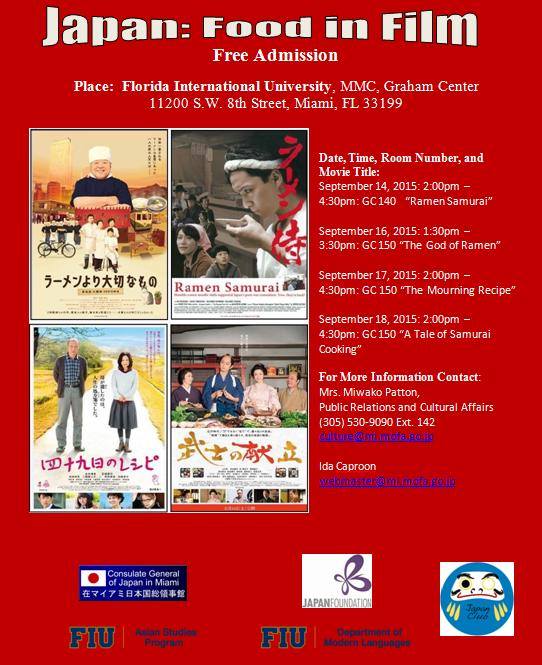 Join us at Florida International University for Japan: Food in Film "A Tale of Samurai Cooking"
Free Admission.
A different movie each day!
Florida International University, MMC, Graham Center
11200 S.W. 8th Street, Miami, FL 33199
Movie Synopsis:
A tale of Samurai Cooking:
Haru has an excellent sense of taste and surpassing skill in the kitchen, but she and her first husband divorced after just one year of marriage because of her impetuous character. One day Dennai Funaki, samurai chef from Kaga, proposes that Haru should marry his son and heir. The Funaki family serves the Lords of Kaga not with the sword but with the kitchen-knife and have been renowned as "Kitchen Samurai" for generations. But Haru's new husband Yasunobu, wields a kitchen-knife with no skill whatsoever. In order to save the Funaki family name and its position as kitchen samurai, Haru decides to teach Yasunobu the art of cuisine. The story is inspired by a real-life family in Kaga which has survived countless upheavals with its cuisine.
Organized by: Consulate General of Japan in Miami
For More Information Contact: Mrs Miwako Patton, Public Relations and Cultural Affairs
(305) 530-9090 Ext. 142   [email protected]
Ms. Ida Caproon   [email protected]