Japan: Food in Film "The Morning Recipe"
Sep 17, 2015 @ 2:00 pm

-

4:30 pm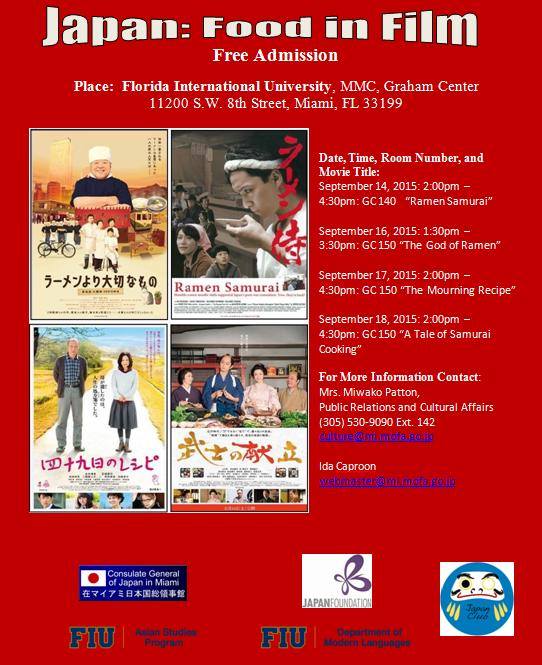 Join us at Florida International University for Japan: Food in Film "The Morning Recipe"
Free Admission.
A different movie each day!
Florida International University, MMC, Graham Center
11200 S.W. 8th Street, Miami, FL 33199
Movie Synopsis:
Mourning Recipe:
Ryohei (Renji Ishibashi) is a grieving widower who, in his depression, loses the will to live. After the sudden death of his wife Otomi, he is visited by his daughter, Yuriko (Hiromi Nagasaku), who's going through a frustrating and painful divorce. Two weeks after Otomi's death, Imo (Fumi Nikaido), a quirky young woman, delivers a book containing the "recipes for happiness" left behind by Otomi. She stays to assist with the household chores during their period of mourning, and soon the three are joined by Haru (Masaki Okada) as they follow Otomi's recipes over 49 days.
Organized by: Consulate General of Japan in Miami
For More Information Contact: Mrs Miwako Patton, Public Relations and Cultural Affairs
(305) 530-9090 Ext. 142   [email protected]
Ms. Ida Caproon   [email protected]