Lunar Lake Nona
Jan 29, 2022 @ 12:00 pm

-

4:00 pm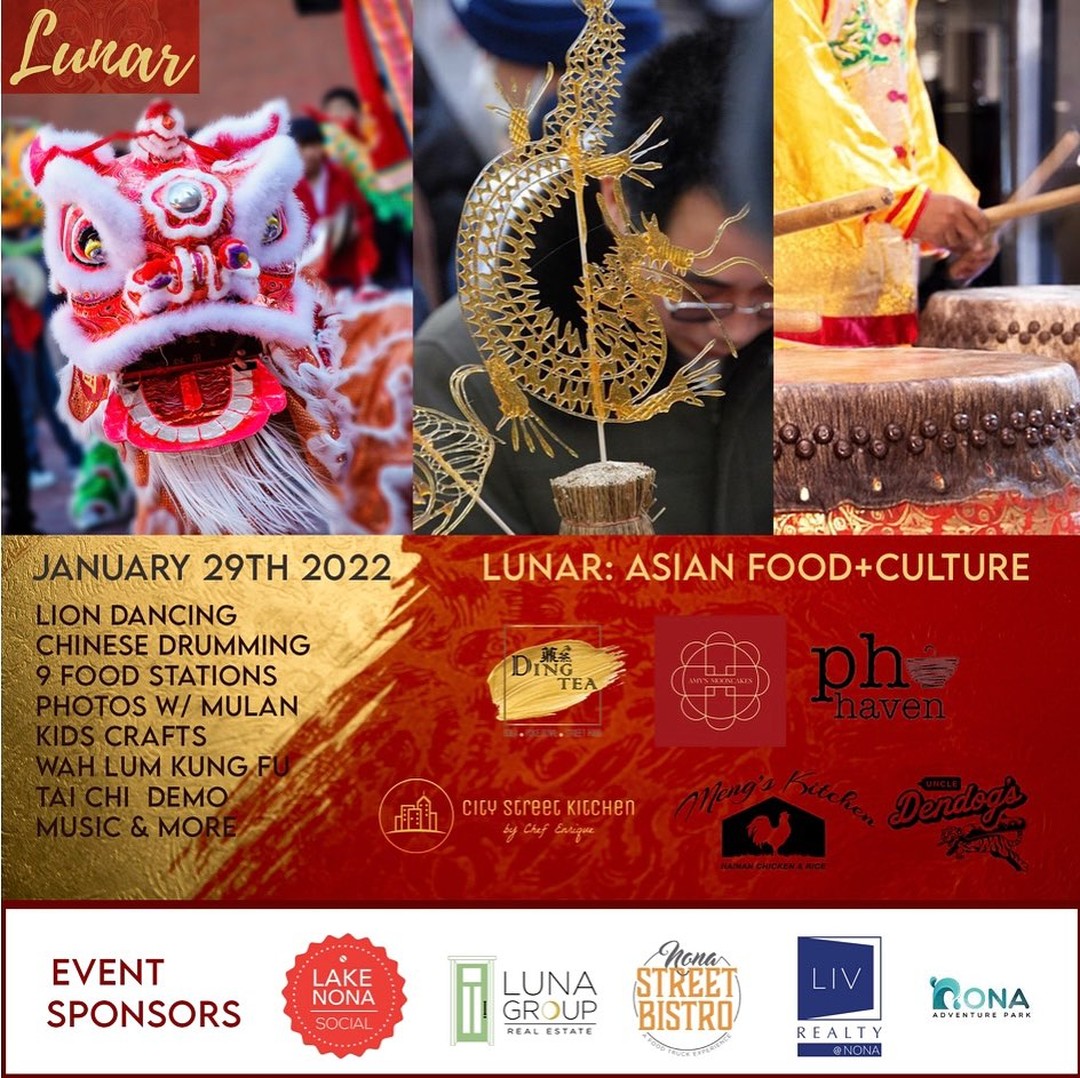 Lake Nona Social's Lunar New Year Festival will be held on Saturday, January 29, 2022 at Nona Adventure Park (14086 Centerline Drive, Orlando, FL 32827). This cultural event will feature Lion dancing, music, Tai Chi demonstration, a traditional gown fashion show, great Asian food, kung fu performers, Chinese Calligraphy, and lots more!
Some participating vendors include: Meng's Kitchen Orlando], @dingteaorlando, @uncle.dendogs, @phohaven, @amysmooncakes, @nonastreetbistro, @citystreetkitchen, @tncphillystyle, @sweetshibagift, and Mr.J's Hand-Pulled Ramen!
12:00PM – EVENT STARTS
12:15PM – DYNAMICS LDT
12:30PM  – Tai Chi Demo – Chinese national fan dance, Tai Chi sword, Tai Chi boxing
1:00 PM – UCF VASA Dance Routine
1:15PM – My Victory Marital Arts Taekwondo Performance + Board Breaking with Audience (20 min)
(show case people should all be ready to go)
2:00PM – Vietnamese traditional gown showcase
Korean  traditional gown showcase
Chinese  traditional gown showcase
(keep gowns on to take pix with Wah Lum Lion Dance Group)
2:30PM – UCF VASA Dance Routine (5-7 min) – transition
3:00PM – Wah Lum Lion Dance (30 min)
Come and bring your family! There will be different activities for your youngest to oldest and performances for all. Come see entertainment representing many Asian countries and cuisine from businesses all around the city.
Tickets start at $8.00