OC JAPAN FAIR 2015
Aug 28, 2015 @ 6:00 pm

-

Aug 30, 2015 @ 5:00 pm

$5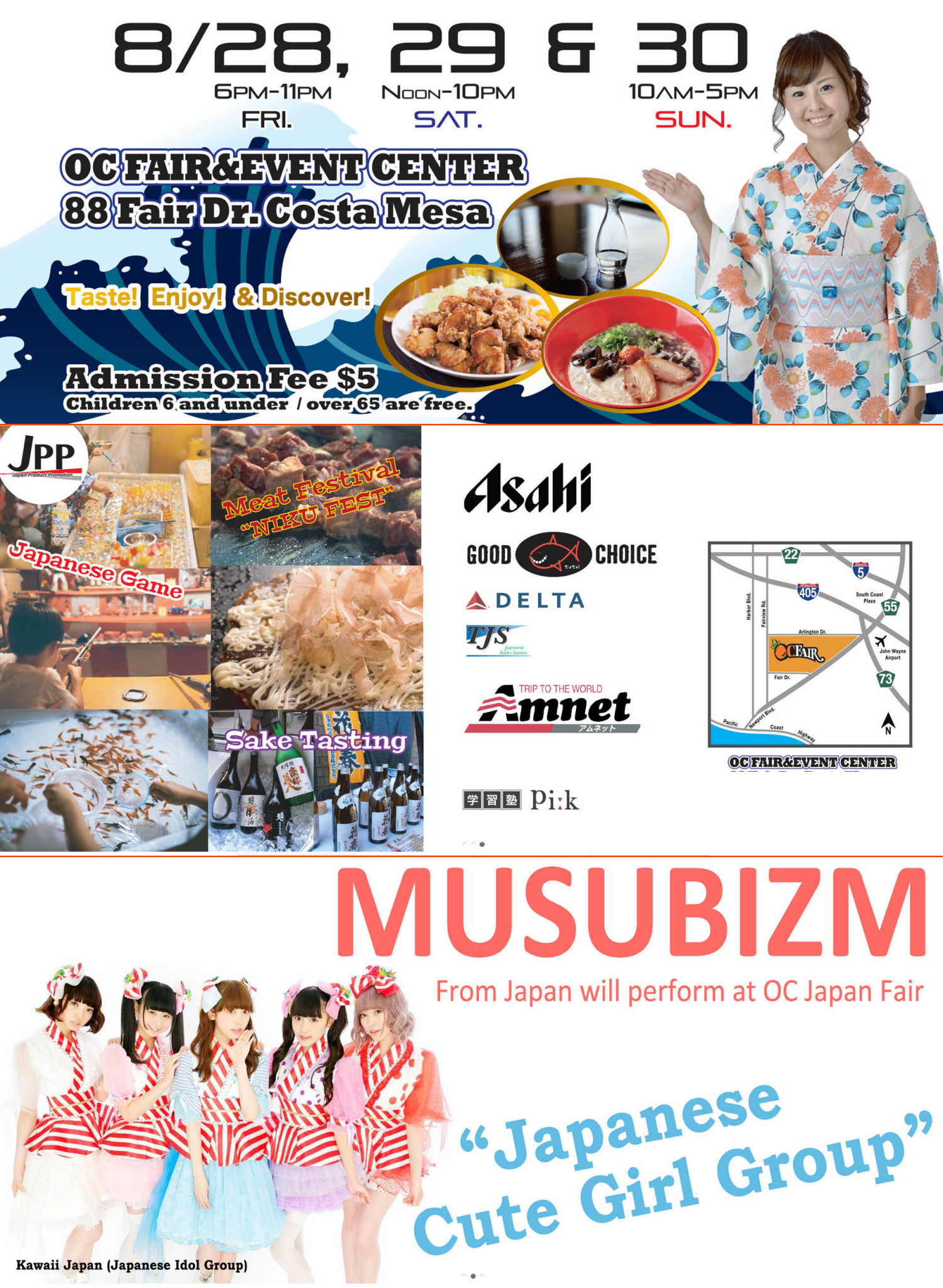 It provides a wide variety of opportunities to absorb the rich and diverse culture of Japan. The 6th OC Japan Fair will be held on August 28,29,30.Thanks to everyone and generous sponsors. Everyone is welcome to join and have fun, enjoy great Japanese foods as well as excellent Japanese products and services.
$5 Admission.   $7 Parking.
Children 6 and under / over 65 are free.
Performer Schedule!!
◆28-Aug
6:30PM 7PM Yuko& John
7PM 7:30PM Musubizm
7:30PM 8PM Halau Hawaii OC
8PM 8:30PM
8:30PM 9PM
9PM 9:30PM Musubizm
9:30PM 10PM
◆29-Aug
12:20PM 1PM RIKKA KINDERGARTEN
1PM 1:30PM UCLA TAIKO
1:30PM 2:00PM Musubizm
2PM 2:30PM Stephanie Yanez
2:30PM 3PM KOGUMA KINDERGARTEN
3PM 3:30PM
3:30PM 4PM MITSU ITAKURA
4PM 4:30PM MAO
4:30PM 5PM Shin Taiko 心太鼓会
5PM 5:30PM Musubizm
5:30PM 6PM MITSU ITAKURA
6PM 6:30PM Chii Sakurabi
6:30PM 7PM UC RIVERSIDE TAIKO
7PM 7:30PM
7:30PM 8PM Lily Acatina
8PM 8:30PM
8:30PM 9PM Musubizm
◆30-Aug
10:30AM 11:00AM Takamaru Koba(tap dance)
11:00AM 11:30AM Kaoru Enjoji with The Band
11:30AM 12:00PM Kaoru Enjoji with The Band
12am 12:30am Musubizm
12:30am 1:00pm
1:00pm 1:30PM Halau Hawaii OC
1:30pm 2:00pm
2:00pm 2:30pm
2:30PM 3PM Stephanie Yanez
3PM 3:30PM Musubizm
4:00PM 4:30PM Chii Sakurabi
Questions?
Please direct general inquiries to : [email protected] or message