OCPA Chinese New Year Gala 2020 – Orlando
Jan 25, 2020 @ 5:00 pm

-

9:30 pm

$6 – $15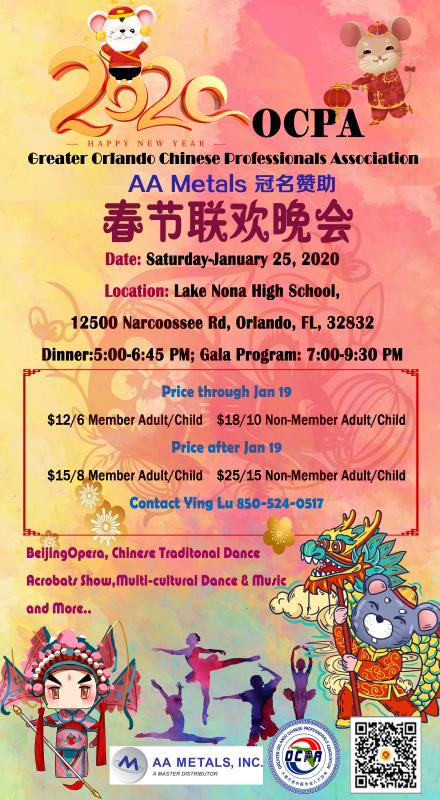 Celebrating the Year of the Rat: 2020 Chinese New Year Gala to be held in Lake Nona High
The Chinese Year of the Dog is passing and the New Year of the Pig is right around the corner. Saying goodbye to the Pig and welcoming the Rat, the Greater Orlando Chinese Professionals Association (OCPA) will hold its 24th Annual New Year Gala on January 25, 2020 at the Lake Nona High School. This year's party will host the New Year's Eve dinner, a family reunion dinner in the Chinese tradition, now a gathering dinner for the local Chinese, their families and friends. The party will feature a variety of traditional and contemporary performances, such as dragon and lion dances, Peking Opera, Chinese folk music, Tai Chi, martial arts, magic, as well as children and adults' singing, dancing and musical performances including western musical instrumental performances. It also provides sweepstakes, a cultural square for solving riddles with rich awards and other interactive activities.
As the OCPA's New Year Gala venue, the Lake Nona High School is located in eastern Orlando. It is right off Highway 417, located southeast of Orlando International Airport. It is only about half an hour's drive from downtown Orlando, Kissimmee, downtown Disney, and the University of Central Florida. Its auditorium can accommodate nearly a thousand people. The auditorium's sound system is very modern, and its stage can display dazzling lighting effects. The cafeteria has a fresh and youthful feel and its facilities are also very new. You can sit inside with the big crowd to enjoy the delicious Chinese food in a lively atmosphere or eat outside at tables to enjoy the evening breeze and sunset.
The OCPA's New Year Gala has become a traditional cultural program of the Greater Orlando Chinese community. It attracts Chinese from generation to generation with its unique charm and hosts about a thousand people each year with a cast of about a hundred professional performers and community members to entertain. It has become a highlight of the Chinese community life in the area.
Ticket sales for the New Year Gala are already underway. Tickets: $15/$8 for member adult/child, and $25/$15 for non-member adult/child. You can go to the website https://www.ocpa-usa.org/shop to buy tickets. You can also purchase tickets by contacting Ying Lu at 850-524-0517