"PAROL" PARADE AT PASKO 2022 in Tampa
Dec 18, 2022 @ 12:00 pm

-

6:30 pm

$5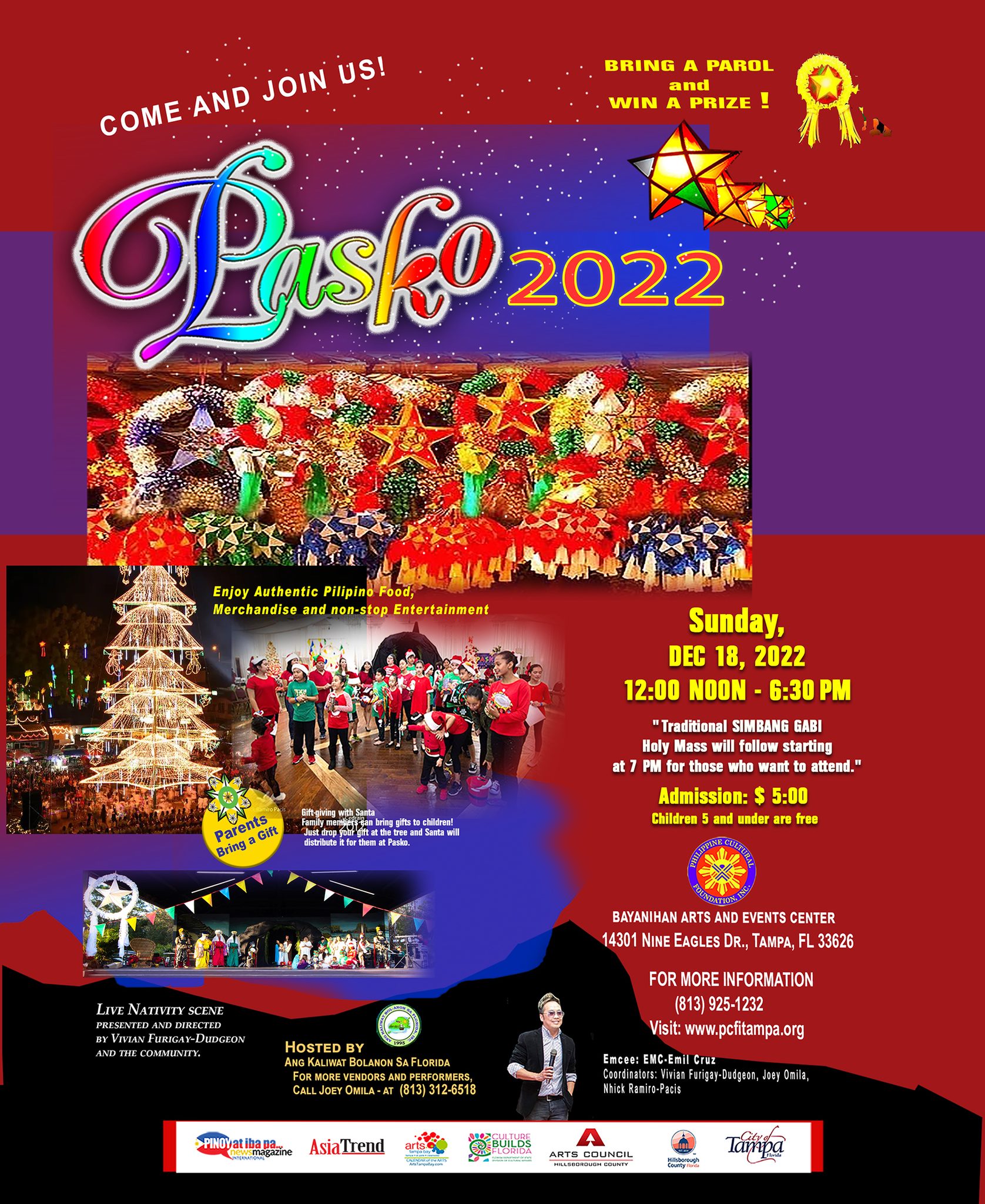 JOIN THE "PAROL" PARADE AT PASKO AND MAYBE WIN A PRIZE
If you have a "parol" at home, take it with you when you come to our annual "PASKO-A Philippine Christmas Celebration" on Sunday, December 18th, at the Bayanihan Arts & Events Center at 14301 Nine Eagles Drive, Tampa, Florida.
PASKO is an annual event organized by the Philippine Cultural Foundation, Inc. (PCFI). This year's host organization is the Ang Kaliwat Bolanon Sa Florida (AKBF). Entrance donation is only $5; children 5 and under enter FREE. The event will start at 12 noon and finish at 6:30 pm.
Parents bringing kids are requested to bring a wrapped gift labeled adequately for their kids and put them under the Christmas Tree on stage for Santa to call their names when Santa comes.
There will be much Philippine food, Christmas carols, dancing, kids and adults games, merchandise vendors and exhibitors, a Christmas Tree Contest by all member organizations, and a parol contest! A LIVE Nativity will also be participated by the community members. Kids will be provided wings as Angels.
After the event, the traditional Filipino "Simbang Gabi" starts at 7 pm.
Don't forget to come and join us and bring the whole family!!!
For more information 813-925-1232