Passport to Asia: Insight Into Eastern Medicine
Mar 20, 2016 @ 3:00 pm

-

5:00 pm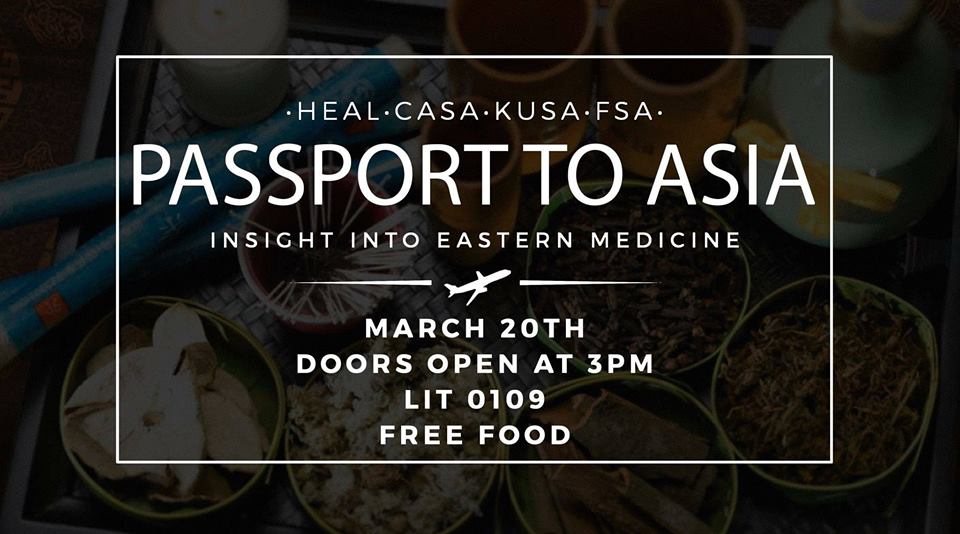 We always hear about Western medicine and how doctors operate in the United States, but many of us don't know the medical practices that are practiced in Asian countries. We present to you an event that'll inform you about several Asian countries and their different medical treatments that are specific to that region.
We have partnered with UF Casa, Kusa At UF, and FSA to bring you this new event. Throughout the event, each organization will be giving away samples and providing demonstrations of common treatments.
Also, we'll be serving food at the end so come out to learn about different approaches to medicine while eating some free food with your Ohana, Jia, Kajok, and Pamilya!
What: An opportunity for individuals to connect with the different Asian cultures, gain knowledge on how to overcome common ailments, and challenge yourself to explore new methods outside of your culture.
When: March 20th at 3PM
Where: Little Hall 0109
Please fill out this form if you plan on attending:
https://docs.google.com/forms/d/1R9UQT-0LwpJA9gjpWBxWjFNaQ-Ohn2zJa0yqLlRgaMk/viewform