Summer Talent Showcase 2022
Aug 7, 2022 @ 3:00 pm

-

6:00 pm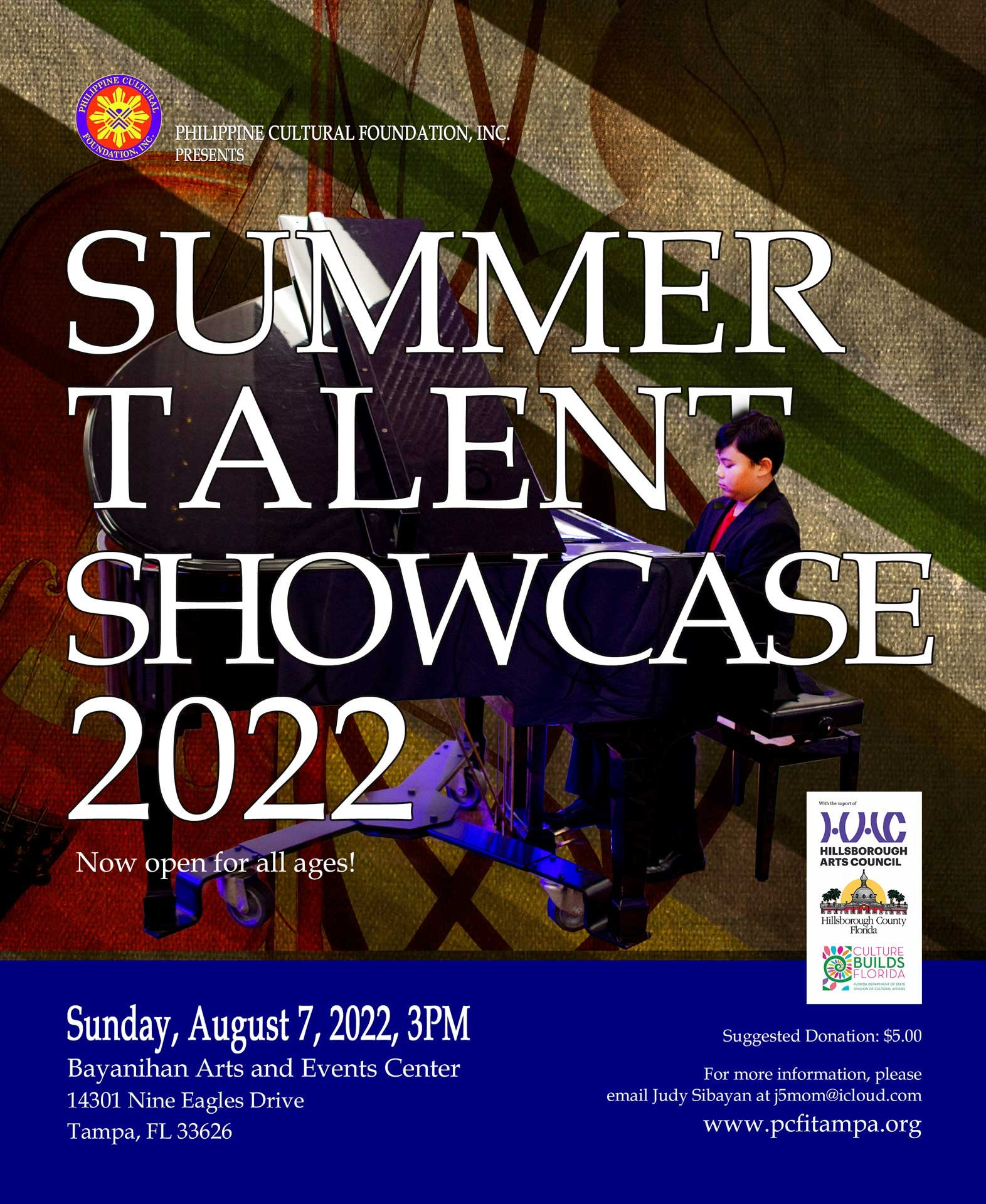 CALLING FILIPINO AND FILIPINO AMERICAN TALENTS IN TAMPA AND BEYOND
On Sunday, August 7, 2022, the Philippine Cultural Foundation, Inc. (PCFI) will hold its "Summer Talent Showcase 2022" at the Bayanihan Arts and Events Center at 14301 Nine Eagles Drive, Tampa, Florida, starting at 3:00 PM. Since this is one of the fundraising events of PCFI, a donation of $5.00 will be required to attend this event.
Summer Talent Showcase 2022 will feature various talents from the Tampa Bay Area Filipino and the community. Formerly called "Summer Youth Recital," this event, now in its 14th year, is the project of PCFI Board Member Dr. Melissa Santiano-Martinez and her husband, David Martinez III. This year, however, the event will be coordinated by Judy Sibayan, artistic director of Indak Pambata, and is now open to anyone of any age who would like to show off his/her talent in a summer afternoon of fun and awe.
To date, hundreds of brilliant talents have already participated in this event in the past. We are asking people, adults, and kids with outstanding talents to register and be featured as the "star" of the event. Since we cannot accommodate everyone, the first 25 qualified applicants who register will be featured at this year's showcase. All applicants must send a good-quality video to Nhick Pacis at info@pcfi. All entries must not exceed 5 minutes. We welcome all kinds of talents, from singing, dance, acrobatic, piano number, individuals to small and big groups.
TO JOIN: Go to www.pcfitampa.org and complete the Registration Form.
REGISTER NOW!!!!