Taiwan so Beautiful – Dance Performance
May 10, 2016 @ 7:00 pm

-

9:30 pm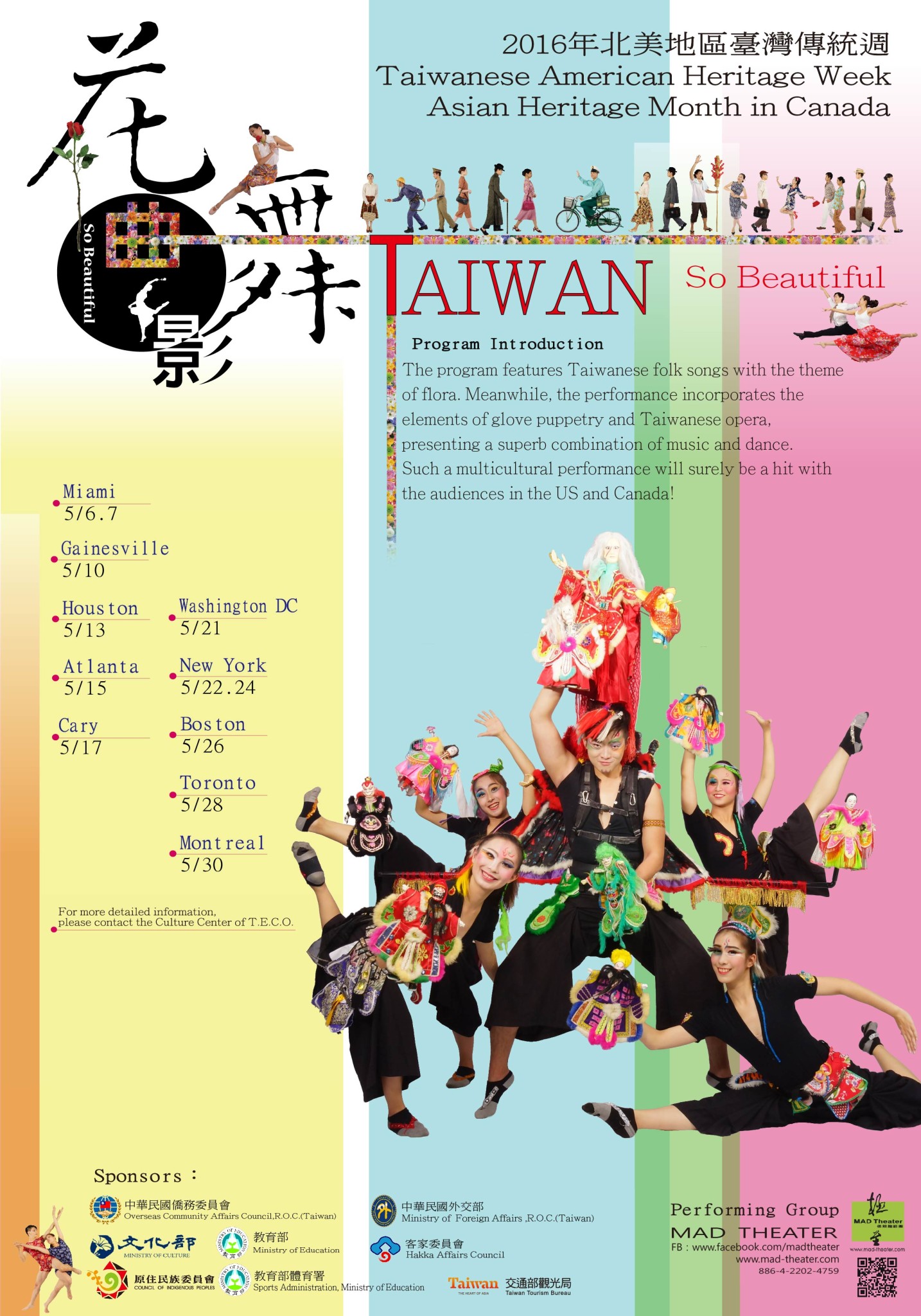 Gainesville Chapter of Formosa Association of Student Cultural Ambassadors (FASCA) is pleased to announce the Taiwan so Beautiful dance performance on Tuesday, May 10th, at 7:00 p.m. on Oak Hall School campus at the Edith D. Cofrin Theater, located at 8009 S.W. 14th Ave., Gainesville. Taiwan so Beautiful is a performance by the Modern Art Dance (MAD) Theater group to perform Taiwanese folk art the 2016 Taiwanese American Heritage Week in North America. The performance showcases talented performers who incorporate Taiwanese folk songs, glove puppetry, and Taiwanese opera into their modern dance. Admission is free and the performance is open to the public. Please come to enjoy an evening of Taiwanese folk art with your family and friends.
Modern Art Dance (MAD) Theater Group is the most iconic modern art dance company in central Taiwan. Established in 1997, it has performed in many international dance festival including the 5th international Chevhov Theatre Festival in Moscow, the 4th Foreign Culture Week in Paris, the 2012 Dance Festival in Kolkata, India and the Mirramu Four Element Arts Festival in Australia.
FASCA is a non-profit youth volunteering and leadership program with focus in community building and promoting Taiwan cultural heritage in North America. Its members include high school students aged 14 to 18 years old in USA. Gainesville FASCA was established in 2015 by several local high school students and teachers.
Taiwan so Beautiful is a performance sponsored by the Overseas Community Affairs Council (OCAC) in Taiwan. For more information, please contact FASCA-GNV Life Coach, Ms. CJ Ginger Lin at [email protected]m.